Entertainment
Keith Colburn Liked It When He Was Married And Had A Wife; Reveals How Life Is After divorce
The memories of our beloved ones often drift us away from the present and take us to the glorious past. This is an afoot reality of a Deadliest Catch's reality star, Keith Colburn, who is bumping into his present and past with a vivid reason.
While Keith, the owner of FV Wizard, struggles to pile up the crabs in the Discovery Channel's hit series, his real struggle is beyond the camera; passing a distressing life without a family. Let's have a peek into the adventurous yet a bit bitter life of Mr. crab-catcher.
Knowing Keith's Life And The Then Better Half:
Captain Colburn's life was similar even before fame, as he used to work as a commercial crab fisherman before he met his fame job. Moreover, before indulging himself as a crab fisherman, he used to work in a French restaurant since the early age of 14.
Later, he came to be recognized as Captain Keith Colburn only in 1992, the year when he received 1600 ton inspected Masters (Captain) license.
The single life of Keith was indeed a different case before. Contrary to the present scenario, he was a married man in the past. He was married to a lady named Florence Colburn but remains adamant when it comes to opening up about crucial details of his marriage.
He and his ex-wife even share two children from their marriage, a son named Caelan Colburn and a daughter named Sienna Colburn. Caelan is also featured in one of the episodes of the series with his dad, where he seemed to have sea sickness.
Moreover, Keith and Florence had many pleasant moments together visiting different places and appearing in events together.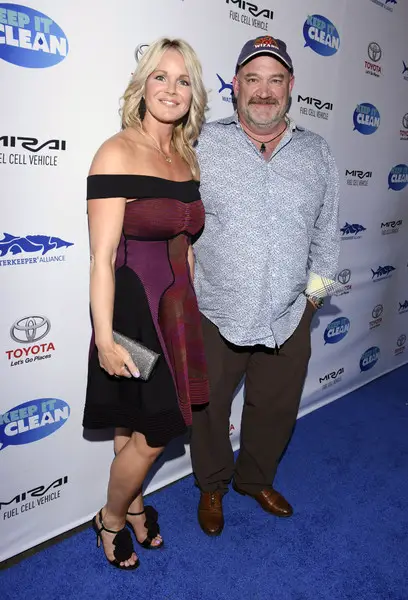 Caption: Cap. Keith with his wife in an event on April 22, 2015, in Los Angeles, California.
Photo Credit: Getty Images
The captain shared one of such moment on Twitter when they were on a visit to London.
All those past moments are now confined to photos and his memory, as he is divorced and is passing a single life after 25 years of marital life.
Well, he doesn't have much to say about the reason behind the separation, but he made his statements in a doleful mode to KIRO Radio's Don O'Neill last year:
"Everybody thinks hey, you're on TV, you make good money, you're a crab fisherman, you're single and a bachelor and you've got the world … well, you know what, it's not as glamorous as it sounds. Being a single dude at this time is not really all that great. I like the stability of having a mate. I don't have that anymore. My kids are grown up so I'm an open-nester, so it's just a strange point in my life. But I've got my business, I've got my boat, both have been really successful. I've got my brother to lean on, my kids, and even Florence, my ex, is wonderful. So, you know what, I'm not complaining. I'm doing better than most."
These days, Keith is busy with the contract signed with the Discovery Channel and shooting for the episodes of Deadliest Season 13 with Captain Summer Bay and other crew members.
Caption: A clip featuring Cap. Keith in the Deadliest Catch Season 12, Episode 1 (Uploaded on April 1, 2016).
A Short Wiki-Like Bio Of Keith Colburn:
Keith Colburn was born on March 10, 1963, in Redmond, WA as Keith Harold Colburn. The Caucasian ethnicity star's sun sign is Pisces, and he mostly adores his sea job.
Keith is famous for the TV show Deadliest Catch (2005) where he starred alongside his brothers Edger and Sig Hansen. While he has not revealed his current net worth, the net worth of the reality star per 2012 was $1.5 million.