Entertainment
Is Kellee Stewart Married And Have A Husband? Or The Actress Is Busy With Career?
Is Kellee Stewart Married And Have A Husband? Or The Actress Is Busy With Career? American actress Kelly Stewart is among those celebrities who have chosen to maintain a tight guard over her love life but fans would be fans, and they love to know every possible detail about their favorite star. So today for her ardent fans, we bring you the revelation that she made regarding her love life.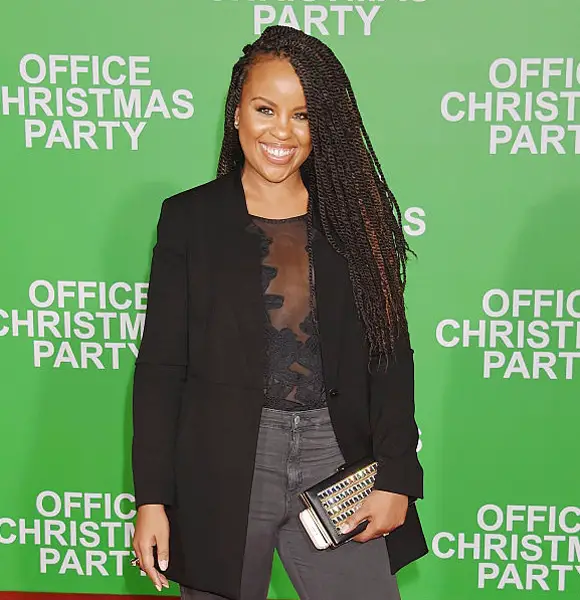 Celebrity's love life usually attracts more attention than their professional life. Some celebrities prefer to share their love life with their fans while some like to keep it to themselves. Afterall it's an individual's choice, right?
American actress Kellee Stewart is among those celebrities, who have chosen to maintain a tight guard over her love life, but fans would be fans; they wish to know every possible detail about their favorite star.
For Kellee's ardent fans, today we bring the revelation that she made regarding her past love life, along with some other fascinating details!
Is Kellee Stewart A Married Woman Or Busy With Career?
Kellee Stewart, as we already stated, opts to keep their personal life private, so the least information about the personal front of her life has circulated the media.
But on one rare occasion, in an interview regarding the sitcom series, "The Soul Ma,n" Kellee mentioned about her ex-boyfriend from her college days.
The sitcom series revolves around Kellee Stewart's character Kim, who later decides to move in with Stamps, portrayed by Wesley Jonathan. The two have fun and enjoy a 'grown up' time together, but the reality strikes, when Kellee's character finds out that she is pregnant.
Moreover, Kellee was asked if she had faced a similar situation in life, following which she admitted being in such situation.
I'm a woman of a certain age, so it's safe to say I've been around the block at least one time (that I'll admit too), so I'm sure I share that fateful moment in every ill prepared grown woman's life when you think, "Could I be pregnant?" Most have tackled it at one point or another, or at least someone who has.
Kellee revealed that she faced such situation in her college days and described the situation as,
Call it an oops, a hiccup, a one-time mistake…whatever, most of us have been there. My scary situation was with my college boyfriend, you know the one you made plans to marry until one of you was smart enough to know that this love affair wouldn't see the light of day pass your campus! We hadn't even seen all of our options yet. So when I found out I wasn't with-child, I kindly said, "Let's break up," and I went out to see the world!
In the statement, she also confessed that she had planned to get married to her boyfriend in the college, but realizing the relationship wouldn't last beyond college days, she decided to break-up and move on in life.
From there on, she has been busy with her career and has made a place for herself in the industry. However, the detail of her love life remains safe in the depth of her heart.
However, she could also be dating her boyfriend far away from the limelight, or better; she could be living secret married life with her secret husband; who knows?
Caption: The Bloopers of the Soul Man's star, Kellee Stewart. (Video Published on May 9, 2014)
Moreover, in an interview back in July 2008, Kellee shared how her parents used to date in their time and even had a piece of advice for the people searching for their Mr. Right.
Dating doesn't have the same tone as it did in days past. My parents used to court each other. They'd go to a dance or get a pop. It's not like that any more in this age of technology. My advice to finding Mr. Right? Stop looking. If you stop looking and stop trying so hard, then things will naturally happen. 
When you have siblings to share your childhood with, it becomes more interesting as you have added memories to cherish. Kellee has not revealed if she has siblings or not in real life, but she considers her NBC network mates as her siblings.
Moreover, she shared that she is proud of her sisters, Essence Atkins and Bresha Web. Kellee expressed her love for them with a picture of the trio recently on August 17, 2017.
Kellee Stewart's Wiki Like Bio:
Kellee Stewart was born on March 31, 1976, in Norristown, Pennsylvania, USA. She has graduated from Norristown Area High School located in Norristown, Pennsylvania in 1993.
Kellee went to learn the art of acting from Freedom Theater and has also acquired a degree in acting from the State University of New York at Purchase college.
She performed on stage before landing in Los Angeles and from there on, she shifted her focus to the small screen. She made her presence felt in the heart of the audience with her performance in Undeclared 2001.
She has further appeared in The Education of Max Bickford, Deprivation, Law & Order: Special Victims Unit, Living with Fran,  Crazylove, My Boys, I'm Through with White Girls, Wanda Does It, and Punk'd.
Kellee has been winning many hearts with her performances, and we hope that she achieves a great height of success in days to come!
Stay with us for the blooming updates on Kellee Stewart!