Entertainment
Kellin Quinn Wiki: His Band, Family Life with Wife, Kids And Facts You Should Know
Kellin Quinn Wiki: His Band, Family Life with Wife, Kids, And Facts You Should Know. Sleeping with Sirens is a band that has been making successful inroads in the music industry ever since the band's inception in 2009. All the members have been crucial for the band's success and today we would like to discuss the life of the frontman of the band Kellin Quinn and educate you on his wiki-like bio which includes his adorable family life with his wife and his kids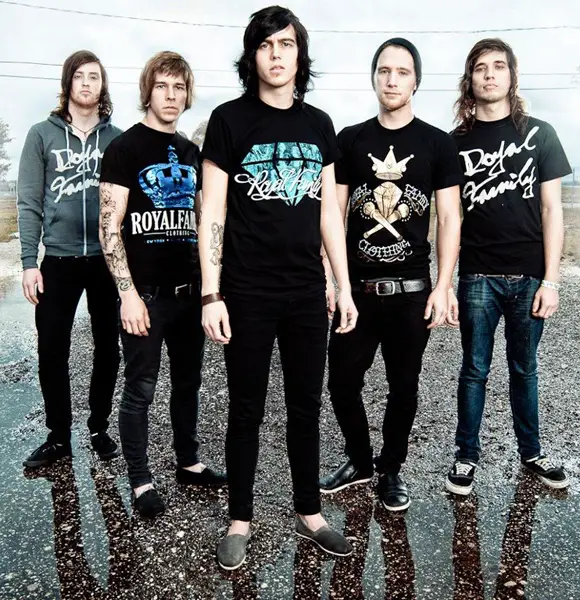 'Sleeping with Sirens' is a band that has been making successful inroads in the music industry ever since its inception in 2009. All the members have been crucial for the band's success, and today we would like to discuss the life of the frontman of the band, Kellin Quinn.
Here, we will be sharing some information on him summed up in a wiki-like bio; which includes his adorable family life with his wife along with his kids. So without further ado, let us get going.
A Short Wiki-Like Bio of Kellin Quinn: His SWS Career & His Personal Life:
Born on April 24, 1986, in Medford, United States, Kellin Quinn is a rockstar who is 31 in age. He is best known for being the frontman of post-hardcore rock band, 'Sleeping with Sirens.'
Quinn began his singing career with a band named 'Closer 2 Closure,' before being famous for his services in SWS. Quinn helped SWS produce a top twenty US Indie album, with 'Let's Cheers to This' in 2011. 
Caption: SWS: Let's Cheers To This, Published on May 5, 2011.
Kellin also has a record label named- Pretty Rad Records and back in February this year; the record label signed its first band called 'Chase Your Words.'
All of these has made him a successful person career wise, but he is an equally happy, satisfied and successful man in his personal life as well. He is blessed to be enjoying a blissful married life with his wife.
Moreover, the love between them has been strengthened and enhanced by their daughter, Copeland, and also Quinn's step kids- Rowan and Liam Quinn.
Kellin has been married to his wife Katelynne Quinn, since April of 2013. The couple has been living a happy relationship ever since, and they have been gushing about their love over on social media sites like Instagram. [image_deleted_from_Instagram]
The caption speaks of the relationship between them, as she stated that; she loves her life with Kellin. 
Moreover, as we mentioned, the two also have a daughter together, named Copeland Quinn, who was born on May 18, 2012. She is five in age and has been the one who has been enhancing the bond between Kellin and Katelynn.
The love Kellin has for his daughter is something so immense to be true.
[image_deleted_from_Instagram]
However, Kellin's love for his two step sons Rowan and Liam, who Katelynn had from her previous marriage, is no lesser. The parents love their kids to every possible bit. [image_deleted_from_Instagram]
Katelynn wishing the younger one, Rowan on his birthday is a sign of her motherly love towards her son. [image_deleted_from_Instagram]
After witnessing all the loved up pictures of the family, it is safe to say that their relationship is closely knit!
Kellin also has been inspiring upcoming musicians. While some of his quotes suggest how much he values the music industry and his desire for the aspiring musicians to understand the love and addiction of music.
I know that starting out as a young band, it's really easy to get lost with bands that sound the same or with the plethora of music that's out there.
These are some important words for musicians, to look up to. 
For any band that ends up becoming really big, yeah, hard work has something to do with it, but a lot of it is just pure luck.
Such beautiful words, which could help young and coming talents to feel motivated.
Stay with us for the emerging updates on Kellin Quinn!