Entertainment
Kelvin Hayden Engaged To Get Married On Mother's Day; Girlfriend Reacts
Kelvin Hayden is a celebrated name among the National Football Leagues'(NFL) fans. The former super bowl-winning pro football cornerback is known for his career stints with Indianapolis Colts, Atlanta Falcons, and Chicago Bears during his 10-year long professional career in the NFL.
The Chicago native has been inactive from the football field since 2014 but is enjoying an active dating life off the field.
Kelvin Hayden Engaged to Get Married On Mothers' Day
After dating for two years, Kelvin and his actress girlfriend, Taraji P. Henson finally exchanged the ring and called themselves 'Engaged."
The former NFL star finally proposed his Academy Award nominee-girlfriend on the special occasion of Mother's Day on13 May 2018. After a day, The Proud Mary actress miked about their engagement sharing a snap on Instagram.
In the snap, she was seen holding her beau's hand, displaying her stunning round diamond engagement ring. The Instagram picture also featured her Mother's day gift: a plate of chocolate-covered strawberries with "Congratulations" written in chocolate syrup and a Cartier Love bracelet.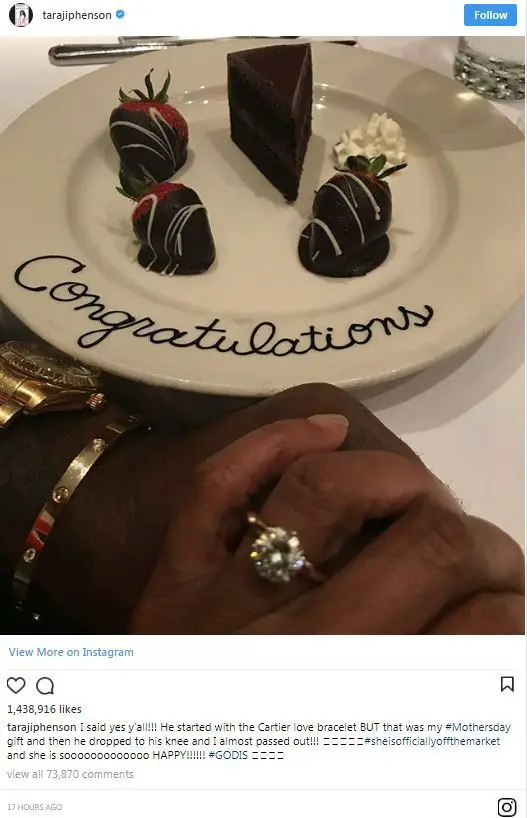 Golden Globe Award Winner Taraji P. Henson recalls her engagement (Photo: Taraji P. Henson's Instagram)
Taraji's fiance, Kelvin shares two children: a son named Kelvin III and a daughter named Kyra, with his former lover Carla Boyd. Likewise, Taraji, who has an impressive net worth of $16 million, also has a 24-year-old son named Marcell from her relationship with her high school boyfriend, William Lamar Johnson, who was murdered in 2003.
Love Story Of Kelvin Hayden, Taraji P. Henson: Age Is Just Number
Superbowl XLI champion Kelvin Hayden was reportedly dating TV actress Taraji P. Henson in December 2015. They were spotted strolling hand in hand on a romantic beach date in Miami in December 2015.
Taraji finally confirmed their relationship on a special episode of Essence magazine's Yes, Girl! Podcast in December 2017. She confirmed that Kelvin Hayden was her boyfriend and said,
"I'm happy in my personal life. Finally, it has happened to me!"
Additionally, she also informed that she liked to prevail her personal life under the wraps.
"I'm not the type to blast my personal business. But, you know, I think that's important for people to know. I'm happy. I'm very very happy. I just am. And you know, we've been together for two years. No one would really know that because I don't really blast my info like that. But I'm very happy."
The relationship of Kelvin, 35 and Tarahi, 48 lit the matchstick that age is nothing but a number when it comes to love.