Entertainment
Kem Cetinay Reportedly Dating! Meet His Model Girlfriend
The reality star, Kem Cetinay is already over his split with Love Island girlfriend Amber Davis, who he dated for four months and has a new lady in his life, who happens to look just like his ex.
Well, if you, like many others, are eager to know about his Amber look-alike girlfriend, then keep reading!
Meet Kem Cetinay's New Girlfriend:
Everyone has their way and duration of getting over their loved ones after a heart-wrenching breakup; as for Kem, he devised his own unique method.
The handsome hunk, Kem Cetinay moved on by getting into a relationship with a beautiful model named Ruby Blake, who has been featured in the music video of some of the A-list stars like Nicki Minaj and Zayn Malik.
The two are currently making quite the headlines, though more for the fact that she looks like his ex-girlfriend, Amber Davis. Kem's fans could not help but compare the two—Amber and Ruby—as their resemblance is quite uncanny.
As for Kem's relationship with Amber, the two started dating each other back in 2017 but unfortunately called off their relationship just after four months of dating.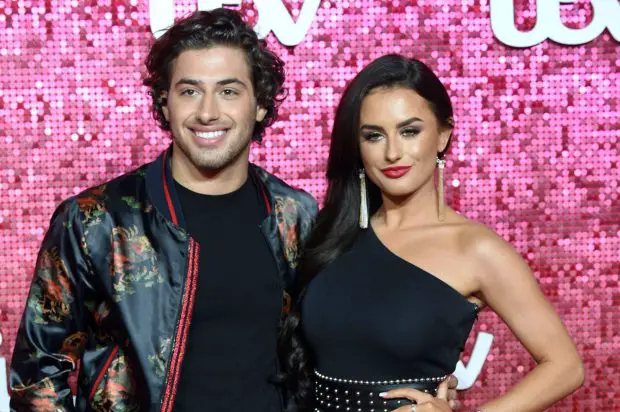 Kem with his Love Island co-star and then-girlfriend Amber Davis (metro.co.uk)
Kem was devasted by the news as he admitted that he was very much in love with Amber.
"I am still in love with Amber as we have just split."
Meanwhile, Amber was trying to cope with her breakup by giving in to alcohol indulgence. The 21-year-old Amber further confessed that it was too early to commit to something serious for a couple at such young age.
"I'm not ruling anything out for the future. I think both of us need to concentrate on our careers and, I think, I definitely need to grow up before I commit myself into anything too serious but I will always have a special place in my heart for him because we did so much together. 'I think it was intense and I think it was a mutual decision and it did fizzle out because we were both so busy. We didn't see each other but we're still really good friends."
While Amber was giving a green signal for her relationship with Kem in the future, Kem shocked everyone when the news of his dating affair with the Instagram model started floating in.
Kem, who had plans to stay single is all smitten by the hot 19-year-old model but is yet to spill any beans regarding the matter personally.
Kem Cetinay's Short Wiki-like Bio:
The 21-year-old star was born in England and celebrates his birthday on April 25 every year. He is English, both by nationality and ethnicity.
Kem Cetinay rose to fame through the hit reality series Love Island for his charming and witty personality. The former hairdresser won millions of hearts and the title of the show as well. His parents were his biggest fan and supporter throughout the show.
After winning the show, Cetinay reached a new height of fame and success as he has already landed as a participant in the hit series Dancing On Ice and is already tuning out to be one of the favorite contestants on the show.
Think we're missing something? Do let us know in the comment section below!