Entertainment
Kenny Mayne: A Proud Father of 2 Daughters; Family Life and Net Worth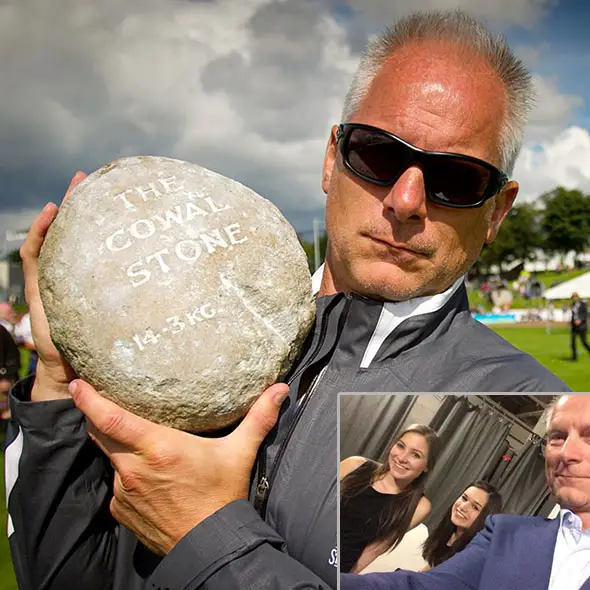 For years, Kenny Mayne has been seen as a sports reporter and anchor but seldom do people see his inner nature of a comedian. Did you know this sports journalist with a great sense of humor is also a proud father of 2 daughters? Learn more about his family life and also find out his financial background.
A Proud Father:
Kenny Mayne is a very proud father of two girls. How do we know this?Well! It is evident on his twitter account that is stored with posts related to his daughters.
His daughters Riley Hope and Annie may be the most important things in his life according to the way he speaks about them in his book "An Incomplete & Inaccurate History of Sport." It can also be illustrated through some feeds in his twitter account including, this one where he is taking Annie to a ball on a date
Or, this one, where he is supporting his daughter in her workplace.
He remembers their birthday and always prepares something that only the 'father-daughter' combo must understand because we certainly don't.
He takes them shopping and prepares food for them.
Told daughter we had to wait for the San Diego game before shoe shopping for homecoming.

Homecoming prevails @JuanitaASB — Kenny Mayne (@Kenny_Mayne) October 25, 2015
I just put my daughter's blueberry muffin in the oven on broil.

Come get me @bflay — Kenny Mayne (@Kenny_Mayne) October 24, 2015
He is proud of them for even small things. Meanwhile, he is also conscious about their safety.
I just sent a note to my daughter asking if she knows how to put in gas. She 's seen Zoolander and is probably OK. — Kenny Mayne (@Kenny_Mayne) August 18, 2015
And his daughters also know their father's love towards them and appreciate his contributions.
What did he Lose?
Maybe, he is so obsessed with his daughters and they're bringing up because he knows the pain and grief of losing a child. He and his wife had lost twins earlier on 1996. The twins had to be prematurely evacuated after just six months. While the elder one, Creighton, was stillborn, Connor, the second child, died after six months of birth because of fatal problems with his liver, kidney, eyes and lungs.
Amazing Net Worth:
Mayne has an incredible net worth of estimated 8 million dollars. He still holds his job in ESPN and does some other random ventures. So, his salary can be expected to be of 3 million dollars.
He hosts the 'Kenny Mayne's Wilder World of Sports' and also a weekly segment known as 'The Mayne Event. He is a contributor for Sunday NFL Countdown. He is also the author of the pseudo-memoir book, 'An Incomplete & Inaccurate History of Sport'. He used to be the co-anchor of 'Sportscentre' on and off, but he signed his final contract with 'Sportscentre' on October 15, 2013, for 70 episodes and ten special features per year through 2015.
A Comedian Journalist:
Mayne is not only known for being a journalist but also a comedian for ESPN. Aside from a few laughs he generates through his hosting, he also covers a few stories intended towards comedy. 'The Mayne Street,' the first web-series of ESPN that was run by Kenny Mayne, as a fictional version of himself, was a comedy series itself.
You can also go to the site of 'Funny or Die' where Mayne has his own category. It is filled with some of the funniest videos featuring him like this one.
Caption: Kenny Mayne on Justin Bieber versus Tom Brady (Hair Battle)
Born on September 1, 1959, in Kent, Washington, USA, Kenny Mayne attended the University of Nevada, Las Vegas, earning a degree in Broadcasting. During this time, he was the backup quarterback for Wenatchee Valley College where he played for two years before becoming a free agent for the 'Seattle Seahawks'. In his recent activities, he spoke about his late friend, 'Stuart Scott' on August 8, 2016.