Entertainment
Kenya Duke Wiki: A Keeper When it Comes to Husband and Children
When one is mostly occupied with a busy career, the time they give to their family and friends is almost inevitably compromised. However, the businesswoman Kenya Duke seems to be managing time for both family and work. Well, isn't that just amazing?
So, let's invest some of our time today to get familiar with the married life of American actor/comedian Gary Owen's wife Kenya Duke. Also, we will provide you her short wiki-like bio!
Kenya Duke Married Life With Husband Gary Owen
American celeb Kenya Duke, originally from Oakland, California, leads a busy life house flipping and pursuing her entrepreneurship stints.
But, there's more to the list!
The beautiful Kenya, who stands tall at the height of 6 feet 3 inches, is also a happily married woman to the famous actor/stand-up comedian, Gary Owen.
In an interview with TheGrio in 2016, Gary revealed that they first met at a comedy club many years ago and added that he got her number and called her as soon as he could. He said,
"I was like, 'Look, I know I'm supposed to wait three days, but you're gonna meet a lot of dudes in three days. I'm just letting you know now I'm interested.'"
Kenya and Gary tied the knot on July 19, 2003, but, they didn't experience the best wedding ceremony. Their special day turned out to be a disaster after the preacher left, the baker dropped the wedding cake, and a fight ensued!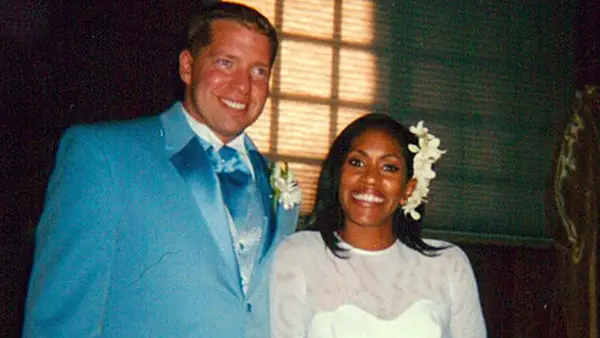 American wife Kenya Duke with her husband, Gary Owen on their wedding day (BET.com )
Meanwhile, the couple's interracial romance has been a subject of several interviews. But, Kenya's loving husband, Gary, knows best how to respond to racism.
"It's not like I come home and be like 'Oh my god, you're Black and I'm white. I forget she's black until this stuff happens, 'til you guys interview us,"
The married couple shares two children together, a son, Austin Owen and a daughter, Kennedy Owen, aged 14 and 12 respectively in 2015.
Gary's beau Kenya also has a son, Emily Owen, aged 21 in 2015, from her previous marriage. Kenya, being the one managing the households, gives enough time and care for her children despite her and her husband's busy schedule.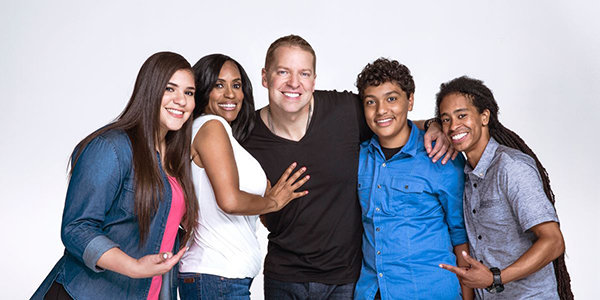 Kenya Duke posing with husband, Gary Owen, and children (BET.com)
Moreover, the family became stars in the BET's reality TV series named, 'The Gary Owen Show' which depicts the everyday life of the 'interracial and blended' family. The show first aired on October 11, 2016, and has been gaining a positive response as told by Gary,
"The response has been great. It's been all positive. It was nice to showcase the city a little bit. I got no complaints, man. It was funny."
Gary, who enjoys a net worth of $3 million also explained that the show is an 'accurate depiction' of people's real-self featured along talks about racism,
"This presidential race that just happened, I think it just kept showing people at their worst. And I think with our show, you see a more accurate depiction of what people are like, especially when you talk about racism. Black and white. Because I think the majority of people, we get along. I mean, we all want the same things in life."
Kenya and Gary experienced an unforgettable moment during the season finale of the series as Gary secretly organized a second wedding ceremony to make up for the first one.
Kenya Duke and husband Gary Owen in the series 'The Gary Owen Show' and Gary secretly planning the wedding renewal with kids (Published on December 15, 2016)
After planning the second wedding with the help of their kids, Kenya walked down the aisle to enjoy a perfect wedding.
The California born,Kenya also uploaded a beautiful picture with her husband, Gary remembering their marriage renewal on December 20, 2016.
They are, indeed, a couple who is meant to be!
Kenya Duke's Wiki:
Kenya Duke was born in Oakland,California. There is not much information available aboout the African-American beauty's parents except that her mother's name is Barbara Jean and her father has passed away.
She is wife of the famous comedian Gary Owen and mother to three beautiful children. She keeps track of all her children as well as her husband and is pretty much the backbone of the entire family and has been doing a great job so far. She has also appeared in her husband's reality show named The Gary Owen's Show. She is also an entreprenuer herself.However, the net worth of Kenya Duke has not been revealed.
In the 8th episode of 'The Gary Owen Show,' Gary found out that his wife, Kenya was secretly house flipping.