Entertainment
Kether Donohue To Get Married And Have Husband - Just Not Yet
Kether Donohue To Get Married And Have Husband - Just Not Yet The actress, Kether Donohue, has been determined to make a name for herself in the entertainment industry since the tender age of nine. She has shown her acting prowess in various acting projects including her appearance in the film 'Pitch Perfect' and the series, 'You're the Worst.'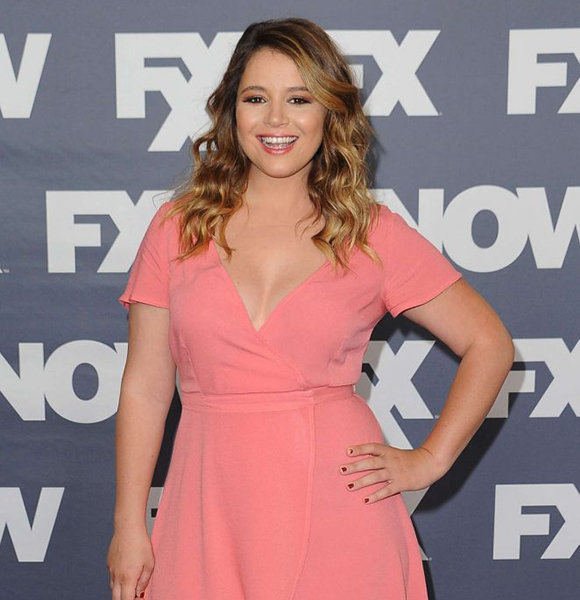 American actress and singer Kether Donohue has been determined to make a name for herself in the entertainment industry since the tender age of nine. She has shown her acting prowess in various acting projects including her appearance in the film 'Pitch Perfect' and the series, 'You're the Worst.'
While carving her path in the industry, she has gained a fan following, that desires to know every possible detail about her and foremost being the budding details of her love life. So if you are curious to know about her love life including her views on marriage then, then keep reading!
Kether Donohue's View On Getting Married:
The beautiful actress has already been able to capture the hearts of many people. But there seems to be someone who lives in the actress' heart.
The actress is so private about her personal life that, least knew about her dating relationship until she made a tweet about it, which reflected that she is obsessed with her ex-boyfriend.
Back in March 2015, she tweeted that there needs to be a rehab to cure the addiction of stalking the ex-boyfriend's new girlfriend in the social media. 

Actress Kether Donohue tweets about ex-boyfriend (Kether's Donohue)
In an interview with Papermag, she mentioned her boyfriend and even shared what her boyfriend said while she was talking to him about relationships. 
"I was sad because I had lost some relationships. He dramatically looked at me, and said, 'At one point in your life, everyone will break your heart: your mother, your sister, your brother.' It wasn't negative. It was like an understanding of life. That's how it goes."
Moreover, when she was asked by the Etonline whether she desires to live like her on-screen character, Lindsay, or prefers to enjoy the single life in L.A. She replied that alike her role Lyndsay; she wants to get married, have children and settle down with husband in the future. She further elaborated,
"I love my mother so much. She was such a great mother to me, and one of my dreams in life has been to pass on that gift. I always felt like innately, I am meant to be a mom. My hips are certainly meant to bear children -- it would be a waste of curvy hips for me not to bear a child."
Well, she is sure that she wants to settle down with a partner and have a family but the question here is has she found her man yet. Well, considering the secrecy she has maintained in her life, it's difficult to say if she is single or dating someone in secret as of now. Further, she hasn't introduced someone, as her boyfriend yet; thus she remains single publically. Also, her career seems to be a priority at the moment.
The actress has shown her performance in the various films including, 'Over the GW,' 'Opening Night,' 'Collar,' 'The Bay' and others. Her performance in the TV series is also praiseworthy which includes, 'Hope & faith,' 'LA to Vegas,' 'The Mindy Project' and 'Royal Pains.'
Many of her fans might be unaware that, she is a voice actor too. For her performance, she has earned a Critic's Choice Award nomination for Best Supporting Actress in a Comedy Series for her work on, 'You're the Worst' in December 2015.