Entertainment
Khamani Griffin Now, Net Worth, Girlfriend, Parents
Where is Khamani Griffin Now...the artist also relishes his net worth of...appeared in movies & TV shows including...raised by only one of his biological parents...as of 2019, the actor...dating status with girlfriend...
Many still remember Khamani Griffin as Ben in Eddie Murphy's 2003 film, Daddy Day Care. The kid stole the heart of millions with his performance at a young age.
Today, over 15 years have passed since the release of the movie. To satisfy their nostalgic thirst, many are left wondering if Khamani Griffin is still active in showbiz today.
Fans might be surprised to find out that he was active playing roles in both movies and TV shows all along.
Khamani Griffin's Whereabouts Now
As of 2019, the actor isn't active in any significant movie or Hollywood projects. However, as per the actor himself, he is actively involved as an educator and content creator in recent years.
Interestingly, fans' skepticism of the former child actor leaving showbiz was apparent as he was rarely seen on screen. It turns out that Khamani was mostly working as a voice actor in major studio-produced movies without appearing in front of the camera.
Recommended Article on Voice Actor:- Is Justin Roiland Of The Different Voices Dating Anyone? A Covert Affair With Girlfriend?
He lent his voice for various animated movies that many are very well aware of. In 2006, he voiced for the animated film Barnyard and also dubbed for the movie, Happy Feet, the same year.
Likewise, he worked as a voice artist shortly on many TV shows afterward including Phineas and Ferb along with the animated movie, Cloudy With a Chance of Meatballs 2. Furthermore, he made appearances in shows like Modern Family and Grey's Anatomy.
But because he rarely acted in major movies since his debut in Daddy Day Care, many failed to recognize him in TV shows after many years.
Parents, Age
Khamani was born on 1 August 1998 in Aukland, California. The former child actor was raised by only one of his biological parents; mother Gina Sexton.
His parents divorced while he was young, and his mother won the custody of Khamani and his two siblings. The actor - height 5 feet and 9 inches (1.75 meters) - is the middle child in the family with a younger sister named Aniela. His older brother De' Von Flournoy is a soccer player and a model.
Furthermore, the 21-year-old also has a stepsister, who is ten as of 2019.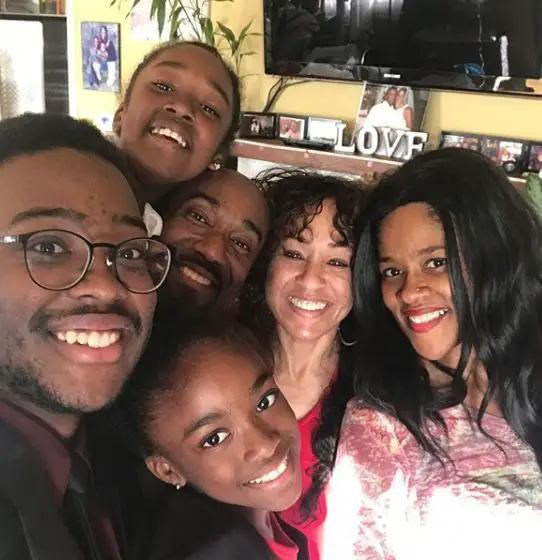 Khamani Griffin with his two sisters, mother Gina Sexton, stepfather, and a family member in February 2018 (Photo: Khamani Griffin's Instagram)
In terms of his dating life, Khamani last shared about his prom night in 2016. Ever since then, he has chosen to keep his dating status private.
Rising Net Worth
With three Young Artist of The Year nominations already, the artist also relishes his net worth of $400 thousand. Since he has worked on more than 25 projects in showbiz, he has undoubtedly garnered impressive paychecks from all these projects.
Multi-Young Artist Award winner:- Does Gorgeous Dalila Bela Have Boyfriend? Her Dating Status Now
Even if he has plans to retire from acting, Khamani's starting annual salary of $40,000 can help boost his net worth to some extent.