Entertainment
Kimberley Garner Personal Life: New Boyfriend, Dating History, Bio
English Reality star Kimberley Garner holds multiple identities. She is a swimwear designer, television personality, actress, and socialite, plus she isn't afraid of breaking someone's heart. Her dating resume says so.
Even on Made In Chelsea reality show, she broke the hearts of several men including Jamie Liang and Spencer Matthews. In the past, she had been publicly spotted cozying up with the male partners she dated.
Also attached to the report her bio-related information.
Personal Life: Dating Co-star
Kimberley Garner, who immensely loves her dog Sasha, has been romantically linked with several names in her dating life.
In 2012, Kimberley dated Richard Dinan, 30, who was her co-star in the famous reality series, Made In Chelsea. Their romance got a significant air-time in the reality series.
However, the duo's relationship did not work out, and they later went through a breakup after the series three ended.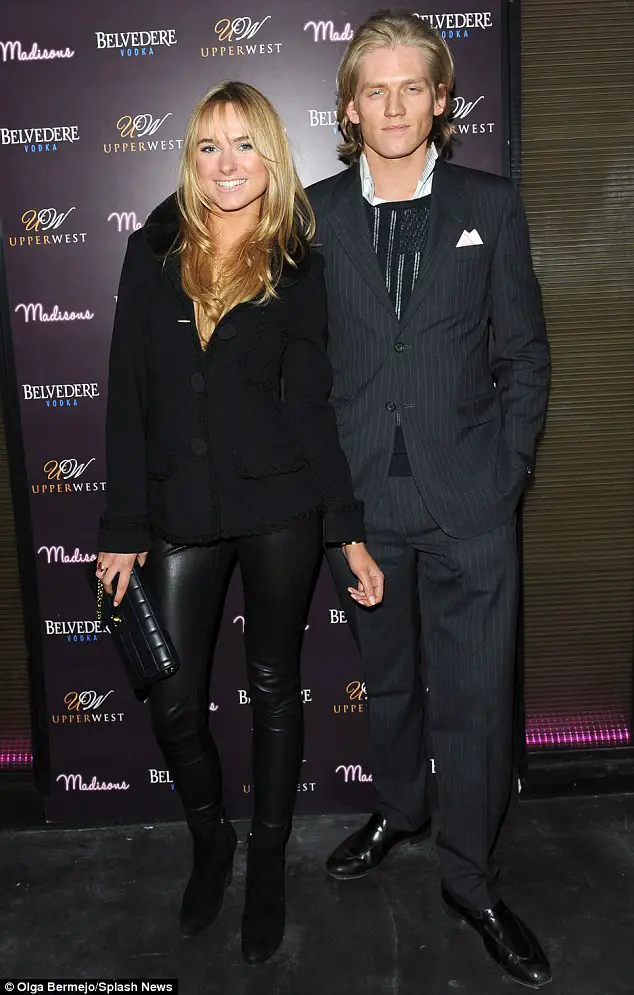 Kimberley was dating Richard Dinan in 2012 (Photo: Dailymail)
Before dating Dinan, the blonde beauty was in a relationship with Diego Divero-Volpe, an aristocratic nightclub entrepreneur. They first met at the West London Nightclub and dated for more than a year. Kimberly and then-boyfriend Diego got split when Kimberley was busy filming for the reality series, Made in Chelsea.
Back then, Diego claimed that Kimberley went on a double date in the television series calling herself single despite being his girlfriend. However, Kimberley denied his claims insisting that she had ended their relationship in January 2012.
Personal Life: Mysterious Boyfriends
In May 2017, Kimberly revealed that she broke up with her unknown boyfriend after three years of relationship. Prior to the breakup, she had repeatedly been spotted publicly with the mysterious man.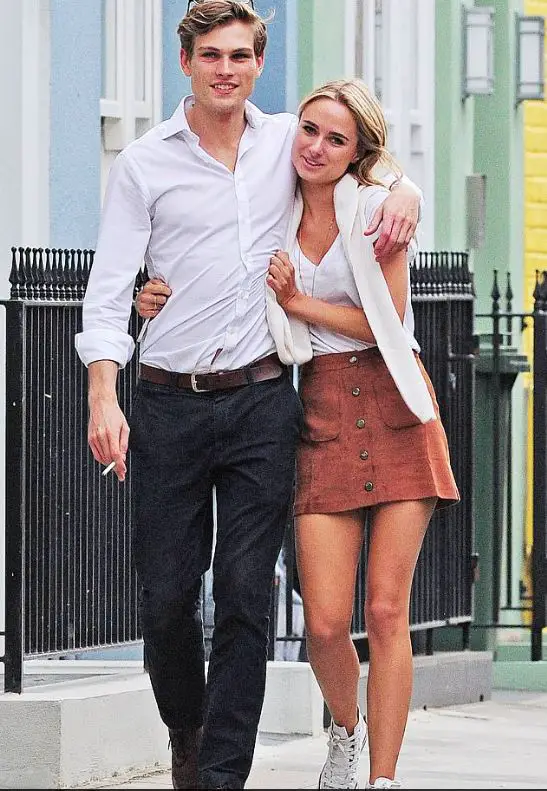 Kimberly Garner breaks up with mysterious boyfriend in 2017 (Photo: dailymail.com)
Speaking to DailyMail about her split in May 2017, she then said,
I ended the relationship recently. It was a really wonderful three years and we are still good friends today.
Later, in the same month, she talked with the magazine, The Sun, about her breakup. She also told the magazine that she would love to meet someone with a great personality. She said, 
'It was a great relationship. I'd love to meet someone with a great personality — it's all about the personality for me.'
Perhaps she found someone with a great personality just after a couple of months post her breakup with the mystery man. 
In July 2017, she went on a double date along with English actress, Kelly Brook and her boyfriend Jeremy Parisi, an Italian model, on the St Tropez beach.
Kimberley, who was wearing a white swim-suit, was spotted hanging out with a mystery man who wore a matching outfit.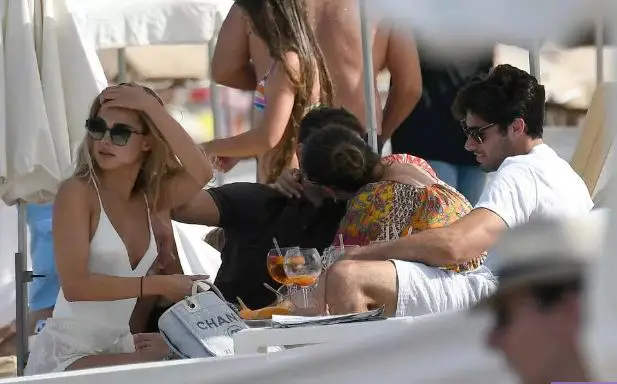 Kimberly goes double date with mystery man in May 2017 (Photo:dailymail.com)
Later in October 2017, she was again spotted displaying PDA with the mystery man in Ibiza. They had gone to the beach to enjoy the sun.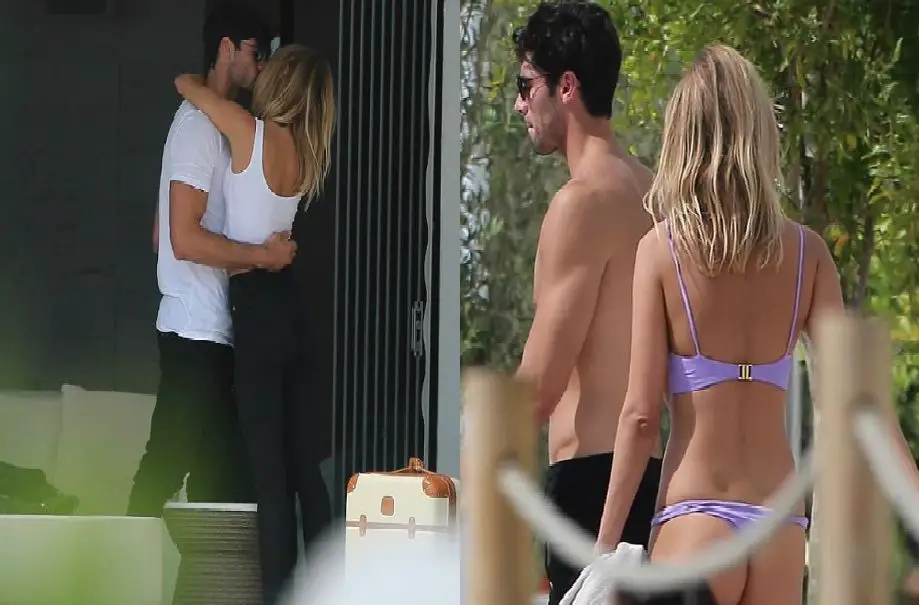 Kimberly goes for sun-bathing in Ibiza with her new boyfriend in October 2017 (Photo: dailymail.com)
Again when Tabloids were busy covering the recent romance with her new boyfriend, Kimberly sparkled reconciliation dating rumors when she was spotted enjoying a lunch date with her former boyfriend, Richard Dinan at the Blue Bird restaurant located in Chelsea, London in the mid-October 2017. 
However, it was reportedly a friendly date between the former duo. They aren't dating but keeping in touch as friends.
Previously, on 22 August 2017, Kimberly, who owns a luxury beachwear brand called Kimberly London, had posted the picture of her new boyfriend on her Instagram.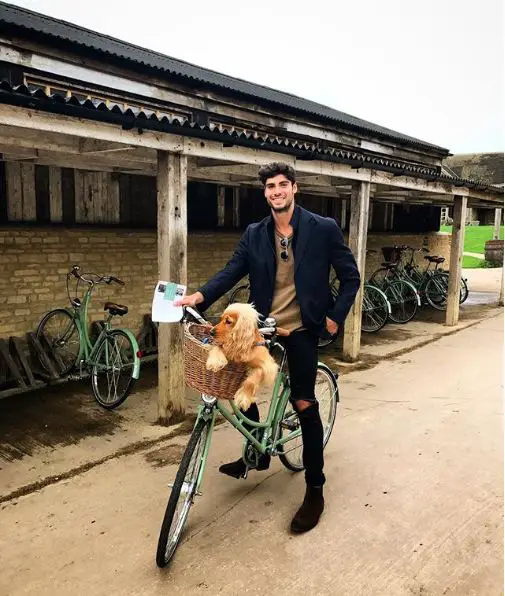 Kimberly post her mystery boyfriend's picture on Instagram in August 2017 (Photo: Kimberly Garner's Instagram)
Since the post, Kimberly, born 29 November 1990, has neither posted pictures of the new boyfriend on her Instagram nor she has been publicly spotted with him since August.
Movie Debut, Childhood, Kimberly London, Net Worth
In 2018, Kimberly, who in 2014 described herself as a born-again Christian, made her Hollywood debut from the horror movie, Sweetheart.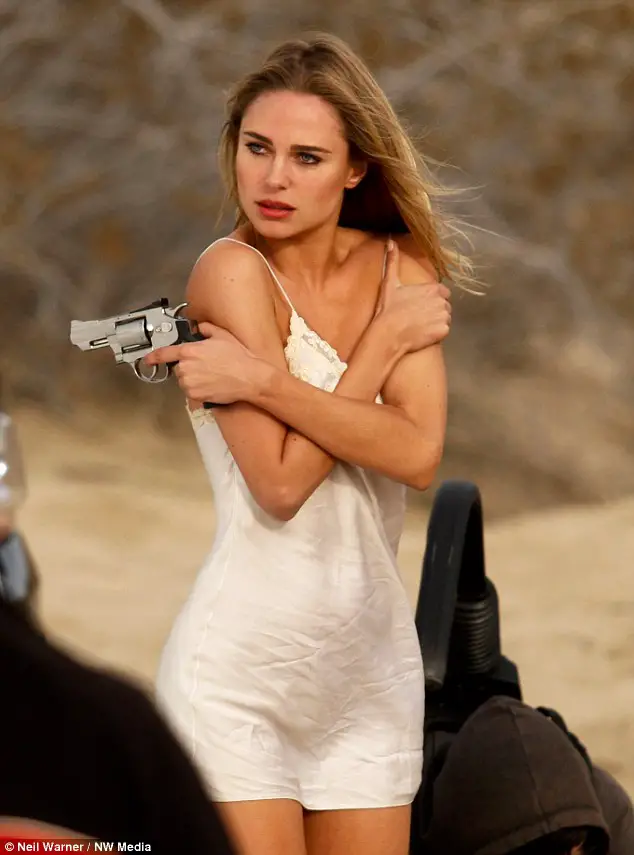 Kimberly portrays shooting scenes for her debut movie Sweetheart (Source: Dailymail.com)
The Kensington, London native spent her childhood days in Ascot, Berkshire, England. She later relocated to London with her family which included father Russell Garner, a real estate businessman, mother Geraldine Garner, Sister Countess Faye de Pelet of Kensington, and brother Christopher.
Garner pursued her school education fat the St George's School located in Ascot. Later, she studied acting at London Academy of Dramatic Art (LAMDA) and also at Royal Academy of Dramatic Art (RADA).
After she completed her acting study, Kimberley Garner continued her family business working as a real estate developer. But when she became famous from the reality Tv series, Made in Chelsea in 2012, she never looked back.
In 2013, Kimberley, who has an estimated net worth of $1 million, launched her own company Kimberley London Ltd, which features swimwear collections, stating "a British take on the Brazilian."