Entertainment
Kimberly McCullough Reveals Being Pregnant? With A Boyfriend Or A Husband-Like-Partner?
Famous actress Kimberly McCullough has revealed that she is pregnant. That is good news, but her fans wonder who the father of the child in her belly is? Is it her boyfriend or her husband-like-partner? Let us find out, along with her dating affairs of the past.
Kimberly Is Pregnant But With Whom?
If you are a big fan of Kimberly and follow her blog posts, she has revealed that she is pregnant with her anonymous partner. She has announced that she is pregnant and is expecting a child with her spouse, but she did not shed much light on the name and identity of the father of her child, not even on Twitter.
I was once told by a Christian church I attended that I wasn't listening to God because I wasn't dating the guy the church wanted me to date

— Kimberly McCullough (@whitewatercrew) April 3, 2017
Also, she has not provided any details on whether or not she is married or engaged to him. Keeping things personal eh?
Kimberly, who had had previous setbacks regarding pregnancy because of a miscarriage, revealed her pregnancy in such words.
"Two weeks before we [she, her partner and dog Jack] moved [into their new home], I found out I was pregnant again. And although I no longer have the luxury of being naive, I can't help but think that the timing is just perfect."
Caption: Kimberly McCullough reveals her pain of losing her child before birth.
Published on Jan 4, 2016.
Nice to know that life has given her second go at having a child and she now seems entirely cautious about her pregnancy as she often talks about her pregnancy.
Although Kimberly revealed that she lost her baby before the baby was even born, she did not disclose the father of the kid just like she has not revealed the father of the child she has now conceived.
Previously, Kimberly dated Freddie Prinze Jr from 1996 to 1999, but there are no hints and clues whatsoever as to knowing if he was the father of the kid.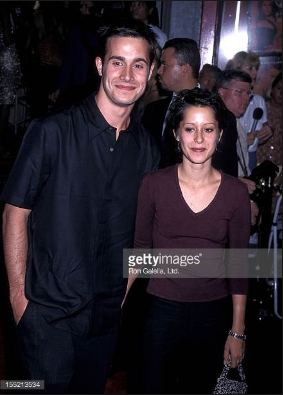 Caption: Kimberly and Freddie at the "54" Premiere - August 24, 1998.
Photo Credit: gettyimages.com
Regardless of who the father of the kid is now and who the father of her child was back then, we would like to wish the very best for her and her child. Bless you, both!
A Short Bio of Kimberly McCullough:
Born on  March 5, 1978, in Bellflower, California, U.S., Kimberly Mccullough is an American actress who is best known for her role in the famous series "General Hospital" as Robin Scorpio, a series which he has been a part of since she was seven years old. She also played Jennifer in the successful television series "Once and Again." She is a successful actress in the industry and has been able to cement a firm place in the hearts of people who adore her work. 
Also, the amount of dedication and determination she puts in her works in commendable and that has paid her ample rewards and has done her financial life a world of good as she enjoys a net worth of $4 million.