Entertainment
Kimberly Woodruff Is Married To A Husband Who Always Praises Her For Good; A Blessed Family With Grown Up Children
Kimberly Woodruff Is Married To A Husband Who Always Praises Her For Good; A Blessed Family With Grown-Up Children She is a very famous face recognized as the wife of Ice Cube. With a loving husband who praises her a lot for the well-being and a family which includes very talented children, she has it all. Let's have a glance at her life and her family which resembles itself as a close to perfectness on our story today.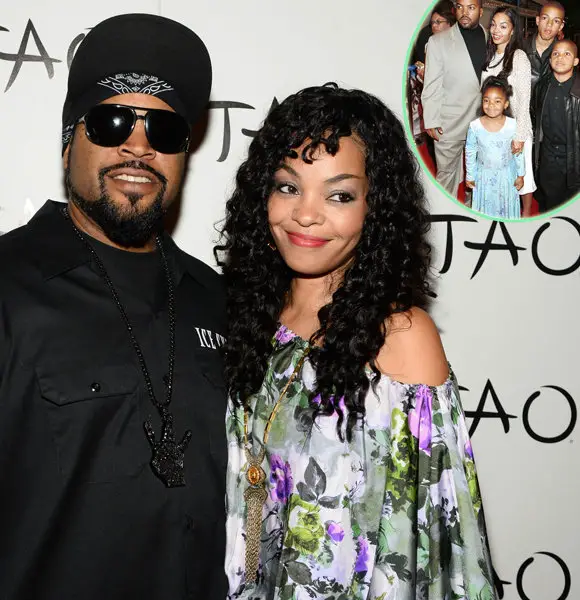 Quick Information
Wedding Date

28 November 1992

Lesbian

No

Instagram

N/A

Twitter

N/A

Facebook

N/A

Hair Color

Black

Hair

Long

Net Worth

N/A

Engaged Date

1991

Date of Birth 23-09-1970
Husband/Spouse

Ice Cube

Relationship Status

Married

Children/Kids

5

Parents

N/A

Zodiac Sign

Virgo

Nick Name

Kim Jackson

Birth Place

California, United States

Nationality

American
Kimberly Woodruff is a famous face recognized as the wife of rapper Ice Cube. With a loving husband who praises her a lot for the well-being and a family which includes very talented children, she has it all. 
Let's have a glance at her life and her family, which resembles itself as a close to perfectness on our story today.
Her Married Life; True Partnership
Kimberly is one lucky woman who is most loved and praised by her rapper husband. She has been married to Ice Cube for many years now.
The rapper fell in love at first sight but couldn't express his feeling then. He explains The Things saying:
The first time we met, she wasn't feeling me, she was NOT having it. She did not dig me.
It took six months for the pair to take off their relationship.
They formally started dating in 1988 and took their relationship to another label, getting engaged in 1991. A year later, on November 28, the pair tied the knot and has been able to maintain their relationship strongly since then. 
Kimberly and Ice have already completed their 25th anniversary (in 2017). In a statement, Ice Cube said,
"We've been together since '89, so to us, we're almost celebrating our 28th together. But as far as a married couple, '92, November 28th. It feels great. I'm glad she's stuck with me all of this time and not kicked me to the curb."
Kimberly appeared at the BET honors 2014 with her rapper husband Ice Cube (Photo Credit: dailymail.co.uk)
Marking the anniversary, he even gifted her with a ring and a BMW 5-series. According to The Sun, this is how he proposed his wife Kimberly Woodruff for the second time.
I don't know if it was considered romantic. I had bought her a new car [a BMW 5-series] and when she went to sit in the car, there was a ring sitting on the seat.
The couple shares five children together. They have sons, O'Shea Jackson Jr.( born on February 24, 1991), Shareef Jackson (born on November 27, 1995), Darrel Jackson (born on December 29, 1992). They also share two daughters, Deja Jackson and Karima Jackson (born on February 17, 1994).
A montage of the happy family of Kimberly (Published on December 17, 2015)
The California native never leaves a chance to praise his wife. Recently, during the promotional event of Hip Hop Squares, he expressed,
"She's been everything. This business looks like it's exciting all of the time, but sometimes it can get lonely. Especially when you've got a project out there, and you really don't have a place to kind of fall back on somebody who knows you for real and knows everything about you. Just to have her there fighting these battles with me this whole career has been awesome."
Those are some warm words for the beloved husband of Kimberly for her. The only advice which Ice Cube has given to many to make their relationship sustainable is,
"I think you've got to be friends first. A lot of people get together, and they want to go and do their thing and jump right into a relationship, but I think that's the wrong approach. You've got to have somebody you're cool with that you're friends with and then start the relationship."
And they made an excellent example of a beautiful couple! Cheers to their 28 years of togetherness. 
Her children:
Kimberly shares five children with her husband. She has undoubtedly raised talented children. 
One of her sons, O'Shea Jackson Jr., an American actor, and rapper portrayed his father's role in the biopic "Straight Outta Compton." While getting chosen for the movie, O'Shea Jr. shared his emotion,
"When Universal finally picked me it was a weigh-off my shoulders. And making me do all that work built confidence."
For the work of son in the biopic, Ice Cube said,
"He did a phenomenal job. I don't know if I could've done a better job playing me."
On the other side, Alexandra Shipp portrayed Kimberly's character and described her as a 'doped woman.'
Alexandra Shipp talks about her role in "Straight Outta Compton" and also about Kimberly (Published on Jan 13, 2015)
Talking about Kimberly Woodruff's daughter Karima Jackson, she is a philanthropist. She might not be a popular face as she chose a path away from the entertainment industry. 
She identifies herself as a research scholar and charity worker. For several years, she was in the service for the Stae of New Jersey as a family service specialist. 
As for her education, she attended Rutgers University-New Brunswick, receiving a bachelor's degree in sociology. She holds two master's degrees; one is a degree in child advocacy from Montclair State University, and the other is a degree in public administration from Rutgers, The State University of New Jersey-Newark.'   
She has her own philanthropic center named 'Organize Change, Inc.' 
Unlike Karima Jackosn, Kimberly Woodruff's other daughter Deja Jackson has a private life. She has not acknowledged the internet with details about her personal insights. 
So, there are confusions regarding her private life. For instance, some say she is the youngest among all the siblings, while some say she shares the same birth date (i.e., 17 Feb 1994) as Karima Jackson. 
And if the latter one is true, then Deja Jackson ages 26-years-old.
Her Wiki-like Bio:
The very loving wife of actor and rapper Ice Cube, Kimberly, was born in 1970. She is a person of few words when it comes to her life.  She is known to be living her life preserved, far from the eyes of media and fans, which is why she has not revealed much about her life.
Talking about the net worth, Ice Cube has estimated the net worth of $120 million. However, she hasn't revealed her individual net worth to the media.