Entertainment
Kira Clavell Bio: From Age To Dating Status And Family!
Canadian actress Kira Clavell, is one of the renowned personalities in the entertainment realm. While being associated with the entertainment industry for almost two decades, she has created a unique spot for herself.
If you are one of her fans and wish to know more about Kira, then you are in for a treat as we have brought you every possible detail about her personal life. So without further ado let's get started!
Personal Life
Also known as the model, Kira Clavell seems to be one of those celebrities, who prefers their work to do the talking than the details of their personal life creating headlines.
Talking about her family, it is only known that her father is Irish-Spanish and her mother has Filipino-Cantonese-Hawaiian-Polynesian roots. Thus, she posses a mixed ethnicity.
While the fans are inquisitive regarding the romantic life of Kira; she chooses to maintain the dignified silence. The famous Canadian model Kira has successfully shielded the details accounting her romantic associations.
She has neither admitted being in a relationship or acknowledged anyone as her boyfriend yet. Further, she hasn't been spotted with anyone who could be conjectured as her boyfriend, yet.
However this Valentines' day, she shared a picture of two coffee cups and colorful doughnuts while wishing her fans and follower on the day dedicated to love. Well, the hashtags used while sharing the image suggest that she could be romantically involved with someone secretly!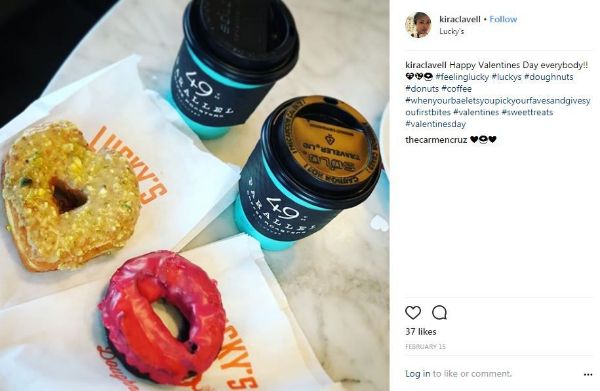 (Photo: Kira Clavell's Instagram)
Unless she sheds light on her dating life fans are left to wonder on their own. Hopefully, she would come forward and acknowledge the love of her life in the public soon.
Glancing towards her professional life, Kira started her career in the realm of acting at a young age in 1998 by playing the role of Kishya in the television show Honey; I Shrunk the Kids. Furthermore, she made her appearance on the big screen in 2001. In 2001, she got a chance to enact in two movies named 'Voyage Of The Unicorn' and 'Dr. Jekyll And Mr. Hyde'.
Then after she was signed in various television series and movies like 'Kicking It Old Skool,' 'The Evidence' and 'Cool Money.' The audience widely applauded her role in films like Frankie & Alice (2010), Rogue (2013) and The Hunters (2013).
Besides TV show and movies, Kira is the widely known personality in the commercials ads too. She has appeared in advertisements for Nike, Levi's, Wonderbra and Estée Lauder. Moreover, She has been featured in commercials for Diet Pepsi, Wunderbar, and Disaronno. Despite being in front of the camera, she is inclined towards working behind-the-camera too and is a professional photographer.