Entertainment
Know Kirsty Wark From Her Young Age! The Journalist Who Lives With The Perfect Husband And Has Likewise Children
A perfect family is something every body covets to be a part of.
Kristy Wark, one of the Britain's most experienced television journalist, is currently living blissful moments with a perfect family which includes her creative director husband, a daughter and the younger member of the family, her son. Kristi and her husband, Alan Clements are sharing a beautiful married life and have been doing this for nearly three decades.
Doesn't this family seem a beautiful one utterly?
Well, if you want to know Kristy from her young days and other facts about her married life with a husband and children; you will shortly know it all in the next few minutes of your stay with us.
Know The Young Kristy And Her Married Life:
Kirsty Wark was born on 3rd of February, 1955 in the County of Dumfries called Dumfriesshire, Scotland. She was born to a solicitor, Jimmy Wark, and a school teacher, Roberta Wark as an Aquarius girl.
In regards to her education, she did her schooling at Kilmarnock Grammar Primary and Wellington School and also attended the University of Edinburgh for further studies.
In the year 1976, she joined the BBC as a graduate researcher for BBC Radio Scotland and got promoted to a producer of a show called Good Morning Scotland after a year.
In the process of extending her career, she decided to switch to television in 1982 and began producing BBC Scotland's lunchtime political program, Agenda and current affairs series, Current Account.
Gradually, she began presenting a broad range of programs from the ground breaking Late Show to Election specials and live stadium events.
The other notable show of Kirsty is the weekly arts and cultural review and the comment show, "The Review Show," formerly known as Newsnight Review (Newsnight spin-off).
Moreover, she has been presenting the BBC's flagship nightly current affairs show called "Newsnight" since 1993.
This successful female journalist has also been able to maintain a blissful family life with her husband and two children. Kirsty got married to a TV producer, Alan Clements, who has also worked as a program-maker for Kirsty in 1989.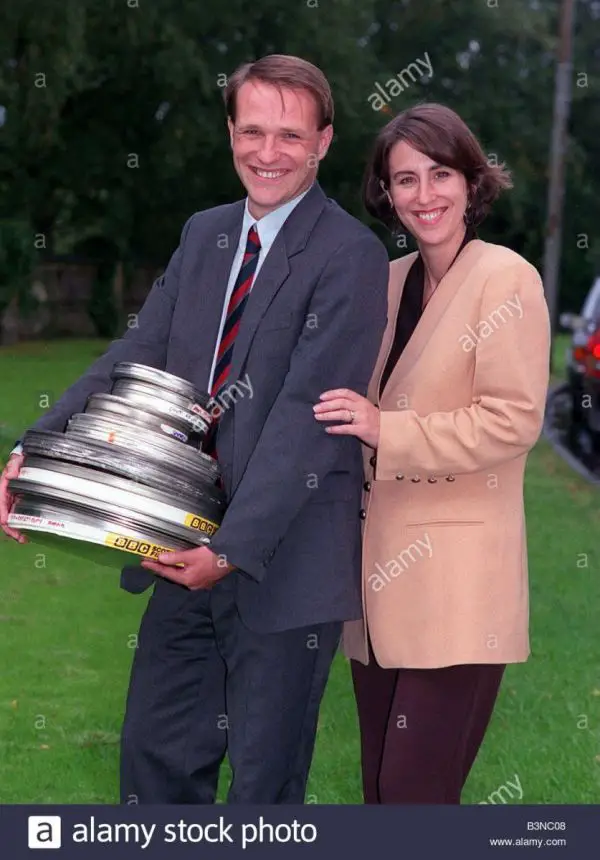 Caption: Kirsty posing with her TV producer husband, Alan.
Photo Credit: alamy.com
Moreover, the couple shares two children together. They welcomed their first child, a daughter, Caitlin Clements in 1990 and a year later, they got blessed with a son, James Clements.
The family currently lives in an elegant terraced house in Glasgow's leafy West. She commutes around 900 miles from her house to London and back every week to present Late Review and Newsnight. 
Kirsty never felt that she should go for ending her career after being the mother of two, but rather decided to move on balancing the family and her career.
Moreover, she made cameo appearances in a range of television dramas and movies and also wrote a novel called 'The Legacy of Elizabeth Pringle' in March 2014.
Kirsty has also won several major awards for her outstanding work which includes Journalist of the Year and Best Television Presenter, BAFTA Awards for Outstanding Contribution to Broadcasting. 
Although her profession provides her with an incredible salary(between 150-199 thousand), the exact details of her details remain confined from the media.