Entertainment
Who Is Kawhi Leonard's Girlfriend Kishele Shipley? Details About Dating Life
Kishele Shipley is famous for her relationship with NBA star Kawhi Leonard. Keep on reading to find out info on Kishele. 
Relationship With Kawhi Leonard
Kishele and Kawhi started dating in 2014. They reportedly met at San Diego State University as students. The couple welcomed their daughter, Kaliyah Leonard, in 2016.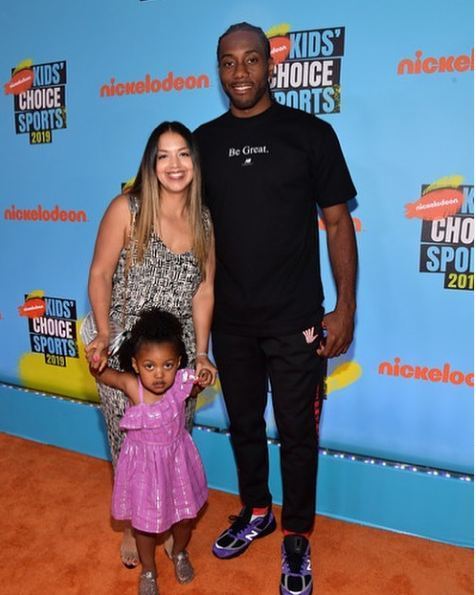 Kishele Shipley with boyfriend Kawhi Leonard and daughter Kaliyah Leonard in July 2019 (Photo: Kawhi Leonard's Fan account)
Fast forward to 2019; they reportedly welcomed their second child, a son. 
Engagement And Marriage Rumors
Rumors regarding Kishele and Kawhi came into light when ESPN referred Kishele as Kawhi's fiancee in 2016. However, no confirmation ever came regarding the matter from the couple. 
Following the engagement rumors, there was unconfirmed news regarding Kishele and Kawhi's marriage in 2019. However, like the engagement news, the duo didn't comment on the marriage rumors. 
Who Is Kawhi Leonard? 
Kawhi is a shooting guard for the Los Angeles Clippers. Before joining Clippers in 2019, he played the 2018-2019 season with Toronto Raptors; he won the NBA championship in 2019. Kawhi was named NBA Finals MVP with the Raptors. 
Before his stint with Raptors, Kawhi played with the San Antonio Spurs for seven seasons from 2011 to 2018. During his stint with the Spurs, he was named NBA Finals MVP in 2014. He also bagged NBA's Defensive Player of the Year in 2015 and 2016. 
Kawhi also achieved the feat of being part of the NBA All-Star Game in 2016. 
Before his success with the various team, he started in the NBA as Indiana Pacers' Draft in 2011. 
Kishele Shipley Bio And Family
Kishele was born on 10th April 1989, in San Diego, California. Her parents are Kenneth Shipley and Cathy Marie Shipley. She has two sisters Kasandra and Kenisha Shipley. 
Kasandra is a Cal State University, Long Beach graduate; she got her degree in 2016. Similarly, Kenisha is a California State University, Los Angeles graduate; she has a Master's degree in Environmental Science. 
Before her graduate education, Kenisha earned a Bachelor's degree in Chemistry from San Diego State University.
 Facts On Kishele Shipley Including Race
Kishele is of multi-cultural ethnicity. 

She is Aries. 

Kishele used to work in the human resources in San Diego.

She has a Public Administration degree from San Diego State University.

She is very private; she isn't on any social media publicly.