Entertainment
Kristen Hancher Dating To Get Married! Her Blue-Eyed Boyfriend Is Perfect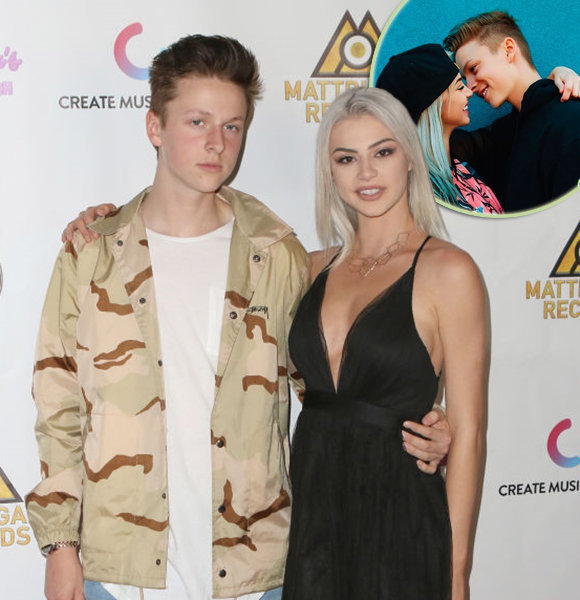 Unlike some people who find love after achieving their desired height of success, Kristen Hancher, a famous social media star found her love during the dawn of her career. 
If you're wondering how Kristen found her love of life and who her perfect blue-eyed boyfriend is, tag along as we take a closer look at her dating life!
Kristen Hancher Perfect Love Life With Her Boyfriend:
Kristen Hancher, one of the most popular personality in musical.ly, is currently living a dating life in bliss. She has been dating Andrew Gregor, a Youtube star, for one year and ten months now.
The duo first met at a party, but at that time Kristen was dating some other guy which she has not specified yet.
However, Kristen and Andrew started hanging out together and spend most of their time with each other. Kristen realized she fell in love with Andrew when she went to a rave with him, which was their first rave together. 
According to Andrew, Kristen was wearing "cutest little Irish hat with sparkles on her face" during the rave. The moments they shared in the rave happened to be their favorite memory together. 
Kristen started dating Andrew when she was just 16. After a month or two of dating, Kristen moved in with Andrew. At that time, Kristen was looking for an apartment, and  Andrew took her in as she could not find one. The duo has been living together ever since.
Likewise, Andrew uploads multiple pictures with Kristen in his Instagram where he tells his followers how they struggled through their life together from owning an apartment to owning a house.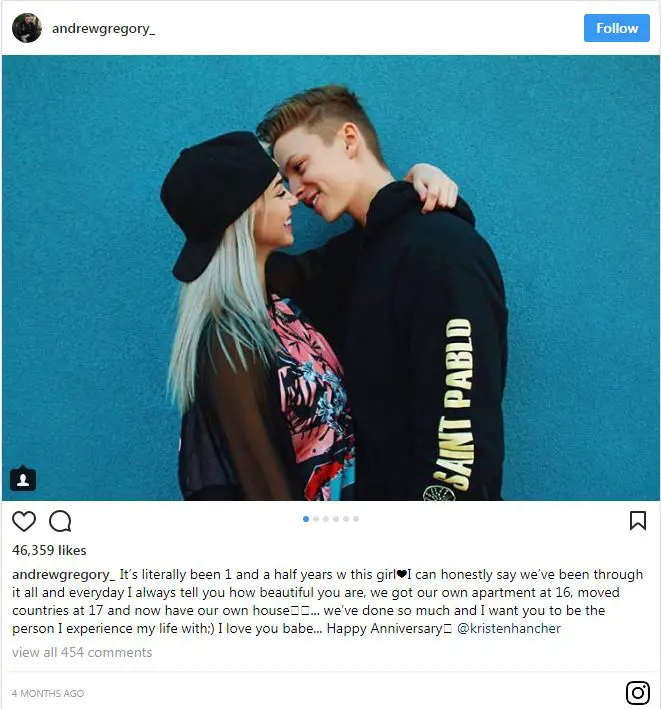 Andrew Gregor wishing his girlfriend Kristen Anniversary (Andrew's Instagram)
Moreover, in a Youtube video uploaded by Andrew in his channel 'Just Dru,' the couple talked about having a 90's themed wedding. Kristen added that their wedding would be held in Los Angeles.  
Well, fans surely are waiting to witness the union of these two souls in a wedding ceremony!
Kristen Hancher Bio:
Kristen Hancher, who is a popular Instagram and Youtube star, was born and raised in Canada. Born on 17 May 1999, Kristen has a younger brother named Derek. She is very close to her family, and she thanks them along with Andrew's family for her success in the world of entertainment. 
However, Kristen began her career when she first became active on YouNow but later stopped broadcasting there once she rose to the fame. She joined Musical.ly in 2015 and was quick on capturing the followers. As of now, she has more than 19 million fans.
After musical.ly, she joined Youtube on 2 Jan 2016, which now has 740K subscribers. Her videos include her take on popular trends, dressing, and hairstyles, as well as music.
Likewise, she even posted lip sync alongside Niki Minaj in May of 2017. She has also been featured in a web series on YouTube titled 'Misshaps' in June 2017. Furthermore, she is a dancer, actress, and a singer. Besides that, she is also a skillful gymnastic and soccer player.  
Think we're missing something? Do let us know in the comment section below!