Entertainment
Kristen Johnston Still Not Married? Or Struggle with Drugs And Disease Didn't Let Her Have A Partner Or A Husband?
Addiction till date hasn't created a jovial ending! One might be on a cloud nine under the influence of either alcohol or drugs, but what after the chemicals stop juggling down the nerves?
You are left, where you started!
Kristen Johnston, the star of the show 3rd rock from the sun, went through the same addiction phase that took her life towards a bitter note; as it always does.
But is her addiction the reason for her not having started a conjugal life? Why is she yet to settle down with a husband, despite having dated men in the past? Let's see through it.
Failed Relationships in the past, Where does she stand in the Present?
Having been an addict for an extended period, Kristen finally turned sober and clean in 2007. She suffered from a substance abuse and was diagnosed with lupus myelitis- a rare form of the disease that affects the spinal cord, few months after she complained of feeling sick in September 2013.
Amid all the tension she was going through in her life, Kristen reportedly was in two relationships in the past.
She first discovered her love for David Newsom- an American actor, producer, and an exceptional photographer. She dated him for about a year in 1996 and were spotted together in some venues.
Caption: Kristen Johnston with former boyfriend, David Newsom at the third Annual Screen Actors Guild Awards
Photo Credit: Getty Images
Despite the love Kristen and David had for each other, neither of them officially spoke about it.
She also dated Ryan Reynolds- a Canadian artist in the year 1999; their relationship lasted till 2000. The duo couldn't carry their relationship further.
Even with him, Johnston maintained complete privacy, as no beans were spilled regarding their affair. It was a surprise for the fans as they didn't expect the duo to be dating each other.
Kristen was also spotted together with the handsome lad, in few snaps,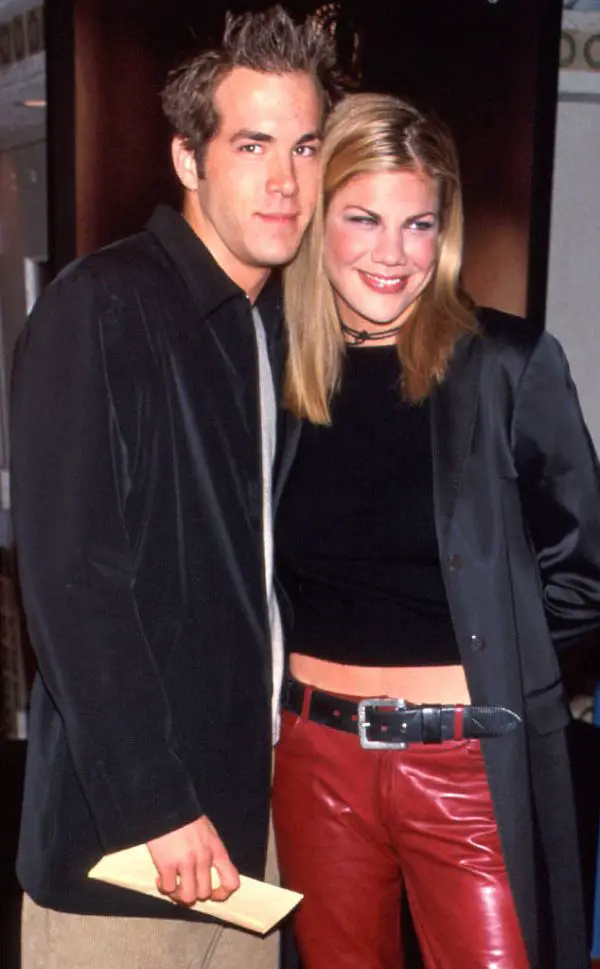 Caption: Kristen Johnston with her former partner, Ryan Reynolds.
Photo Credit: E!news
That time onwards, she hasn't even been rumored dating any guy, and it's obvious that she isn't married, as of now.
Kristen not being in a relationship for 17 years now, triggered the speculation amongst her fan, of her, possibly being a lesbian/ bisexual, but there are no valid grounds for the conjecture to be proven right.
Furthermore, conclusions were drawn that her addiction could have been the cause for her to remain in her personal space without letting anyone be a part of her life.
Now that the actress is sober, hopefully, she will find her Mr. right and will spare some thoughts on getting settled with a perfect husband.
Few more things you might want to know about Kristen Johnston.
The two times Emmy winner for the character Sally Solomon in the television series 3rd Rock from the Sun, Kristen Johnston was born on 20 September 1967, in Washington, D.C, USA and is 49 years in terms oh her age.
She has also starred in the sixth season of 'Sex and the City' and received the accolade for her role in the movie.
Caption: Kristien Johnston's snippet from 'Sex and the City' (Published on Nov 20, 2008)
Despite being an outstanding actress, she reveals she loves teaching acting, more than acting. She also admits she is addicted to Twitter and also seems to be fond of Instagram, as she posts pictures once in a while. Here you can check out an adorable picture of her with her dog, Pinky.
She usually is loud in nature but can be shy at times. Something interesting about Kristen is that she hates shopping, that's something you wouldn't hear coming from a girl.
However, if you want to catch up with her recent work life, she is now returning to broadcast Tv as she joined CBS workplace comedy 'Real life.'
Stay with us for emerging updates on Kristen Johnston.