Entertainment
YouTuber KSI To Fight Logan Paul, Brother Deji Alongside; Net Worth, Dating Status & More
Olajide Olatunji famously known as KSI is a famous youtube personality who is known for his crude opinions and sexual humor.
The YouTuber, who boasts more than 18 million subscribers, has added more to his fame by challenging another famous YouTuber for a boxing match, which is set for August 2018. 
Besides, the Watford, United Kingdom native has also revealed his girlfriend in layers.  
Boxing Match With Logan Paul; Hires Personal Trainer
YouTuber KSI is on the run to set a history by fighting a boxing match with another famous YouTuber, Logan Paul. The fight is structured on two boxing matches; first to-be-held at Manchester Arena on 25 August 2018, while the second will be fought in the US. The pair held a press conference in June 2018 to notify the fans of their upcoming battle, where KSI's brother Deji joined the rapper.
The 25-year-old KSI was the first to challenge Logan Paul in a fight. In reply, Logan slammed claiming that he would defeat KSI in the third round. He further added that is was more of a fact rather than a prediction as he was about to face a sack of potatoes. Logan also insulted KSI, calling him a kid and mentioning that the kid had a grave mistake.
KSI had previously defeated YouTuber Joe Weller in a boxing match held in London in February 2018 and watched by more than 8000 fans. The internet sensation of African-American ethnicity is currently preparing for his upcoming fight and has even hired a personal trainer.
Reveals Girlfriend's Identity After Wide Mystery
Like that of his career, the internet personality has been open on his personal life and has mentioned on several occasions about his dating life. On 26 August 2017, he uploaded a video, where he promised fans about disclosing the identity of his girlfriend. In the video, he showed footage of his brother Deji talking about KSI's relationship with a blonde girl. Deji also displayed a picture of KSI and his mystery girl holding hands.
In response, KSI said that he was not impressed with people making assumptions about his girlfriend and that he would himself reveal the identity of his partner. The next moment a woman appeared on the screen with a unicorn mask on her face which concealed her face. Lastly, the YouTube star jokingly mentioned that he was f**king with a unicorn.
Later on 24 October 2017, he uploaded a video titled "Mauritius With My Girlfriend" in which he revealed the face of his girlfriend. He also mentioned his partner's name as Lois.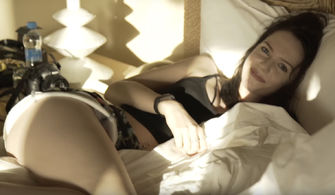 KSI's girlfriend Lois in 2017 (Photo: YouTube.com)
KSI hasn't shared many details about his girlfriend. The pair broke up after dating for a while in November 2017. He has not revealed much about Lois, but back when he was dating his previous lover; the YouTube personality was comfortable speaking about her.
Ex-Girlfriend, Dated For Two Years
Previously, KSI dated a girl named Seana Cuthbert beginning in 2012. She regularly featured on his videos and the two even mentioned each other on social media frequently. However, the relationship didn't last long and the two parted ways after dating for two years.
He confirmed his breakup posting a "Googling Myself" video in which he mentioned about the couple's separation. He mentioned that although the two had broken up, they still remained on friendly terms.
Later in August 2016, Seana appeared in one of KSI's videos where the two shared some weird details about relationship such as they ever did the helicopter posed s**.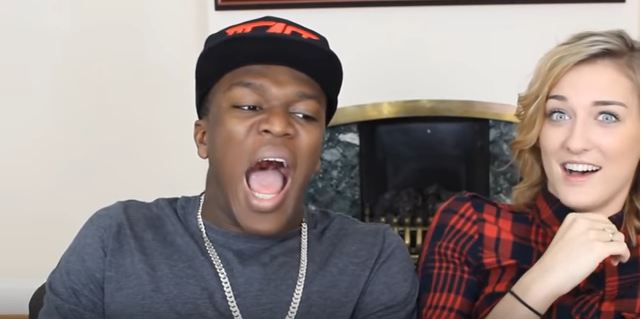 KSI and Seana Cuthbert feature on a video in August 2016 (Photo: KSI's YouTube)
The YouTube star is also close to his family and has even supported them in their finances.
Family, YouTuber Brother
KSI is the son of Jide and Yinka Olatunji. His parents are believed to have migrated from Nigeria to Britain. KSI cherishes his family and has even helped them financially. Although his parents were initially reluctant of their son finding a full-time career in YouTube, they later came to terms as KSI paid for their home with his earnings from YouTube which he considers his greatest gift to his family. As of May 2017, KSI claimed a net worth of $11 million with his income from YouTube ranging from $213.9K - $3.4M per year.
KSI's brother, Deji is also a YouTube personality and recognized for his YouTube channel, ComedyShortsGamer. He started his YouTubing career featuring in several of his brother's videos. He is famous for posting comic and gaming videos and is widely known for performing pranks with his family members. He is also focussing on his acting career and has appeared in the 2016 comedy movie, Laid In America. Deji has even launched his own clothing line called Tank.