Entertainment
Laura James Dating Status? Stunning Model With Furtive Boyfriend Or Single?
American model Laura James rose to fame after winning the 19th Cycle of America's Next Top Model (ANTM) in 2012. The 27-year-old model turned actress has been busy focussing on her acting career lately and played roles in movies such as Chronology (2016), Hello Ladies (2013) and Nano (2017). 
Laura is a secretive person when it comes to revealing the details of her personal life. However, she shares some moments of her private through her social media account.
So, let's take a few moments to unwrap the romantic side of Laura along with details of her family!
Family Full Of Love
Laura is the daughter of actor John James, who is famous for his portrayal of Jeff Colby on the 1980s soap opera Dynasty. The model, who secured ad campaigns with Nine West and Smashbox Cosmetics after winning the ANTM, shares a close relationship with her mother, Denise Coward, an Australian ex-model and the second runner-up in the Miss World 1978.
Laura's parents also joined her in the final of ANTM when she was declared as the winner.
Furthermore, Laura has a beautiful siblings-bond with he younger brother, Philip James, and she enjoys flaunting her love for brother through her Instagram. On 24 July 2013, Laura shared a post in which she wished Philip for his birthday.
In the post, she further went on to mention that her brother was her best friend and that she was proud being his sister.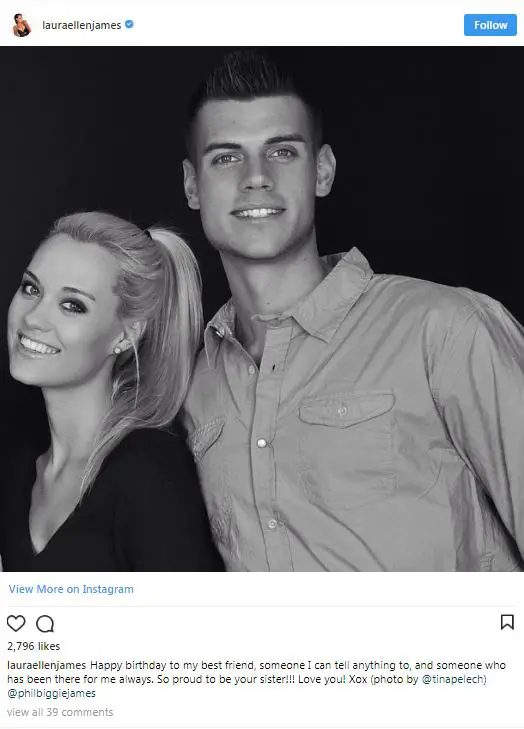 Laura James wishes brother for his birthday on 24 July 2014 (Photo: Laura James' Instagram)
Moreover, on 25 September 2017, she shared a picture of the sibling's childhood and mentioned her younger days as simple and perfect.
As for Laura's net worth, she has not revealed the exact figure; however, as she landed parts in several movies in the recent years, it won't be wrong to assume that she has made a significant amount of money for herself.
Also, winning the ANTM had won her substantial prizes including a $100,000 cash prize, plus $30,000 she won for completing three challenges which she had to use to pay for her college education.
Dating Life: Single Or Kept Secret?
When it comes to Laura's dating life, she has never flaunted much about it in the social media. Further, Launa, who was signed with L.A. Models, has not been linked to any man in the past.
Likewise, Laura is possibly single as reports of her having a boyfriend has not come out in the media. 
However, chances exist that Laura could be dating someone but hasn't revealed it in the social media or any of her interviews. But, the truth about Laura's dating life can only be known if she comes forward to address the issue herself.