Laura Wright is one of the most famous soprano singers out there. She has sold over a million albums, won the BBC Radio 2 Chorister of the Year, and recorded the Queen of England's official jubilee anthem in 2012. Further, is also the RFU's official anthem singer.
But Laura is not just a singer; she is also a sportsperson. She is a rugby player. And when she was younger, she played hockey, netball, and tennis.
Personal Life: Husband, Wedding & Baby
To the fans of Laura Wright, it is no secret that she is married to a rugby player and a personal trainer, Harry Rowland.
According to Harry's Instagram, the duo first started dating in May of 2013. The relationship took a serious turn when the lovebirds got married on a beautiful winter wedding at a church in Framlingham in 2018. Interestingly, Laura used to sing there as a child.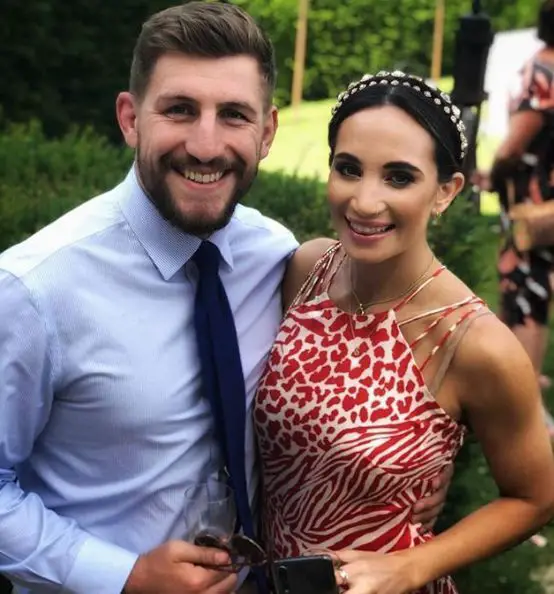 Laura Wright with her Husband on 22 June 2019 in Château de Vallery (Photo: Laura Wright's Instagram)
After the big day in the singer's life, another huge moment followed. The husband and wife broke the news of expecting their first child in August 2019. Laura was already 20 weeks pregnant by then. Thus, the world will soon hear the good news of the arrival of Laura's baby.
Family & Bio
Coming with the roots of both sports and music, Laura Wright, 29 years old, was born in Suffolk, England. 
She has three older brothers who are also very sporty and play rugby. And her mother, Caroline Wright, is a visual and performance artist.
You Might Like:- Jack Brooksbank Gets Married To Princess Eugenie; Royal Wedding At Best!
But as a child, everything was far from smooth. When she was age seven, she used a wheelchair for a while due to septic arthritis. But, pushing through all the challenges faced in life, she took part in any sports activities she could find.
When Laura had to go to university, she chose to attend the Royal College of Music to pursue her singing career, which started when she was 15. While in college, she spent a lot of time waitressing to pay for her studies.
Soon, the fruits of all her hard work started showing. Well, Laura led the opening ceremony of the Rugby World Cup at Twickenham in 2015. And, the soprano singer recorded three albums with the choir group called All Angels signed with Decca Universal.
She then became a soloist and released three other albums by 2017. To add a cherry on top, Laura even sang in front of the royals multiple times, including directly in front of the Queen of England in 2017. 
Net Worth
Laura Wright is, by default, one of the most successful singers in the U.K. With so many performances in different events and selling over a million albums, she has been able to rise to the heights of fame in a way that no other soprano singers have probably reached. 
Explore:- Caroline Sunshine Boyfriend, Parents
With her achievements in mind, it is safe to assume that she has a fantastic net worth. However, the singer opted not to disclose her net worth to the public.
From her self-titled YouTube channel, she earns an average salary of $7 - $110 per year.