Entertainment
Lauren Collins, Not Yet Married, Once Dated With Adamo Ruggiero? Current Boyfriend?
Our beautiful Canadian actress, Lauren Collins, from Degrassi: The Next Generation, is the topic of our discussion today. It is believed that she once dated Adamo Ruggiero but is that all? What about her other relationships? Let's find out.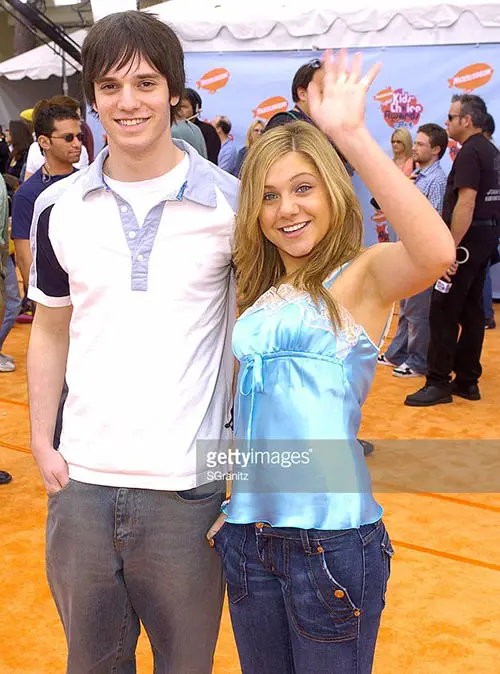 Caption: Jake Epstein and Lauren Collins during Nickelodeon's 17th Annual Kids' Choice Awards - Arrivals at Pauley Pavillion in Westwood, California, United States. April 03, 2004
Source: gettyimages.com
Currently, Lauren seems to be a single woman, but she was once dating her co-star from her drama series, Jake Epstein, a fellow co-actor of Degrassi, from 2008 to 2010. However, this news cannot be confirmed as both Lauren Collins or Jake Epstein has not talked about it.
Moreover, Lauren was also dating a guy in 2006 who is still anonymous to the media according to a source.
She said, "yeh I have one but can't give a name"
Apart from Jake Epstein, we speculate Lauren dated another Degrassi co-actor Adamo Ruggiero. However, this case is pretty confusing because Adamo Ruggiero came out as a gay in an interview with Tanya Kim of CTV entertainment magazine eTalkin in 2008.
When we came to know that Adamo was a gay, we thought that their relationship was just a false speculation, but when we looked at their pictures in their social accounts, they seemed to be closer than just friends. We even found out that they once shared an apartment.
Lauren was addressing Adamo as her other half.
Caption: Lauren Collins on Straight talk with Adamo Ruggiero on August 18, 2015.
Well, all the confusions cleared out after she tweeted about her being in a relationship with a guy named Adam who was more commonly confused as Adamo.
confusion. adam-boyfriend. adamo-gay boyfriend.

— Lauren Collins (@Lauren_Collins) November 30, 2009
Now the question remains that who is Adam?
Is she still in a relationship with her boyfriend with her then-boyfriend or has she broken up? She seems to have cleared this out too with her another tweet.
Convenient or unstable: wearing my ex-boyfriend's socks?

— Lauren Collins (@Lauren_Collins) January 23, 2015
Well! This concludes that she broke up with him. Leave us your thoughts on this in the comment section below about if she has someone in her life.  We just hope that this unmarried beauty gets married to a deserving husband.
Lauren Collins' Short Bio & Net Worth:
Lauren Collins was born on August 29, 1986, in Thornhill, Ontario, Canada and is a Canadian by nationality but she was raised Jewish. She attended and graduated from Thornlea Secondary School.
Her career in acting started from 1998 and till 2001, she did various roles in various television series like Once a Thief, Noddy, I Was a Sixth Grade Alien and In a Heartbeat, before she got the role of Paige Michalchuk in Degrassi: The Next Generation.
Lauren has also played in many movies, and her first film debut was in Taking the Lead. Having played so many roles in the television world, Lauren has successfully gathered herself a splendid fortune. She currently has a net worth of $3 million
Lauren is currently working on Degrassi: Next Class, which is the fifth franchise of the Degrassi. Degrassi: Next Class recently premiered its second season on July 19th, 2016.