Entertainment
Lauren Elizabeth Young Age Success! Loving Boyfriend | Soaring Jewelry Line
American YouTube star, Lauren Elizabeth is a fashion and beauty YouTube personality is known for her channel LoveLaurenElizabeth. 
With her YouTube channel, she was able to paw on her dream career in the entertainment industry. She got her popularity as the YouTube star and later landed the role in the Hollywood with the 2016's movie Bad Night.
While she pursued her childhood dream, she also met with her boyfriend on her journey, which she relishes through her Instagram account.
BestFriend-Turned-Boyfriend
Also an actress, Lauren began a relationship with model-actor Cameron Fuller since 2017. The couple had not confirmed their relationship after a ton of speculation by their fans.
However, the YouTube star gave the weight to the dating speculation by sharing the images with her boyfriend kissing and getting cozy on the social media. Firstly, he was featured on the Lauren's Instagram as a best friend. 
She took to Instagram with the adorable picture where the couple was sharing the kiss, writing: "everything."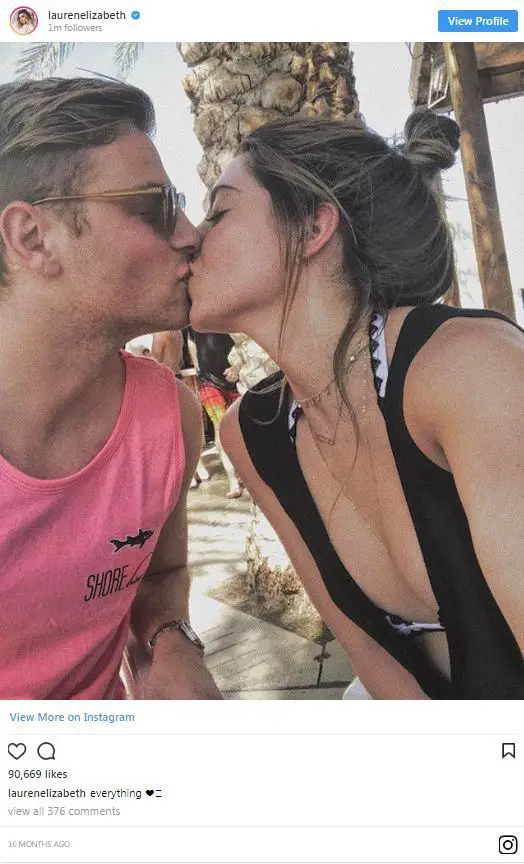 Lauren Elizabeth, boyfriend Cameron Fuller in 2017 (Photo: Lauren Elizabeth's Instagram)
Also, the couple goes on the romantic getaway, which timely freshens their love life. She expressed her gratitude to her boyfriend for taking her away for the weekend when she needed it the most.
From wishing her boyfriend from the National Boyfriend Day to his Birthday, she never missed the chance. She took to Instagram on October 2017, where she wished him the 24th birthday. As his boyfriend aged 24 in 2017, she also wished him the birthday week writing: 
"Aaaaaaannd you thought I wasn't gonna post AGAIN for your bday! HAPPPPPY BIRTHDAAAAY to the love of my life @cameronfuller  My best friend, my teammate, my everything  I love loving you & celebrating BIRTHDAAAAY WEEEK! Here's to 24 being actually kind of old and scoring 58 points to show you still got it baby'
Moreover, the heart throbbing couple was once the best friend, and the best friend twisted their relationship to the dating relationship. Lauren states that the best part of 2017 was falling in love with her best friend. 
It's not just Lauren who is putting her effort into the relationship, but also her boyfriend never missed the chance to surprise her. He flew to the shooting set of Lauren as she was busy shooting. Not only this, the couple are usually busy with their work, but they spend the quality time on "Sunday" as the lovers day.
Well, the couple not only celebrates the Sunday but also had the biggest plan for their first Valentine's day which was not a success as she gets only 10 min to get ready. She explained that he is the one who has supported and loved her to the highs and lows of her life. She added:
"I have this man that loves and supports me and deals with me at my highs and lows. Instagram is a place where it's easy to think the grass is greener on the other side. But i never feel guilty when i post a pic of me and this man because i know uniquely we are the real deal. He is my everything. My rock. My home. My team mate. He's glad everyday isn't Valentine's Day so i don't smother him times two. But i love you baby. Endlessly happy v day."
Furthermore, she thinks that she is lucky to have his girl and also expressed that she loves him the most in this world.
YouTube Career Includes Jewelry Line; Boost To Net Worth
Born on 6 July 1994 in Chicago, Lauren has a Youtube star brother named Hudson Luthringshausen. She started her career as blogging in her native Chicago in 2011.
Slowly she spread her area from blogging to YouTube videos, hosting, acting, producing, and designing. Through her blog, she made her biggest fantasy come true as she moved to Los Angeles at the young age.
Since she is obsessed with the beauty and jewelry, she made it her profession. She is just at the age of 24, and here she owns her jewelry shop and also has her own jewelry collection shop named 'Mejuri.' 
She tweeted on August 2017 where she shared among her millions of followers that the Jewelry collection is back in stock. Not only on Twitter, but she also advertised her product among the YouTube viewers too. She uploaded the video on June 2018, where she explained about all the finger-rings with the price. 
With her huge followers and well-wishers, she might earn a hefty amount from her jewelry business and YouTube career which would obviously benefit her net worth.