Entertainment
Fox News' Lauren Simonetti Got Married! Now Has A Beautiful Angel As Daughter
Fox News' Lauren Simonetti Got Married! Now Has A Beautiful Angel As Daughter. Fox news reporter Lauren Simonetti shares a similar story, as she fell in love with her contemporary from the same field and tied the knot, but is the one who once declined the idea of dating someone from work. After the marriage, the couple has been showered with happiness in the form of their daughter.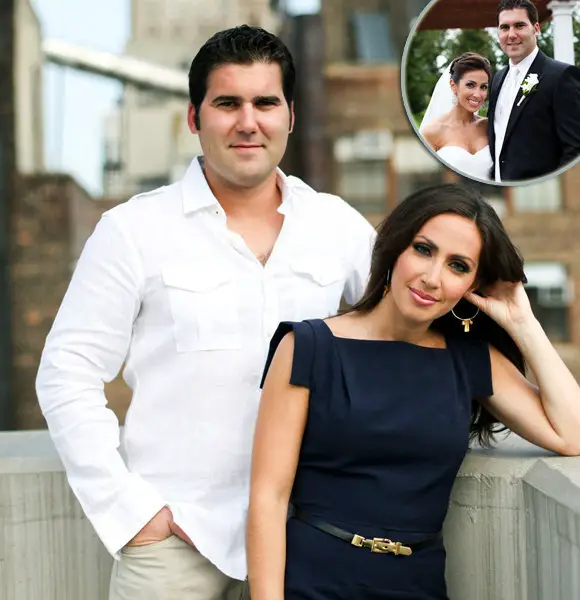 Every love story has a tale to tell! When two people, who decided never to date someone from work, end up dating each other and eventually led the relationship to marriage; it's a story worth a read!
Fox news reporter Lauren Simonetti shares the exact scenario, as she fell in love with her contemporary from the same field and tied the knot, although she once declined the idea of dating someone from work.
Keep reading to find out what ignited the love between them!
Lauren Simonetti's Married Life:
Fox News reporter, Lauren Simonetti and her husband Mark Cubrilo- a field and satellite engineer on Fox News Channel, who had an encounter on the campaign trail, initially knew each other casually from work. However, they didn't know each other on a personal level.
Later, Mark invited Lauren, along with other staffs at Fox News for dinner, but no one except Lauren showed up. The night was a Halloween night, and the couple bargained with the college students for several parts of the costume.
They both accepted that sparks flew between them, but none of them shared their feelings, as they both were hesitant to get romantically involved with someone from work.
Mark stressed the risk of dating a person from work.
"We both said we wouldn't date anyone from work. We made this exception, but were hesitant about that,"
Lauren and Mark again crossed each other's path at an after-work gathering, where Mark's brother revealed a secret that Mark had a crush on her.
The revelation gave Lauren a much-needed courage to break the ice with Mark; following which they decided on their first date in the name of "Just Lunch." The date then became the initiation of a promising relationship!
Taking about the courtship days, Mark expressed,
"We just clicked. When I finally saw her outside of work, I saw her true personality. She's serious when she needs to be, but there also are a lot of laughs with her and she's so much fun." 
Lauren also had beautiful words to describe her husband, Mark.
"He is pretty selfless. He's more concerned about me than himself. And he's trustworthy. I know I can rely on him for anything." 
Two days after Lauren's birthday in April 2015, Lauren's then boyfriend, Mark went down on his knees and proposed her at a private dinner, subsequently followed by a celebration with their loved ones.
After six months of proposing, Lauren walked down the aisle as a bride and exchanged wedding vows with Mark in October 2015 in the Crystal Plaza, Livingston, New Jersey.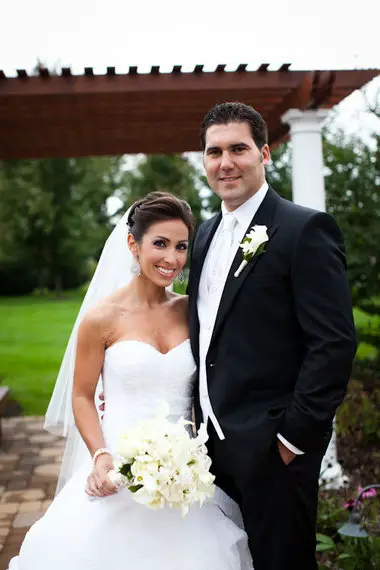 Caption: Lauren Simonetti and her husband, Mark Cubrilo at their wedding on October 1, 2015.
Photo Credit: blog.silive.com
The couple went to Tanzania and Zanzibar to enjoy the safari in Africa for their honeymoon. The couple talked about, how being from the same profession has helped them understand each other.
Lauren even shared that when she says she is busy, Mark understands that she is covering breaking-news story while others may not. She further revealed the secret of a successful relationship with Mark,
"Being flexible, not selfish and understanding what comes with the job" 
The relationship of Lauren and Mark further escalated with the news of Lauren's pregnancy. The then excited mom-to-be shared a picture flaunting her baby bump back in July 2015.
Lauren and Mark welcomed their daughter back in October 2015. The new mother Lauren shared the snap of her one-week-old daughter, Rae Vivian and thanked her followers for the warm wishes and blessings.
She loves her daughter and loves flaunting her time out with her through her Twitter. Back in 2016, Lauren shared that she is traveling with her daughter in NYC subway for the first time.
More About Lauren:
Fox News reporter Lauren, graduated from George Washington University with highest honors and earned a Master's degree from the Columbia University. She worked at CNN as a business news writer and producer.
Further, she went to work for FBN and covered major economic events, and even interviewed the executives and traders at the New York Stock Exchange, NYMEX, NASDAQ, and CME.
Lauren joined Fox Business Network from September 2007 as a field producer and went on to become a reporter in September 2011. She co-hosts FBN: AM at the channel, which airs at 5 AM/ET.
The reporter undoubtedly is paid a handsome salary for her contribution to the channel, which indeed contributes to her growing net worth. However, she is yet to reveal both in actual figures.
So keep visiting, as we'll be updating as soon as something comes up on the matter!