Entertainment
Lauri Peterson Wiki: All About The RHOC Star, Her Husband - Including Details On Her Son and Daughter
Lauri Peterson Wiki: All About The RHOC Star, Her Husband - Including Details On Her Son and Daughter. The Real Housewives of Orange County" alum Lauri Peterson is a name that has always been taking the television reality world by storm. But still, we believe that some people do not know her. Are you one of them? If you are, save yourself the trouble of looking everywhere to broaden your knowledge about her life as we are covering her wiki which includes her life with her husband and her children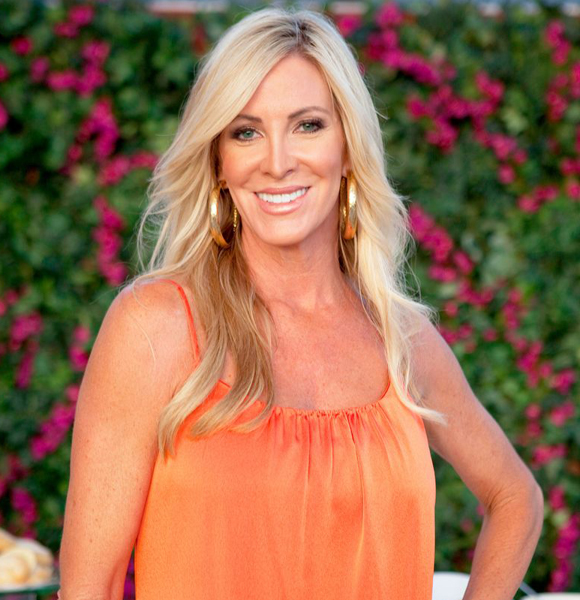 "The Real Housewives of Orange County" alum Lauri Peterson is a name that has always been taking the reality TV world of by storm, and she is someone who is a gold dust in the television industry.
But still, there are some people who do not know much about her. Well, if you are you one of those people, save yourself the trouble of looking everywhere, as today, we will be discussing her wiki, that includes her life with her husband and her children as well.
The Family Life of RHOC Star, Lauri Peterson: Her Husband, Son & Daughter:
Lauri Paterson is a renowned TV personality, and she is an equally successful woman in the personal front of her life as well; she is living a blessed relationship with her third husband, George Peterson, who is an Orange County real-estate developer and is darn successful professionally.
Her previous two marriages were not able to last and ended in divorce. At the time she met her now husband and fell for him, she was a single mom, who had the responsibilities of raising her three kids, her daughters, Sophie and Ashley and her son, Josh, who is married to his girlfriend turned wife Hannah and is the father of Kennedy. 
Lauri and her husband George first met back in 2006 and fell in love immediately. The two then got married, and the fact that Lauri had three children from her former relationships and George had four kids of his own made them a family of nine.
The love between all of them is something that is undeniably strong, and the love Lauri and George share is something far from ordinary. The couple's celebration of achieving a milestone of their relationship lasting a decade back in 2016, speaks on behalf of their love and bond.
Lauri's lucky charm is surely going to be with her for a long, long time by the way things have been between them thus far.
And did you know that they do not have kids together, but are parents to their granddaughter Kennedy, whose biological parents are Lauri's son Josh and his wife, Hannah?
Yes, you heard it right, because they adopted little Kennedy.
Speaking about the adoption, Lauren said,
"As most of the viewers know, I have a son and he's had just a lot of challenges. And he and his wife had a baby almost three years ago. He's really struggling and, well, they're both really struggling. And so [my husband] George and I elected to help out and we actually adopted Kennedy, and so we're raising her,"
She further added,
"It's been such a great experience because this is helping them out and hopefully they can get their lives together and be OK. But on the other hand for George and I, I've watched him raise his kids, he's watched me raise my kids, but we didn't have a child together and now I get to see a side of George that I've never seen before. And if I was in love with him before, I've fallen so hard in love with him now because he is so generous to take on this huge responsibility."
The adoption was not an easy process; Laurie elaborated that she and her husband, George had some major discussion while taking this giant step.
 "There's this beautiful child. I was there for her birth and I connected and bonded and I never knew it would go in this direction. When it was evident that we needed to step in to help and I talked it over with George — we were like two seconds away from being empty-nesters. And I would say it was something, I mean, he was startled and he was really opposed to it initially."
The decision, as we see, could be a right one as Josh and his wife are struggling with personal issues, and in the meanwhile, Kennedy has been receiving ample love from her new parents'. 
This little angel deserves this kind of love.
Moreover, Lauri is an equally supportive mother; she encouraged her daughter Ashley Zarlin, who is the owner and also the creative director of "Cheeky Minx," to be on "The Bachelor" and fight for Nick Viall.
When the show's producer Elan Gale announced that the entries were almost closed back then, Lauri tweeted her daughter out and asked her to try her shot at love, on the show.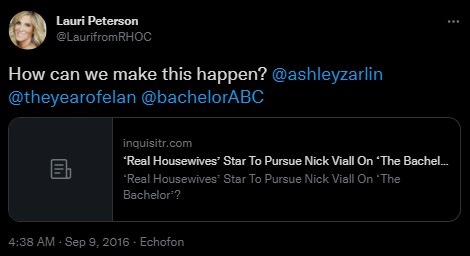 Lauri Peterson's Tweet (Source Twitter)
She was desperately trying to have her daughter on the show to help her win the love of Nick.
Ashley too seemed interested when she retweeted her mother's tweet, but she did not enter the competition.
Maybe, she did not want to become a reality star and wanted to do things her own way. Regardless, she received plenty of support and encouragement from her mother for that as well, right?
Stay with us for the budding updates on Lauri Peterson!