Entertainment
Laurie Holden Clears Rumored Dating Affair With Alleged Boyfriend; Metaphorically Married With Career?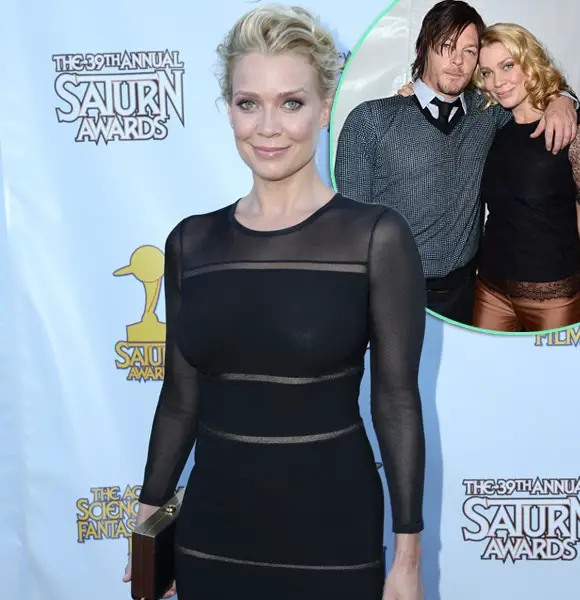 When a celebrity shares a fantastic rapport with a co-star, they are bound to be speculated sharing a relationship beyond the screen. Actress Laurie Holden shares a similar story, as sharing a great bond with her co-star got her to be speculated to be in a relationship with him. The rumor speeded like fire, and she had to clear the rumors with her statements. Well, let's get the full picture of the event.
Dating Rumor Cleared:
In an interview with "On Air With Ryan Seacrest" on March 2013, Laurie Holden was asked about her alleged dating affair with rumored boyfriend Norman Reedus- her "The Walking Dead" co-star, and she cleared the rumors with her statement that was captured in audio.
Laurie explained her rumored dating affair with boyfriend Norman, with her statements where she stated,
'I think that Norman kind of fuels that fire because he loves to come up and kiss me on the red carpets,and then I get the backlash because all his teenage fans who love him come after me and they're like, 'back off that's my man!''
She also added,
'No, we love each other. We are like the best of friends but I think he likes to stir the pot a bit."
"The Walking Dead" actors share a great bond with each other and Laurie, and Norman's rumored dating affair sparked on the night of "The Walking Dead" PaleyFest on February 3, 2013. Laurie was posing for pictures, and suddenly Norman arrived and planted a big kiss on her lips, and Laurie also kissed him on cheeks. Norman and Laurie were known to be good friends, but they were rumored to be dating after the incident.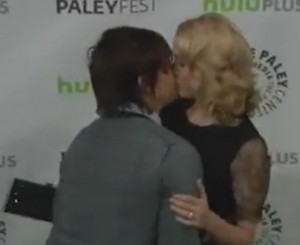 Caption: Laurie Holder was kissing Norman Reed in March 2013.
Photo Credit: comicbook.com
On December 30, 2013, Laurie was on a leisure hike with a male companion or a possible boyfriend through the trail of Los Angeles on December 29, 2013, that immediately hit the headlines.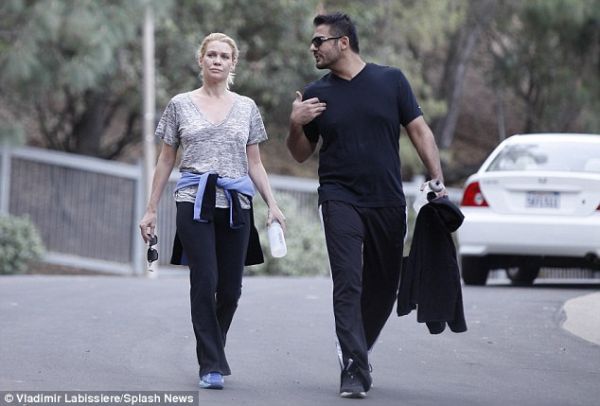 Caption: Laurie Holder spotted with her mystery man on Los Angels in December 2013.
Photo Credit: Daily Mail
Laurie wore a gray v-neck T-shirt, black workout pants, and a pair of light blue shoes while his mystery man chose an entire black theme for the workout including his v-neck t-shirt, jacket, workout pants, and shoes.
Laurie's mystery man used a lot of hand gestures while conversing with Laurie and his expressions were animated as well. Without any confirmation of the relationship, it remains on the shelves of mysteries.
Moreover, on March 13, 2014, Laurie posted a picture with a mystery man and captioned it "My Bodyguard," but the photo suggests that he could be her potential boyfriend. However, she did not confirm being in the relationship with her boyfriend.
[image_deleted_from_Instagram]
Laurie had rumored boyfriends, but she never acknowledged any of them publically, so her ardent fans are oblivious about her boyfriend and she has not been married previously to enjoy a marital bliss with her husband.
In the absence of a boyfriend or a husband, to fend the lesbian rumors, Laurie's sexual preference remains unknown, as she is yet to give statements regarding the matter of her sexual preference!
Married To Her Career!
American-Canadian actress Laurie Holder started her acting career, at a young age, with the role of Rock Hudson's daughter in television miniseries "The Martian Chronicles" in 1980. And as a teenager, she won The Look of the year- a modeling contest in Toronto and landed a role in Anderson's comedy vacation(1986).
Laurie established herself in the industry by her performances in Physical evidence(1989), Young Catherine(1991), TerWar: TekLab(1994), The Pathfinder(1996), and her on-stage roles are "Regina" from Ghosts and Procne from The Love of the Nightingale.
Laurie's memorable performances on Television, include The X-Files (1996-2002), Echo (1997), Alibi (1997), The Magnificent Seven (1998-2000), The Shield (2008). Moreover, her works include The Walking Dead (2010-2013), Major Crimes (2014-2015), Chicago Fire (2015) and The Americans (2017).
Moreover, Laurie has been part of films- Separate Vacations (1986), Physical Evidence (1989), Expect No Mercy (1995), Past Perfect (1996), The Majestic (2001), Bailey's Billion$ (2005). She has worked in some excellent movies like  Fantastic Four (2005), Silent Hill (2006), The Mist (2007) and Dumb and Dumber To (2014). Also, Laurie contributed as a producer in movies Honeytrap (2014) and The Time Of Their Lives and years of hard work has bestowed her with a net worth of $3 Million.
Laurie Holder has been working since a tender age, and she has been very busy with her work until now. And it seems she is metaphorically married to her career as her passion towards acting has kept her so busy that she didn't even get time to settle down, getting married with a husband and children.
Stay with us for more news on Laurie Holder!