Entertainment
Laurie Metcalf In Harmony; Both With Husbands, Kids!
Three times Emmy award-winning American actress, Laurie Metcalf is widely appreciated for her work in the series, Roseanne. With her admirable work, she is a known face in the industry with a huge fan base. Indisputably, Laurie's fans are well known about her professional life, but her personal life might be something which is mysterious to most of them.
Well, the 62-year-old veteran actress is mumped when it comes to her personal life. But, here we have some covert truth about her married life which can be a new thing to you. If you did not know that the actress had been married twice, then this information is for you!
Laurie Metcalf's First Husband: Still Together As Family!
The star of the series Roseanne, Laurie Metcalf enrolled into the married life with the actor, Jeff Perry, back in the year 1983. Just a year after getting married, the pair welcomed their first child, Zoe Perry in 1984.
However, their cheerfulness in the marriage did not last long and ao the couple went their separate ways in 1992, after nine years of their marriage.
Well, their daughter, Zoe successfully walked in the footstep of her parents and is a successful actress now. She began her on-screen career by playing a younger version of her mother's character, Jackie, on Roseanne.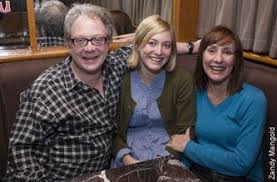 Laurie Metcalf with her ex-husband, Jeff Perry, and daughter, Zoe Perry (Photo: whos dated who)
Overall, the reason behind their divorce is not disclosed, but as of now, Jeff is happily married to Linda Lowy, the casting director on Grey's Anatomy. Jeff and Linda have a daughter too.
Even after the divorce, Laurie and Jeff share a sound relationship like of a family where Zoe is happy to share same family values even with her stepmom. In an interview with New York Post in April 2008, Zoe said,
"My stepmom reminded me of a conversation she had with my mom early on, who said, 'Well, we're a family,' and that generosity sort of bred. So I have four amazing parents who support me!"
Laurie also defined her relationship with Linda as full of love by stating,
"I don't know what to call my relationship with Linda, it's so solid and strong. There's not really a term for it, but I love her, so I call her my sister-in-law."
Laurie Metcalf's Life With Second Husband
After Laurie's split with the actor, Jeff Perry, she started her new married life with the actor Matt Roth, back in 2005. The duo first met on the set of Roseanne in 1992, where Roth portrayed the role of Fisher, the abusive boyfriend of Metcalf's character Jackie.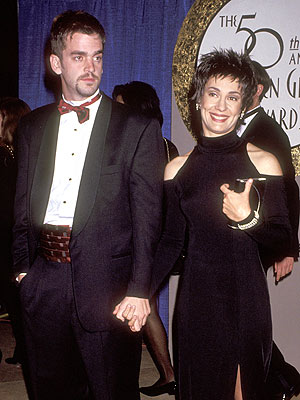 Laurie Metcalf with her second husband, Matt Roth (Photo: People)
They together have three children- Will, Donovan, and Mae. But, after more than six years of married life, Matt Roth cited irreconcilable differences in their relationship and filed for divorce on September 12, 2011. Well, Roth sought the joint physical and legal custody of their kids. Roth then got married to Stephanie Childers in 2015.
Well, Laurie and Matt appeared on the ABC drama series 'Desperate Housewives'- where Matt played the role of Art Shepherd, while Laurie portrayed Carolyn Bigsby. Laurie also had parts in movies like 'Desperate Seeking Susan,' 'Runaway Bride,' 'Meet the Robinsons,' 'Uncle Buck,' 'Scream 2,' 'Stop-Loss' and voiced Andy's mom in all three of Disney-Pixar's 'Toy Story' films.
She drew the attention with her work in TV programs like 'The Big Bang Theory' and 'Getting On.' Likewise, she portrayed the role of Marjorie McCarthy, mother of gay character Ronny in the short-lived CBS series 'The McCarthys.' Laurie played the title character's sister on the award-winning sitcom Roseanne between 1988 and 1997 - winning three Emmy Awards for her performances. She is now accumulating the net worth of $8 million.
Well, Laurie is not into the religion things but believes in her strength and hard work which has helped her earn first film-related Golden Globe nomination in 2017, for her performance in the well-received Lady Bird.