Entertainment
Leon Harris Is Surprised Over New Job With NBC4 After Leaving The ABC News
A Journalist gives heart and soul to put up a show in front of its audience, and when one is doing it for many years, then the person becomes well accustomed to the nuances of the show. Despite one's willingness to stay in the show, the decision of hiring a person in someone else's position is entirely the channel's decision.
Journalist Leon Harris faced a similar situation, as his agreement was not renewed by ABC News, and somebody else got hired for his position. Initially, the decision was not his choice but later, he was surprised to get a new job with NBC4.
Leon Leaves ABC and Joins NBC4:
Leon Harris joined WJLA in 2003 and was the co-anchor of WJLA over his 13 years of tenure, anchoring the news of 5 pm and 11 pm. However, after serving the channel for these many years, he had to leave WJLA after his contract renewal was declined on September 2, 2016.
Leon shared his unwillingness to leave WJLA which came to effect from October 2016. The news was reported by The Washington post in September 2016.
Late Friday morning, he said that leaving WJLA was "not my choice." He also wrote that 13 "great" years at WJLA were "not enough, but will have to be."
Moreover, WJLA news director Mitch Jacob gave a statement,
"We can't thank Leon enough for his service to our station and our community, He is a journalist of the highest caliber, and has been an asset in our newsroom, and he will be missed."
Journalist Leon Harries, after being let go by ABC, went to join rival station NBC in April 2017, and he shared his happiness through a tweet that said,
It's official! I have been drafted by the Yankees of DC local news, NBC4! SO HAPPY!!!!!!!

— Leon Harris (@RealLeonHarris) April 20, 2017
He shared his great surprise over a phone interview in April 2017.
This has been such a great surprise, it's given me a really, really good energy. I was at ABC-7 almost 14 years. Getting the chance to hit the reset button like this is really refreshing for me."
Leon is set to co-anchor NBC's weekend newscasts at 6 pm and 11 pm along with Erika Gonzalez. Also, President and general manager of NBC4, Jackie Bradford provided a statement that said,
"Leon has been an incredibly well-respected journalist, both in Washington and on a national stage for many years. We are very glad he has agreed to join our team and continue his career here."
Leon Harris's Wife:
Leon Harris met his wife Dawn Lomax at Ohio University during his university days in 1980's. They got married soon, and their relationship is strong even today, which is evident in his Tweet about their date night.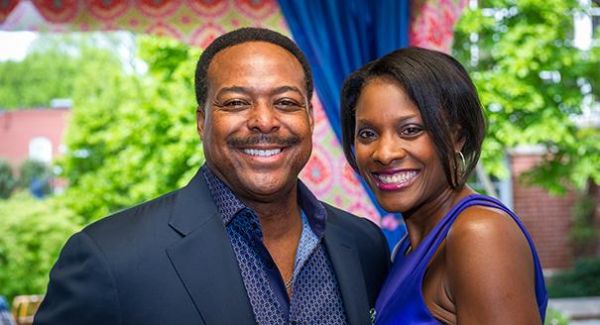 Caption: Leon Harris with his wife Dawan captured at 5th Annual Allbritton Garden Brunch.
Photo Credit: politico.com
Moreover, he expressed his desire to rescue dog if his wife had allowed, and also urged and expressed his belief that someone would rescue through Twitter on March 31, 2016.
Leon Harrison started his career at CNN, Atlanta in early 1980 as an intern before completing graduation, so he was not paid a penny in the name of salary. After graduation, he was an entry-level video journalist and was promoted to assistant director in the satellite department, which covered new events.In 1991.
Leon became a full-time anchor and received several awards for in CNN, including multiple Emmy Awards for his covering 2000 presidential election, the Oklahoma City bombing followed by the award for the September 11th attacks. 
In 2003, he signed a deal with ABC-7 Washington to anchor station's 5 pm and 11 pm newscast and received a local Emmy Award fro best anchor in 2006. And post being declined to renew the tenure, in October 2017 Leon joined NBC4. With years of hard work as journalist and passion for his profession, he must have a handsome salary, and he must have accumulated a wonderful net worth but has chosen not to reveal either of it yet.
Stay with us for more news on Leon Harris!