Entertainment
Les Stroud Survives! Also Has Experience Of Rough Time With Wife And Son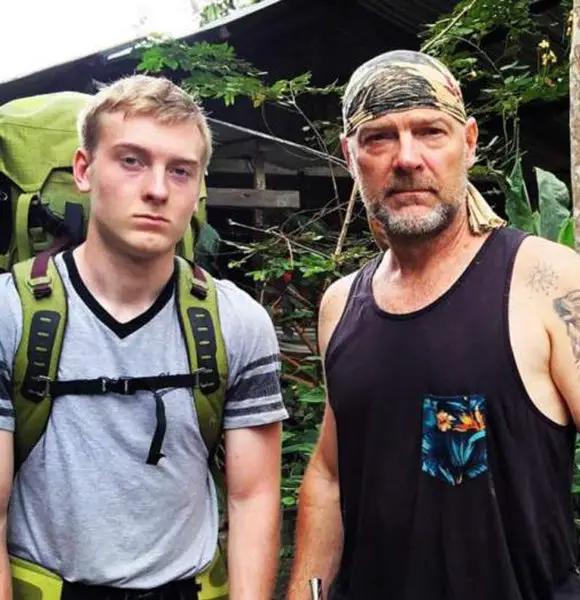 Les Stroud Survives! Also Has Experience Of Rough Time With Wife And Son
Entertainment
It's said life does not give you a second chance, but few are lucky enough to defy the worst of the situations. Standing as the real survivor is Les Stroud, who has his share of rough times with the things he loved, his wife, son and his show.
Known mostly for his dares and adventures, he tricked death coming alive out of the most dangerous accident he ever had. 
Give it a go if you want to uncover every side of the story you have been waiting for about this real-life death defier!
Les Stroud's Tragedies: One after the Other
Best known for survival genre of reality TV show, Survivorman, Les Stroud is the leading figure in the survivalist culture as a no-nonsense explorer.
However, his bad times started when he and his wife Susan Jamison Stroud started having major differences in their marriage life leading divorce.
Moving down his memory lane, Les Stroud got married to Susan in 1994, with whom he shares two children, Raylan and Logan Stroud. Devoted his whole life to adventures, Les Stroud found his dares in a woman after he met his wife, Sue Jamison. It was the time when he was working as a guide for Black Father Wilderness Adventures.
After marriage, Les even transformed their one year long honeymoon period in the award-winning documentary "Snowshoes and Solitude" in the remote area of Ontario. However, the story did not head towards the happy ending; their relationship suffered a split in late 2008. 
Divorce to his beautiful marriage was not only the worst rough time he had to deal with; he nearly died in a major car crash in Mongolia on July 10, 2015. He was traveling in Toyota Land Cruiser with other three crew members when suddenly, the vehicle skidded twenty-five feet and rolled. The Caravan Crew, who was eye-witness to the accident, explained as
As Les recalls it, he was looking out the front window from the middle of the back seat, when all of a sudden something happened, no one knows what, but suddenly the car spun sideways and skidded for approximately 25'. It then began to roll hard and fast. It rolled twice fully before coming to a stop upright….On the way back to the scene of the accident the two lead cars assumed it was just another missed turn they needed to take. As they got closer they saw the car upright and thought nothing of it, until piece by piece they could see debris laying all over the ground including back packs and camera cases that were travelling with Les.
He was lucky to be alive and miss the near-death crash. He explained the incident as,
"I and the other three who were in the car are lucky to be alive and a million people have it a lot worse off than I do right now - so I feel like a pussy complaining but thought I would give a little update - all this said - this hurts like hell!" 
The doctor at the crew diagnosed at least some broken ribs and a dislocated shoulder and was rushed to the hospital with much difficulty. The helicopter had no gas to make the journey to the hospital, so they took 7-hour journey on microbus with the entire crew squeezed.  
Les was also diagnosed with torn chest muscles, three broken ribs, a dislocated shoulder and a punctured lung and he was lucky to have escaped his untimely death. 
But it was not the end of his tragedies; Les Stroud had to go through dealing with his son's disease as well. His son, Logan was diagnosed with leukemia, resulting six months in the hospital. 
The father-son bond found its way to even stronger level when the duo went on to perform the survivor show together named 'Survivorman & Son.'
The jungle adventure based show was definitely a huge part of the powerful experience Stroud experienced. Stroud briefed the experience FOX411 filming the show with his son.  
"If I'm being very honest, it did take on a much deeper connotation for me. For me it has been 15 years of 'Survivorman' and so to have Logan with me after what we had just been through, barely 18 months ago, it creates something so impactful, something more meaningful to me."
No Limit to Les' Skills:
Despite all the tragedies, Les Stroud stands a real survivor deflecting all kinds of troubles. But his adventures are not the end of his skills!
Les' recycling skills are equally outstanding; his unique skillset is used every time in his survivor series. He devoted a whole show named "Off the Grid with Les Stroud" to this skill, refitting a property into the old farmhouse with solar and wind power, rain catcher and other minor adjustments.
Adding to his other talents, he is a successful musician as well; he possesses the graduation honor from Fanshawe College in London in music. Les Stroud, with the good-looking net worth of $5.5 million, has earned every kind of success from his career, and aspires to do that in the future as well!