Entertainment
Will & Grace Star Leslie Jordan Gushes On Gay Partner; Family, Net Worth & More
American actor, Leslie Jordan is a gay icon for many, who has openly supported LGBT community from his heart. The outspoken gay activist talks without hesitant about his homosexuality, while his mother was not entirely supportive of.
Same goes for his love life, as he has been goofing around with his male partner. He has previously made his crush story known to everybody. 
Tag along for you will be unveiling all the goodies of Leslie Jordan's love life along with his family details and net worth. 
Long-time Crush, Proposal For Marriage
Leslie Jordan, Emmy award winner for his role in Will & Grace, has awed many with his one-sided affection for his crush. 
Leslie had an undying love for Tate Taylor, the American actor, and Leslie's co-star from the play Southern Baptist Sissies (1999). Leslie also opened up his love for Tate in his article in Huff Post.
He expressed how desperately he fell in love with Tate. He even expressed how every time he crossed his path with Tate, he would tell how much he was in love with him. He wrote,
"Over the years every time I would bump into Tate, I would tell him how much I loved him and that I was positive eventually he would give in and become my life partner."
As of Tate, he had a different reaction to it as he would just laugh it off. Leslie wrote,
"He would just laugh. I don't think he thought I was serious.' 
Leslie even went to work for Tate's family but nothing yield out of it except sharing a project, The Help (2011). 
Well, he gave up his love for Tate and moved on to grab success in his career which he did. But, Leslie marked success in his love life too as he has been seeing a guy 20 years younger than him as per the reports.
Back in November 2017, Leslie revealed about his romantic relationship with the Gay Times magazine. He opened up about the online relationship that he shared with this man. 
Even though Leslie did not mention the name of his new love interest, he plainly revealed that the guy presented him with marriage proposal right after meeting him in person for the first time. He said,
"It was an online thing for a long time. He flew to LA three days before I left for London. After three days he asked me to marry him - and I will."
Well, as romantic as it sounds, Leslie topped it by revealing his intention of exchanging the marriage vows with him. At that moment, he left for London for 30 days and was set to unveil their relationship when he returned. Leslie added,
"I told him, 'I'm gonna go to London for 30 days and let's see what happens when I get back.' It was this connection."
Well, he sure seemed to hit off his gay relationship with his online lover.
Indirectly Supportive Mom, Net Worth
Leslie, age 63, seemed to hit off his relationship with his only parent alive - his mother. Even though Leslie's mom has not always been supportive of his openness on his homosexuality, she has not been entirely against it either. 
While Leslie regards his mother as a private person, she does not agree with him being the gay activist. Well, his mom does try her best to understand his life from her side.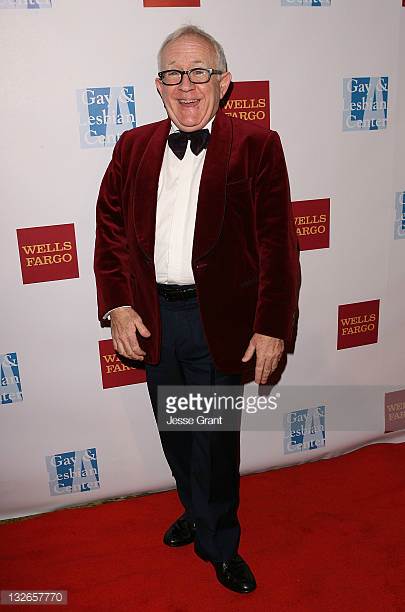 Leslie Jordan at the LA Gay Lesbian Center's 40th Anniversary Gala in 2011 at Los Angeles (Photo: gettyimages.ca)
According to Leslie, his mom once said to him, 
"Leslie, if I live to be 105 I'll never understand this need you have to air your dirty laundry. Why can't you just whisper it to a therapist?!"
As for Leslie, who enjoys the net worth of $1.5 million, he believes that the religion he was raised in would never understand his sexual preferences. He even confessed that if he is expecting his mom to understand his lifestyle he needs to do the same.
Well, his family did not abandon him, and he had their support one way or another.