Entertainment
"Deadpool" Actress Leslie Uggams Shares Inspirational Husband & Children Story
American actress Leslie Uggams famously portrays a lonely blind woman named Al in the fantasy superhit movie Deadpool and Deadpool 2. But in real life, she is neither blind nor lonely.
Leslie is indeed blissfully married to a loving husband and has an adorable family with him despite having differences with him.
Marriage Turned Successful Amid Odds
75-years-old Leslie has been married to her Australian husband Grahame Pratt for fifty-three years. The couple tied the knot back in 1965, and since then the pair is together overcoming obstacles of their life.
Well, what's more interesting, is that the couple is interracial and they got married when interracial marriage was still illegal in some parts of the U.S. in the 60's.
In an interview with iloveoldschoolmusic in October 2016, Leslie shared her love story. She quoted that she was shocked while she was dating Grahame. He had sent her a color picture of himself and Leslie showed it to her aunt.
But as soon as her aunt speculated the picture, she started to lecture Leslie stating that he was alright for only dating. She also opened about her expectancy regarding Leslie's marriage and asked,
When you're thinking of settling down for keeps you'll make sure you marry a nice Negro fella, won't you?'
Going against the expectancies of her family, Leslie eventually got married to her white boyfriend. But their marriage faced criticisms. Leslie received hate mails from her fans and followers for her interracial marriage.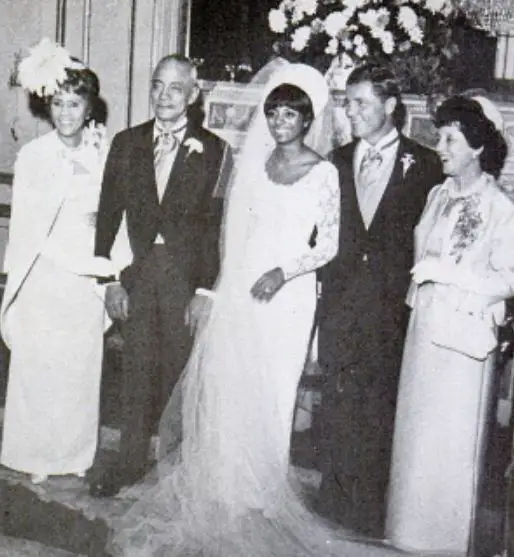 Leslie Uggams weds Grahame Pratt back in 1965 (Photo: cdnize.com)
Even her husband faced the racial hatred. However, the good part was Leslie had brought Grahame to the U.S from Australia one year before their marriage. She wanted to make sure that Grahame got acquainted with the hate and the challenges of interracial marriage, and decide if he still wanted to marry a black woman.
With Grahame's affirmation, the couple tied the knots, and the black lashes did not have any effect on the couple as the two dearly loved each other.
Family: Gushes On Husband
After setting an inspirational example for all of the people out there, the pair welcomed two children: a daughter, Danielle (48), and a son Justice (42). And since the time, the lovebirds are together. They have stayed strong as a couple till date and Leslie can timely be seen gushing about her marriage in interviews.
One such instance is when she talked with the PEOPLE in May 2018. During the interview, Leslie gushed that her husband "is smart, witty and fearless." She even stated that her marriage was not as hard as she had expected.
It was not as hard as I expected it to be. I think the reason is that Grahame was not an American white man. But of course, we did get mails.-
Also, she added that they spend lovely time together,
We laugh all the time — but it ain't always roses. We have fun together.----
Like Leslie herself, her daughter Danielle is also living a succesful married like with her husband, Keith Chamber. The couple got married in November 2002 and are together since then.
Leslie, who owns a net worth of $3 million, timely shares pictures of her family on her social media. One of such instance was on May 2015 when she shared a picture of her family Danielle, Justice and her granddaughter Cassidy via Facebook.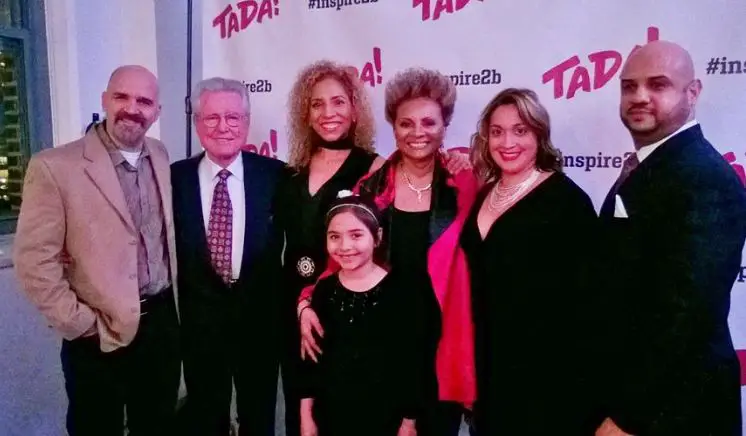 Leslie Uggams poses with her family (Photo: Leslie Uggams's facebook)
Likewise, she also shared a picture of her family accompanied by the lovely Dahlia on Facebook in March 2018.
President Lyndon B. Johnson Outed?
Besides sharing her family life and work projects, Leslie, during an interview with PEOPLE in May 2018, also shared about an incident related with President Lyndon B. Johnson.
During the presidents tenure between 1963 and 1969, Leslie, along with other in-demand performers, was invited to the white house for performing. They attended the programme to be offered a tour at the White House by the president himself.
While everyone was taking their time to speculate the property of the White House, Leslie found herself alone with the president in Lincoln's bedroom. Leslie when exclaimed that Lincoln's bed was a part of the history, President Lyndon allegedly said,
'I sure would like to get you onto that bed.'
But the interaction swiftly changed after Bob Hop entered the room and interrupted the two.