Entertainment
Licensed Attorney turned Journalist: Chris Cuomo with his Journalist Wife, 3 Children. Meet the Family of Five
We do not think that you are one of those people who do not listen to their heart when it comes to doing some work. However, if you are like that, then a part of the story of the person we are here to discuss today might inspire you. So, ladies and gentlemen, today we talk about the professional as well the personal life of Chris Cuomo. You remember him right? The famous journalist from CNN but we are here to talk about thing you didn't know or knew just a little.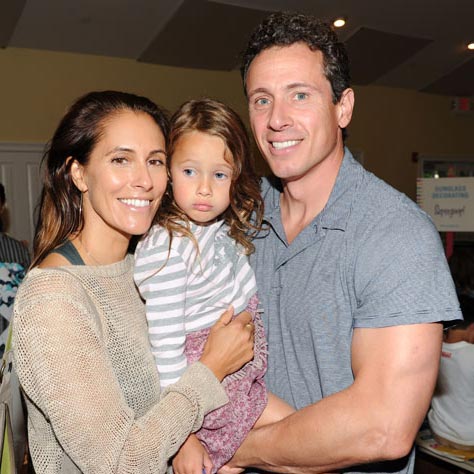 Quick Information
Relationship Status

Married

Eye Color

Brown

Hair Color

Brown

Hair

Short

Weight

N/A

Height/ How Tall? 6'2" (188 cm)
College

Yale University, Fordham University

High School

The Albany Academy

Net Worth

$9 Million

Salary

$4 Million

Dating/Affair

No

Gay

No

Wedding Date

November 24, 2001

Divorce/Split

Not Yet

Wife/Spouse

Cristina Greeven Cuomo (m. 2001)

Date of Birth Aug 09, 1970
Daughter/s

Bella Cuomo, Carolina Regina Cuomo

Son/s

Mario Cuomo

Sister/s

Margaret I. Cuomo, Maria Cuomo Cole, Madeline Cuomo

Brother/s

Andrew Cuomo

Mother

Matilda Cuomo

Father

Mario Cuomo

Ethnicity/Race

White

Religion

Christianity

Zodiac Sign

Leo

Birth Name

Christopher Charles Cuo

Profession

Journalist

Birth Place

New York, New York, United States

Nationality

American
We do not think that you are one of those people who do not listen to their heart when it comes to doing some work. However, if you are like that, then a part of the story of the person we are here to discuss today might inspire you.
There are individuals who do not like their job but still do it like they have no choice. It is as Christopher Lee once quoted,
We don't always get the kind of work we want, but we always have a choice of whether to do it with good grace or not.

- Christopher Lee
So, let's just start by the inspiration thing we talked about. Well, not sure if you knew but before Chris step his foot in the journalism field, he was a licensed attorney or better say a lawyer. Yes, a lawyer and a pretty successful one. He graduated from Fordham University with a law degree and went on to a career as a Wall Street lawyer. Here comes the part where you should pay more attention. After some time in is lawyer career, he felt that it was unsatisfying and moved towards the journalism career.
So yes, we think that his professional life gave you some inspirations to do what you are willing and what makes you satisfied from the inside. Now, let's leave his working life right here because we think this much information is more than enough to know what he does. You might have already guessed that we are not entering his personal life.
Married Life, Wife and Divorce Rumors:
Many of you might know that in his bachelor's days, Chris was considered as one of the very handsome bachelors in New York, and he was also listed in People's 50 most beautiful people in 1997. We bet you are wondering who this handsome fellow married after all. Well, he married his longtime girlfriend Christina Greeven, who is also a figure in the journalism field and serves as editor for Gotham magazines.
The couple got married in the year of 2001 in a Catholic ceremony in Southampton, New York. Chris's father, late Mario Cuomo, who is the former governor of New York, said something funny to a reporter before the bride was there. This is as he said,
"I'm waiting for the bride" He continues, "If she doesn't show up, you'll really have a great story."
The couples are now blessed with three lovely children. Daughter Bella Cuomo, son Mario Cuomo and youngest daughter Bella Regina Cuomo. Here is the picture of the happy family of five.
However, Chris is very attached to his children. He spends time with them as much as he can and follows his father's word and doesn't bring work home.
He calls his son Mario 'The person who changed my life.' Cuomo says that in CNN's segment "The Person Who Changed My Life" that his son helped him in becoming a good parent. Here is the video.
[video deleted by source]
Off The Record:
In 2007, Chris went to Iraq as a correspondent for ABC News and was on patrol with the military training Iraqi forces when he became a victim of the IED attack. Fortunately, no one was seriously hurt except some minor injuries. He later described his gratitude. He said,
Remember, these soldiers deal with this every day. When I talked to the captain after this, the first thing he wanted to say was this is our duty. We'll be back here again tomorrow to carry this out.

An amazing testament to their dedication, whether the mission made sense and whether it is a situation that can be salvaged is another question. But these men were very calm under pressure. We certainly salute them.
Well, this is all then. Anyway, there have been some rumors that the couples are on the verge of going through a divorce, but nothing is yet been disclosed by the couple themselves. If something like that happens between this husband and wife, you'll surely be notified.
This forty-five-year-old handsome journalism personality was born on August 9, 1970. Chris has worked with major news networks such as ABC News and Fox News Channel. He currently works as a reporter/co-host in CNN's New Day alongside Alisyn Camerota. He has also received Polk and Peabody Awards for team coverage and is also recognized with a News Emmy.