Entertainment
Liddle Nique, 16 And With Boyfriend? Her Dating Status Now
The sensational social media personality Liddle Nique is climbing the stairs of stardom through her unique dancing skills and with her rising stardom in the entertainment world. And after being able to win millions of hearts, her followers are now curious to know her on a personal level.
So, today let's shed some light on the dating life of this dancing lady and get acquainted with her love-filled life via the preface below. 
Liddle Nique Single Or Taken?
The Musical.ly star Liddle Nique, who is at the age of 16, seems to be not affiliated with any dating affairs for right now. There are neither any news of her dating nor any rumours regarding her relationship with anyone. As of now, it looks like the teen is assumably working for her career and not spending time in any lovey-dovey things. And speculating her relationship status on the basis of her social media posts, she is probably single now. 
However, Lidde previously dated the fellow Musical.ly star Ayoo Khaos in 2016. The pair was almost together for six months when their relationship ended. Their break up news was even mentioned by the Messy Monday in their tweet on 22 May 2017. They revealed the story as, 
Well it looks like Liddlenique and Khaos BROKE UP! (The quotes on their Instagrams are so cringe) but you gotta love it
Liddle also uploaded a video named "R.I.P LIDDLEKHAOS" to her YouTube channel "nique post" back on 25th May 2017 citing the causes of her relationship failure with her boyfriend. In the video, Liddle says that having relationships is not her forte. 
I can't do relationships. Relationships ain't for me. I always f*** it up. ummm I assume too much that's what it is. I m not gonna lie to you, I have no reason why  I assume too much. 
Adding on more of her problems, Liddle hinted that the main problem is that she accuses others too much. Saying that she over thinks things every time and is also very jealous, Liddle even illustrated the height of her jealousy by jumping and making a mark on the wall. Furthermore, Liddle even admitted that she is a very insecure person when it comes to a relationship. 
You all may not see it but actually, I am a very insecure person about myself. Umm first of all sweetheart, It's something you can't help, it's something you can't control, actually. 
It indeed seems like Liddle has a lot of problems when it comes to being in a relationship. Anyway, her life away from love and dating affairs looks too blissful as she seems to spend quality time with her parents. Earlier on 17th April 2017, Liddle shared a picture where she can be seen hugging her mother, and in the caption, she wrote, 
Like mom like daughter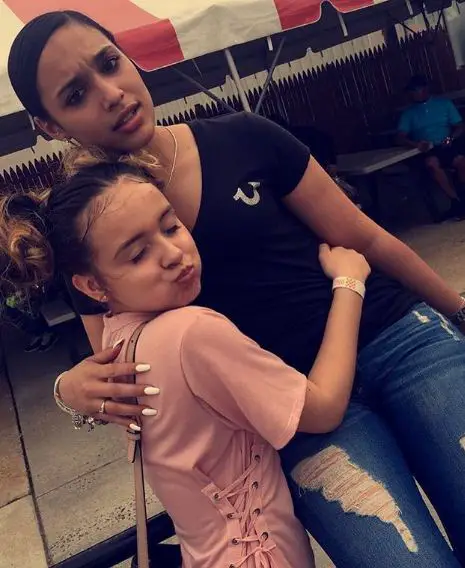 Liddle Nique adorably hugs her mother (Photo: Liddle Nique 's Instagram)
Besides spending time with her family, Liddle is busy posting her dance videos on her social media accounts. Liddle first started off as a YouNower in July 2015, and soon garnered a lot of attention. However, she earned her followers when she uploaded her videos in the Musical.ly app.
Liddle's rap and pop lip syncs to the songs of popular artists such as Kanye West, Lil Uzi Vert, and Nicki Minaz along with the swagging dance cumulated her more than 2 million followers on the app. Moreover, she even performed a duet video with her cousin in Musical.ly who goes by the name "drippyeli" on the app.
Liddle uploads her videos not only in the Musical.ly app but also on her Instagram account. Through her dance moves and coolness, Liddle has already amassed more than 1.8 million followers on her Instagram. 
Well, having such fame and popularity at such a young age is indeed interesting, and Liddle seems to be more focused on getting more of the stardom. With all her on-going hard work and dedication, Liddle's fame is undoubtedly likely to grow more with all the passing time.