Entertainment
Lidya Jewett Bio: Personal Life Details - From Age to Ethnicity
One of the things which makes the life exciting is the uncertainty which lingers regarding the future; we don't know which turn of our life would change our lives, forever.
The young American actress Lidya Jewett life can be better illustrated with the above outline as an incident changed her life forever; beyond one's imagination. Let's read to know her journey from an ordinary girl to a celebrity along with the detail of her personal life.
Lidya Jewett's Wiki-like Bio:
Lidya Jewett was born in 2006 and celebrates her birthday on January 19. She was adopted from an orphan house, by her Palm City family when she was four years old. Lidya was adopted as the youngest sister of two older brothers and a sister.
She shared a picture collage with her father via Instagram on the occasion of Father's Day 2016 and expressed her feelings as,
She even shared a memory with her mother while on a car as they headed to the church, via Instagram back on February 21, 2016.
Moreover, on national siblings day, Lidya shared a collage of her siblings including her two elder brothers and one elder sister. Further, the picture even included a set of crayons which probably links a childhood memory.
Lidya, who is Ethiopian by ethnicity, couldn't speak even a single word of English by the age of four. However, she learned English within months and began reading books chapter after a year. She has been home-schooled since the first grade, and as a STEM student, she mainly puts her focus on science, technology, and mathematics. In an interview, she confessed,
"I like it (home schooling) because you can go through things faster."
When Lidya came in Palm City, relatives saw an inherent quality and advised her to try her hand in the realm of modeling. With the support of her parents, she started modeling at the age of six. Further, she went on to act and debuted with the tv series titled "See Dad Run" in 2012.
The child prodigy, Lidya Jewett, stayed in the focal point of the public after she appeared as 'Gracie Walker' in the show WITS Academy. After then, the actress Lidya Jewett got an opportunity to work in a national ad campaign and a new NBC drama. Let's have a peek towards Lidya's newly released national advertisement for public awareness, the ad which highlights the social issue of racial biases.
Caption: Lidya's association with a campaign which brings forward the issue of racial bias (Published on Jul 20, 2017)
Apart from a national ad, she showed her acting talent in 'Hidden Figure,'- the Twentieth Century Fox feature film. The plot of the film is based on three African-American women who were mathematicians at NASA. Lidya portrayed the character of a young Katherine G. Johnson in the movie and talking about the audition of movie 'Hidden Figures,' she surpassed 3000 girls and got a role in the movie.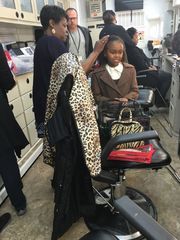 Photo Caption: Actress Lidya Jewett getting ready for her role as a Young Katherine G. Johnson in 'Hidden Figure.'
Photo Credit: tcpalm.com
Also, she has essayed the role of Lina Annan in the 2017 movie, 'Wonder.' As of now, Lidya has got a hectic work schedule and is busy with her upcoming projects 'Black Panther,' 'Good Girls' and 'The Darkest Minds.'