Entertainment
Lili Mirojnick is Not Married! Has a Low-Key Dating Affair with Boyfriend
Marriage is a symbol of love and the celebration of the start of our life together with a special someone. But the rituals are not mandatory when it comes to defining love, right?
When we take a look at the life of the beautiful and talented actress, Lili Mirojnick, it seems like she hasn't given her consideration on the matter as she has not been married, yet! Instead, Mirojnick has been enjoying a low-key dating affair, and the fans want all the scoop.
So, let's dive in to quench the curiosity!
Lili Mirojnick's Low-Key Dating Affair
Although the fans of Lili Mirojnick would love to get acquainted with every scoop of her life, only minimal clues are within reach to the media about her low-key dating affair.
The scoop of the affair started back in August 2010, after Lili uploaded a tweet mentioning her secret boyfriend.
Saw my boyfriend at the gym today. He likes to pretend he doesn't know me. Doesn't he know we belong together?! Guess not. Bastard.

— Lili Mirojnick (@lilimirojnick) August 3, 2010
Well, on August 23, 2011, Lilli precisely mentioned her boyfriend referring to a YouTube video. However, the video doesn't appear to be available anymore.
After around a couple of years, on January 12, 2013, Lili shared an image, where she can be spotted kissing actor and producer Josh Crotty, who was highly speculated to be her boyfriend.
Moreover, as one would wonder, the assumptions slowly started to clear up of their dating status as Lili and Josh continued sharing romantic pictures with each other.
On November 16, 2014, Lily uploaded a picture of their memories along the way as well as wishing Happy Birthday to Josh with a sweet caption that said,
" Happy Birthday to mah boo, my partner in crime, my best friend. I LOVE YOU "
Not only Lili, but Josh also loves to flaunt as well; he recently uploaded an image of Lili on December 6 of this year.
In a nutshell, although they are yet to confront their relationship officially, their Instagram images depict a different story, and when we take the views of the fans into account, they are on the edge of their seats, observing if they will escalate their relationship into a husband-wife bond, officially!
More You Would Like To Know About Lili Mirojnick
Actress Lily Mirojnick was born on April 9, 1984, in New York City to her mother, Ellen Mirojnick, who is a famous costume designer as well as an actress and her father, Barry Carson. Her parents, unfortunately, got a divorce in the year 1987, when she was just 3 years of age.
The beautiful actress Lili, who is from Eastern European and Mediterranean background, attended the American Academy of Dramatic Arts (AADA) in New York. She then went to The Buckley School in Sherman Oaks, California.
As of yet, Lili has portrayed a handful of roles including uncredited and minor parts as well as a lead role in the big screen. Although Lili started her career with a small role in 2005, she grabbed the opportunity of a leading role in the movie, 'Kill The Habit' (2010).
She also performed several guest appearances in various episodes of TV series, which include Person of Interest, Blue Bloods, and Grey's Anatomy.
However, Lili recently made her way back to a lead role as Det. Meredith McCarthy in the TV series, 'Happy!' which released it's first episode on December 6, 2017.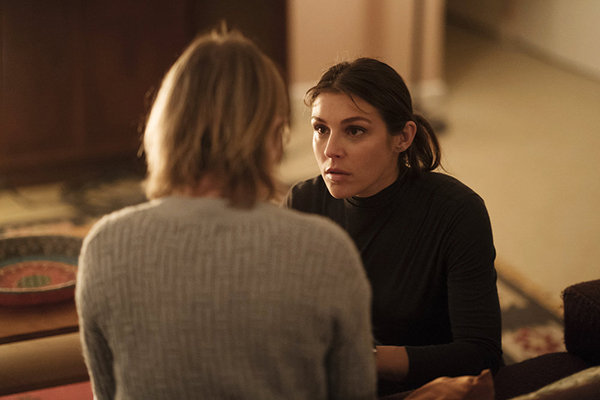 Caption: Lili Mirojnick in the newly released TV series, 'Happy!'.
Photo Credit: nerdspan.com
Lili has justified her every character with ease, and by the looks of it, she will be going a long way in the future as well!