Entertainment
Lilia Buckingham, Age 15 Dancing Up To New Heights While Dating "Giver" Boyfriend
American dancer Lilia Buckingham is known to be a competitive member of the MNR Dance Factory. She skyrocketed to stardom after being speculated as a part of "Dance Moms." Her fame did garner her attention, but it also made her life a little difficult and brought up problems.
As the problems faded away, Lilia got tangled in a relationship with a famous heartthrob!
Stardom Brought Glitches!
Lilia was a simple dancer when her mother first introduced her to the dancers of  Dance Moms. For business, her mom, Jane met the cast of the "Dance Mom" and allowed her daughter to be friends with the other dancers in the mid-2010.
Like normal people, the casts uploaded pictures with Lilia on their social media accounts and initiated the frenzy. The Dance Moms fans started believing that Lilia was a part of the show and started following her. Lilia along with all the other casts denied the rumors, but that couldn't hinder the interest of people on her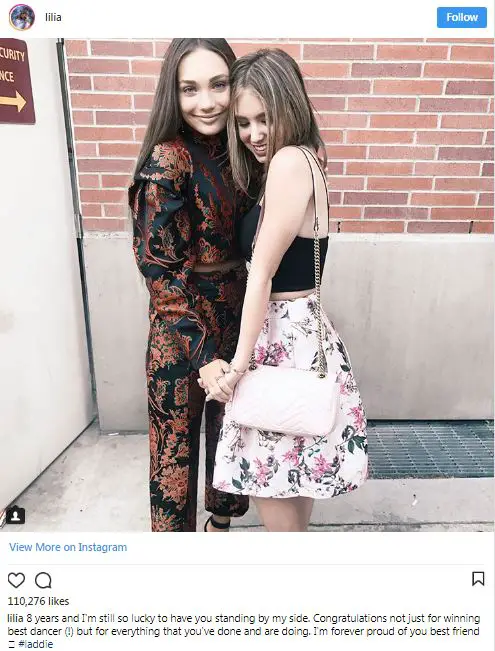 Lilia Buckingham calls "Dance Moms" star Maddie Ziegler her best friend back in August 2017 (Photo: Lilia Buckingham's Instagram)
Soon, Lilia amassed huge following on Instagram and also had multiple fan pages. She became a social media celebrity overnight at the age of nine.
But in the second week of her fame, Lilia got disturbed as she received call and text from a "fan," who had become frustrated for not being responded by Lilia. The "fan" also threatened to release Lilia's cell number in public if Lilia did not respond.
To stay away from such fuss, Lilia stopped posting pictures on her Instagram and stopped updating the fans of her life for some time
As of now, Lilia is back in the updating game. And her return has not only brought updates on her professional life but also on her personal life. Her social media hints that she is dating someone cute as her. 
Boyfriend Is Star!
Lilia, who stands at the height of 1.6 m (5'3"), has been dating It star Jaeden Lieberher. The rumors of their relationship first surfaced when Lilia Instagrammed a picture with Jaeden on his birthday back on 4 January 2018. 
In the caption, Lilia quoted Jaeden her "favorite person" and thanked him for giving her sweaters every time she didn't take a jacket out of stubbornness. Moreover, she also revealed that Jaeden always makes her smile and wrote, 
  I'm so lucky to be w someone like you:)
Later on 2018's Valentine's day, Lilia confirmed her relationship with Jaeden. She uploaded an adorable picture of her trying to kiss him, and via the caption revealed that they had been together for 41 days.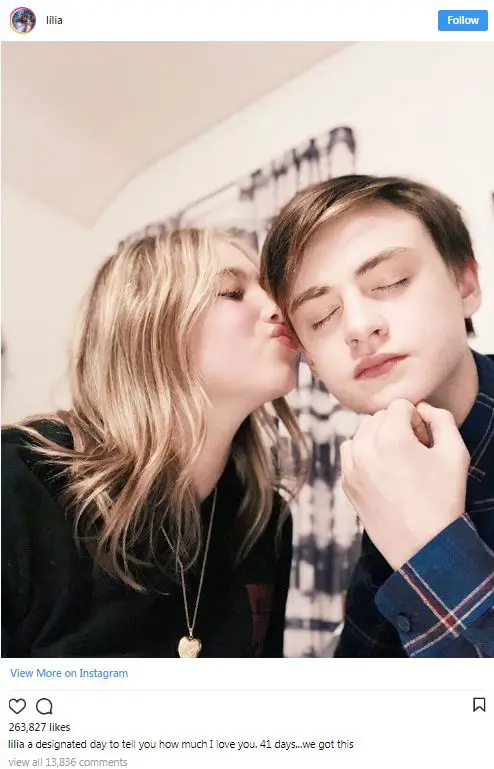 Lilia Buckingham kisses boyfriend Jaeden Lieberher on 14 February 2018  (Photo: Lilia Buckingham's Instagram)
Another update on their relationship came on 31 March 2018 after Lilia posted a mirror selfie with Jaeden. She captioned the picture writing that just after the picture was shot, her boyfriend tickle attacked her. 
The posts hint that Lilia's relationship with Jaeden is going smoothly as butter. And the pair indeed seems happy to be with each other.
Furthermore, the social media accounts also make Lilia's family glimpses transparent. She has a good relationship with her mom. And as for siblings, she has an older brother, Jack, with whom she spends quality time. 
With a supportive family and a loving boyfriend, 15-years-old Lilia is undoubtedly climbing the stairs of success. She has already debuted in the entertainment world as an actress and is on her way to earning a good fortune. 
However, she has not publicized her current net worth till date.