Entertainment
Lonnie Quinn And Family - A Loving Husband To Wife And A Proud Father To Three Children
How does one define a happy life?
Well, there can be various explanations for it. But, for many, it usually is having a rewarding career and getting settled down with a loving and healthy family. What do you reckon?
The Award-winning WCBS Weather anchor Lonnie Quinn can be related to the 'happy life' statement, as he is someone who has a successful career, a loving wife and is a proud father of three children. Well, isn't that just amazing?
So, today, let's take a peek and get acquainted with the beautiful family of Lonnie Quinn!
Lonnie Quinn's Happy Family:
Talking about Lonnie Quinn's family life, he remains happily married to wife Sharon Lima, now, Sharon Quinn. They exchanged their vows on January 13, 2007, at Grove Isle, Florida. They have since been sharing a loving husband-wife relationship.
They seem to be all smiles being in one another's company!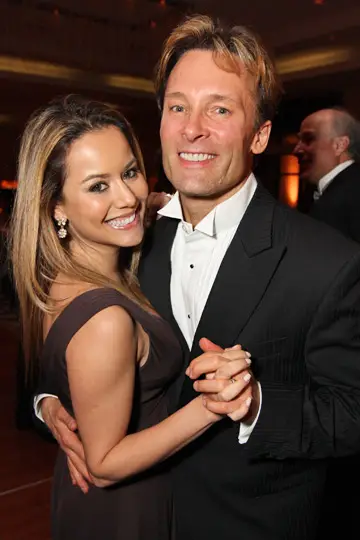 Caption: Lonnie Quinn, dancing with wife Sharon Quinn in 'The Wellness Community' in Miami Beach.
Photo Credit: socialmiami.com
The couple is currently residing in Manhattan along with their three children. They were blessed with their first bundle of joy, a daughter, Lily Quinn in the year 2012. Lonnie shares moments with his adorable daughter through his social media as well.
On January 6, 2015, Lonnie posted a cute picture of Lily getting her makeup done on his Twitter account.
Their happiness doubled in June 2015 after they became proud parents to another daughter, Savannah, who weighed 9 pounds at birth. He opened up on the set of CBS2 saying it is the greatest thing in the whole world.
"It's just something else…I couldn't be a happier person. It's just the greatest thing in the whole world."
Caption: Lonnie Quinn said he couldn't be happier after the birth of his second daughter. (Published on June 4, 2015)
The couple enjoys the company of their daughters and Lonnie doesn't miss out to share the beautiful moments with his family through his social media. Recently, on April 27, Lonnie posted a beautiful picture, with his gorgeous wife and adorable daughters via his Facebook.
Additionally, Lonnie also has a son named Nate (20), from his previous relationship. However, they all live together and share a beautiful bond. On June 25, 2016, Lonnie shared a cute picture on his Facebook with his children, wishing Nate a Happy Birthday. The caption read-
" My little man turns 19 today. I was able to run home for birthday cake on my dinner break. It was 1997 at 6 AM...a cloudless sky with brilliant sunshine in Charlottesville Virginia…seems like the perfect set up for a near perfect kid to enter this world. This fall he will be a sophomore at Cornell. He is an intelligent, handsome kid who is KIND to the world. The later makes me the most proud. Love you pal, dad "
Lonnie Quinn's Short-Bio
The award-winning TV host, Lonnie Quinn who goes by the full name Lonnie William Quinn was born on August 9, 1963, in Connecticut. He is popularly known for being the lead weather anchor on WCBS-TV in NY. He also appears on sister radio station WCBS-AM 800for weather reports. Previously, Lonnie also served as a weather anchor for 'CBS This Morning Saturday.'
Lonnie joined CBS 2 in April 2007. He came to serve at WCBS from WTVJ, an NBC owned station in Miami, where he was a weather anchor for 'Today in South Florida' and also won an Emmy for "Best on Air Talent."
Back in 2005's hurricane season, he worked with the former director of NHC, Max Mayfield and tracked down the most active tropical season in history. Quinn also contributed his work at Hurricane Hunters.
Not to mention, Quinn had previously gone for an acting career before he was a weather anchor. He was a soap actor ad appeared on NBC's Santa Barbara with the role of 'Rich Landers' and ABC's All My Children as 'Will Cooney.'
However, Quinn's current profession has been very fruitful as he has been handsomely rewarded with a total of fourteen Emmy Awards, including "Best Weather Anchor" in 2015, 2014, 2012, 2011 and 2010.
With such a thriving career; Quinn must have garnered an impressive amount of net worth contributed by his splendid salary earnings, but he prefers not to disclose it publicly, most probably for some security reasons!
Keep visiting to stay updated on the life of Lonnie Quinn!