Entertainment
Loren Gray Wiki: From Her Birthday, Age To Her Dating Affair And Boyfriend!
Musical.ly is an app that has introduced the world to several new and young sensations.
But there is someone who has grown to be more famous than most of the people associated with this app, and that certain someone is Loren Gray, who has over 18 million followers on this app. She is registered as "lorengray."
Despite such massive following, some people do not know much about this musical.ly star, which is why we would like to dedicate this segment to those people.
Today, we discuss some pivotal facts and details about Loren's life, both professional and personal in a wiki-like bio, which includes her love life, her family life and all. 
How Old Is Loren Gray? Her Family Life:
Loren Gray was born in 2002 in the state of Pennsylvania. She is 15 in age and celebrates her birthday on the 19th of April. 
Apparently, achieving this amount of success at this very young age is something commendable, and surely her parents must be proud of this internet sensation.
Although there have not been many revelations about her mother and her siblings, it is evident that her father is super proud of her for touching tremendous height in her career.
He certainly is pleased that people know him by his daughter's name. Which parent won't enjoy that feat?
Loren Gray's Dating Life: A Boyfriend In Life?
This is no secret that Loren Gray is a gorgeous young girl and her social and eloquent nature is the reason a lot of people get attracted towards her. But do you know what her love life looks like? Well, let's take a sneak peak to that as well.
Previously, Loren was in a dating relationship with fellow Internet star Joey Kisluk before the relationship between them failed to stand up to the test of time.
After splitting with Joey, she later got linked with fellow Muser Juwany Roman a.k.a. Flamingeos. The couple confirmed the relationship after some months of dating rumors.
They then faced some backlash from the fans on social medias, but now those posts and tweets are nowhere to be found, as they ended their relationship soon after.
The two decided to go separate paths during the ending months of 2016, just months after they announced their relationship publicly.
geo and I are no longer together. thank you guys for understanding x???? sorry to anyone who is hurt by this but it's for the best. love you??

— loren gray (@beechloren02) November 3, 2016
But what was the reason behind the split?
After some time of her split with Roman, she said that it was the emotionally abusive nature of Roman that led to the split.
Loren told the fans through a Younow broadcast that Geo (Roman) was controlling and jealous. Geo wanted to control every single aspect of her life, and she hated the fact that she had to live her life as per someone's words, who wanted to tell her who she could be friends with and what to wear.
In her own words,
"If a boy is telling you how to dress, please run. Run as fast as you can; never look back. You don't tell someone what to wear, Geo. You don't tell someone that you don't like them dressing a certain way. If that's your girl, then you respect her and respect that she knows what looks best on her body…I wasn't allowed to wear certain clothes that were revealing."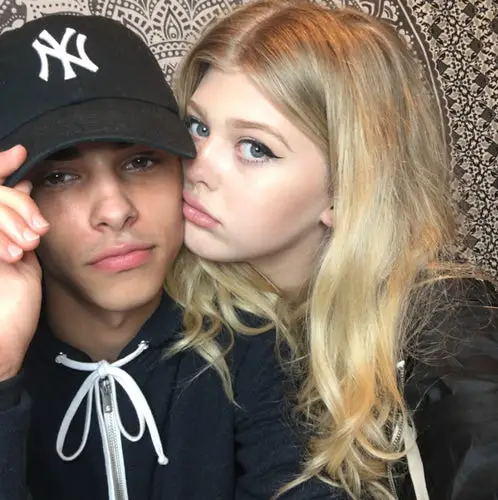 Caption: Loren Gray split with Flamingeos due to his emotionally abusive nature.
Photo Credit: j-14.com 
She mentioned what Geo told,
Wear whatever you want, but when my girlfriend is wearing a shirt where you can see her cleavage, I would not bring my girlfriend out in public where all the guys can look at all that s*it, okay?" 
She even urged her fans to take her as an example and suggested,
If he wants to control your life, leave, please. Run as fast as you can because it'll only keep going. It'll only continue. And I don't want that for any of you ever."
After Loren decided this was a relationship which will not take her anywhere and did not want to be in, Geo didn't accept the breakup and Loren's mother had to get involved in this matter and speak with Geo's mother.
Loren also opened up as to why she chose to reveal everything; she had it in her heart that Geo would end up blaming her for the split between them.
Brave girl Loren!
But what does her current love life look like?
Well, she is seen to be focusing on her life alone as she has not presented or announced any boyfriend in front of the public. Maybe, she just wants to live a single life for some time, or maybe she has someone in her life but intends on keeping matters to herself.
However she was recently seen together with this young lad, Mark Thomas and their followers seem to be shipping the two,
Well, let us see if this young sensation discloses anything crucial about her love life in the time ahead!
Stay with us for the budding updates on Loren Gray!