Entertainment
Chef Lorena Garcia Married? Her Status Besides Recipe Romance
Chef Lorena Garcia Married? Her Status Besides Recipe Romance Well, the famous chef Lorena Garcia has the upper hand when it comes to ruling a man's heart as she is a fantastic cook. While being busy creating new recipes, has she stumble upon one whom she would like to impress and make a way to his heart? Let's read through to find out.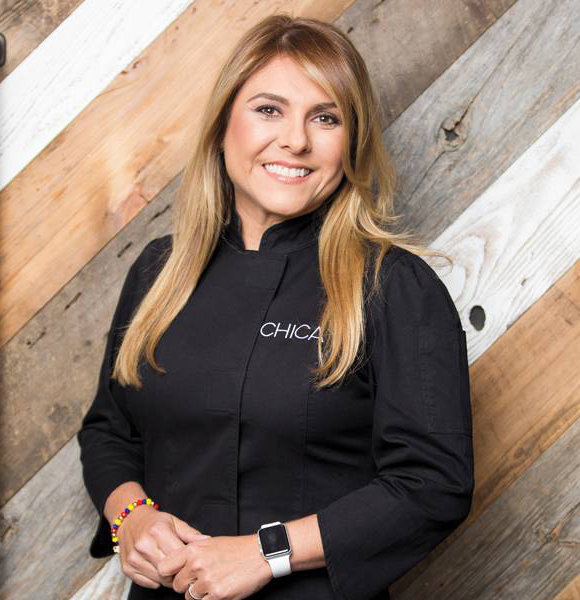 As the famous quote says, "the way to a man's heart is through his stomach."
Well, the famous chef Lorena Garcia has the upper hand when it comes to ruling a man's heart as she is a fantastic cook herself. But has she stumbled upon the one whom she would like to impress and make a way to his heart? Let's read through to find out!
Is Lorena Garcia Romancing? Or Is Married?
Chef Lorena's name would be counted among one of the celebrities who has kept her love life obscure. She has successfully maintained a tight guard over her romantic life following which her love life hasn't created headlines.
Neither has she been spotted with someone who could be guessed as her boyfriend nor has she acknowledged a man as her boyfriend yet, so she is deemed to be single in the media's eyes.
However, possibilities persist that she is dating someone, but remains hesitant to introduce him to the public. You never know, she can surprise everyone directly by introducing her husband, right?
Lorena Garcia's Life At A Glance
Lorena was born in Caracas, Venezuela and celebrates her birthday every year on 24 February. She is a daughter of a Venezuelan politician, Blanca Ibáñez and had a stepfather, former president Jaime Lusinchi until his demise in May 2014.
Lorena was lured towards cooking from a young age. At the age of six, Lorena cooked a surprise meal for her mother which also happens to be her first meal. Talking to Latina back on 2014, Lorena shared that her mom is a fantastic cook and even an inspiration. She expressed,
I mean, my mom is an amazing cook! I remember making her a surprise when I was six-years-old, and I did this picnic on the floor of my living room. When my mom woke up, my kitchen was, of course, a disaster. But, I had the most beautiful picnic in the middle of the living room. I remember that was my first meal. So yes, I've always loved to cook. I would always find an excuse to invite my friends from school to the house, so I would make a big feast for everybody. My mother was an amazing cook. Some of my great recipes I stole from her.
Lorena, who seeks inspiration from her mother, wished her mother and grandmother on the occasion of mother's day back in May 2015 via Twitter.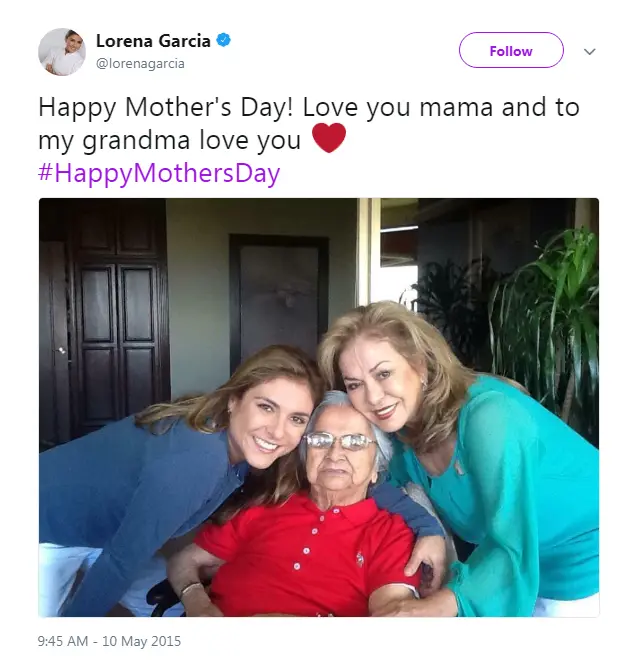 (Photo: Lorena Gracia's Twitter)
The person who loves to cook for her friends and family during gatherings initially didn't intend to be a chef; instead, she wanted to be a lawyer. She went to Santa Maria University located in Caracas, Venezuela and graduated with a law degree.
Further, she relocated to the US and was granted an associate degree in Paralegal studies. She was accepted into a huge law firm too, but instead of being happy for the achievement, she almost had a panic attack with the thoughts of working the entire day in an office.
That moment was the turning point in her life. She then decided to follow her heart and acknowledge her love for cooking and entertaining. Thus, she traded her books for a set of knives to start cooking.
Meanwhile, Lorena's mother thought that she had gone crazy and shared her astonishment on Lorena's career choice as,
"How can you want to be peeling potatoes, cutting onions, and smelling like food all day?" 
But Lorena was sure about following her passion for cooking and eventually got enrolled in Johnson & Wales University's culinary arts program. She has been awarded an honorary doctorate in culinary arts. 
Lorena's first job was of an apprentice at Ritz-Carlton in Paris, and she has even worked in various countries like China, Thailand, Korea, Japan, and Italy. Upon returning to the United States, she honed her culinary skills working in Red Square, Jeffery Chodorow's China Grill, and Grand Bay Hotel.
When she gathered enough experience to open a restaurant of her own, she launched Food Café followed by Elements Tierra in the Design District in 2002. In 2011, she opened a restaurant, Lorena Garcia Cocina in American Airlines terminal.
Moreover, she opened her second restaurant in Atlanta International Airport, Delta International and her third restaurant in Dallas/Ft. Worth Airport.
Besides hotels, Lorena is famous for TV shows as well, including Lorena Bella Kitchen Collection, "The Biggest Loser," "America's Next Great Restaurant," "Top Chef Masters" "Top Chef All-Stars." She is also associated with a non-profit show, "Big Chef, Little Chef," which aims to help children and their families to regulate their eating habits.
Think we're missing something? Do let us know in the comment section below!