Entertainment
Gay Dancer Louie Spence Reveals Husband Cum Partner Rare Details!
Professional dancer, Louie Spence rose to fame after starring in the Sky 1's dance show, Pineapple Dance Studios. A veteran in the dancing field, Louie has also been urging his career as a reality star appearing in shows like Dancing on Ice, Celebrity Big Brother, and The Jump.
An openly gay man, Louie leads a romantic married life with his husband. The couple keeps their personal life low-key but Louie shares some intimate details of his marriage.
Secret Married Life With Partner
Louie has been a married man since 2009 but insists on keeping his personal life hidden under the wraps. He mentioned his husband's name as Leto Fernandez but hasn't yet revealed many details of his partner. The pair first met in 2001 when Louie was introduced at a club to his partner by Aussie choreographer, Jason Gardiner, who worked on Dancing on Ice.
The couple got engaged on their seven-year anniversary after Leto proposed him for marriage with a romantic poem. Although the 49-year-old choreographer is not a strong fan of marriage, he got married anyway to his partner in 2009. Louie claimed that his spouse is a private person and completes him. The professional dancer even complained that Leto couldn't stand Louie hanging out with his friends and colleagues. However, they still are a match and are content with each other.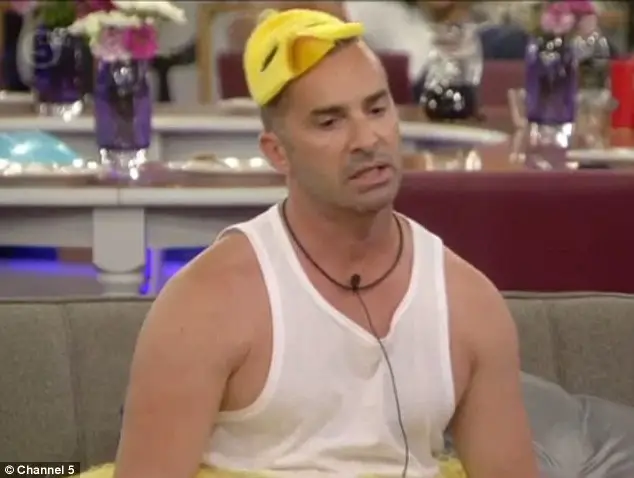 Louie Spence on the sets of Celebrity Big Brother in 2013 (Photo: DailyMail.co.uk)
The couple had previously mentioned their intentions to adopt a child, but due to a busy schedule, they have not been able to start a family. The couple currently resides in the flat jointly owned by them and are happy living their married life.
Kissed A Girl At 12; Childhood And Family
When media has less about Louie's romantic relationships, he claimed about kissing a girl at the age of 12. He further said in the 2012 interview with New magazine that the girl tasted of digestive biscuits which might have triggered the gay sexuality in him. After that, he didn't commence any relationship with the opposite sex and has no intention of getting a wife in the future.
Further, he claimed to have the power to turn straight men into a gay, which is why he may never have to look for a wife.
Louie grew up in Braintree, Essex, and was primarily raised by his mother along with his two elder sisters. He and his siblings attended the local Doreen Cliff's dance on Saturday mornings.
Louie, who was always close to his deceased mother, revealed that even his sexuality was not hidden from his mom. Louie claimed that she knew he was a gay since he was five. She also sent a letter to Louise when he came out as gay at the age of 19, writing that "I knew long before you knew." His nephew, Lotan Carter is also a reality star, who appeared on the show Big Brother.
Louie also enjoys a successful professional and has garnered a considerable net worth of $2 million.