Entertainment
Louis Hynes Wiki: From Height To Family Insight And Net Worth!
Have you been following the franchise A Series of Unfortunate Events? If you have, then you must be familiar with the character of Klaus Baudelaire, which was portrayed by Louis Hynes.
The young actor on the rise, Louis is blessed with a supportive family and career to look forward to.
Wish to grab more information about him? Here it is gathered up just for you!
Louis Hynes Wiki: Family And Career
Louis, a British teenage actor, was born on 9 October 2001. He was born in a city in central southern England, Oxford. His parents raised Louis along with his siblings older brother Milo and a younger sister Lara.
Louis spends time with his family, and they can be spotted time and again holidaying together. Back in October of 2017, Louis mother, Lisa Hynes shared a picture with the family while traveling to San Francisco, California.
The family of five looks happy in the picture and speaks volumes about their "Brillant weekend" they spent with each other.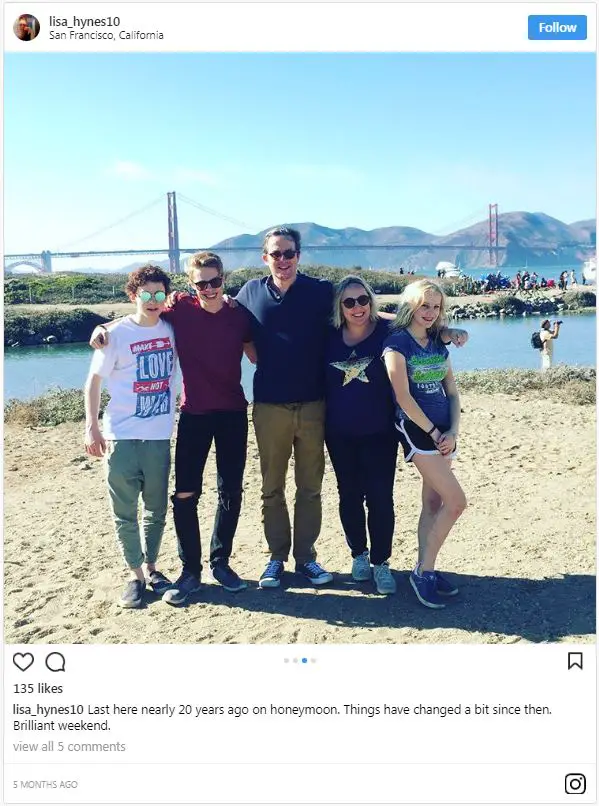 (Photo: Lisa Hynes' Instagram)
While Louis is caught up with work, his mother keeps his fans updated by sharing the memorable moments the Hynes' family via Instagram. With support from his family, Louis has been climbing the ladder of success in his career.
The Saint star Louis had least known that the book which his parents had read to him as a child would be of significant help in his career; as he is portraying lead character in the Netflix of the same name.
I had read the books—my parents read them to me as I was growing up, and then I went on to read them myself.
In an interview, when asked what drew him to his onscreen character of Klaus Baudelaire in the Netflix's A Series of Unfortunate Events he replied,
He sort of knows what he's trying to achieve and is very direct in the way he goes about it. [But] he also manages to maintain that [politeness]. So I was definitely drawn to the way he sort of tiptoes through that conundrum.
Moreover, he shared his experience of working with Neil Patrick Harris in the show as,
He's always so professional, and so knowledgeable about what he's doing. He's actually been a great mentor to [Malina Weissman] and me. If we ever have any questions, we can always send him a text to sort of guide us through things. He's told us really just follow our instincts, and do what we feel is right.
Apart from his passion for acting, he admires music as well and plays bass guitar in his free time. Besides music, he also loves watching Netflix shows, which include Stranger Things! and Black Mirror.
Louis, who is only a few acting projects older, is creating noise in the industry with his performances and has achieved an appreciable height of success within a short span of time.
Prior to the Netflix A Series of Unfortunate Events, he appeared on a television series called Barbarians Rising in the year 2016 followed by his appearance in the television movie titled The Saint in the year 2017.
The success of his most talked-about show have showered him with paychecks which inevitably takes his net worth to a certain level, but the exact figures remain unclear until an official statement from Louis himself.
Keep Visiting for the emerging updates on the life of Louis Hynes!