Entertainment
Lucky Blue Smith Is Not Gay! He's Got A Girlfriend And Someone Equally Special
Lucky Blue Smith Is Not Gay! He's Got A Girlfriend And Someone Equally Special. We are here to talk about the model Lucky Blue Smith who fell victim to the same false accusation.The 19-year-old model has a look that can turn every head around if he walked into a room full of people.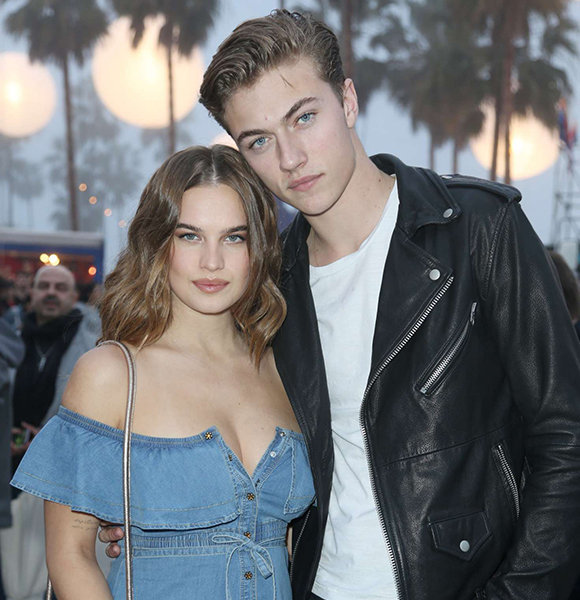 People often tend to question a person's sexuality based on their mere assumptions. The career of a model demands proper grooming and high maintenance which happen to fall under the gay stereotypes. Perhaps, that's why it is easier for people to assume them to be on the gay side!
We are here to talk about the model Lucky Blue Smith who fell victim to the same false accusation.But let us tell you Lucky does not only have a girlfriend but has someone equally special in his life as well.
Well, If you are curious to know more about his dating concern, then dig in and quench your curiosity!
Lucky Blue Smith Has a Girlfriend and Someone Equally Special:
Lucky Blue Smith is one of those celebrities who is very open about his personal affairs. This outstanding model is in a relationship with an equally gorgeous girlfriend, Stormi Henley, and the two beautiful people previously announced something huge to their fans.
Lucky disclosed the news of his girlfriend's pregnancy through Instagram back in March 2017 by sharing a vintage black and white picture of the two.
As soon as the two announced the news of the pregnancy, their fans poured their hearts out congratulating them on the baby. While few even made speculation about the duo getting married and Lucky turning his girlfriend into his wife, neither of the two confronted anything on that matter.
However, Lucky and Stormi updated their fans with every little detail of the whole pregnancy journey.
And we literally mean every little detail. Take a look at the couple's baby's sonogram picture.
Finally in July 2017, Lucky and Stormi welcomed their baby girl, Gravity, to the world. Stormi shared a picture of herself with her daughter to announce the news.
Gravity is an apple of both her parents' eyes. And being the daughter of the two good looking models, there is no doubt that she will turn out to be one stunning lady in the future.
Lucky does not miss any opportunity when it comes to flaunting Gravity on his social media, and his posts are just too cute to handle.
This gorgeous family of three is setting some serious relationship goals out to the world.
They are simply adorable, don't you think so?
Lucky Blue Smith's Bio:
The model Lucky Blue Smith was born on June 4, 1998, in Spanish Fork, Utah to father Dallon Smith and mother Sheridan Smith, who was also a former model.
Lucky has three siblings: Pyper America, Daisy Clementine, and Starlie Cheyenne and all his three sisters are models just like him.
The 1.89m(6 feet 2 and a half inch) tall model has a pretty good height, physique, and almost every other criteria to establish himself as a successful international model.
Lucky started his career as a model at the age of 12. He can be considered as a successful model as he has been featured in the advertisements of some illustrious brands like Calvin Klein and Tom Ford.
The 19-year-old has also graced runway for some high-end designer brands like Versace, Marc Jacobs, and Dolce & Gabbana.
Think we're missing something? Do let us know in the comment section below!