Entertainment
Luke Macfarlane's Gay Relationships: Dating History With Renowned Boyfriends
Luke Macfarlane sure does have quite a long relationship history, but it was with one other personality that became the talk of the town once. Let's find out about him and his dating history as much as we can.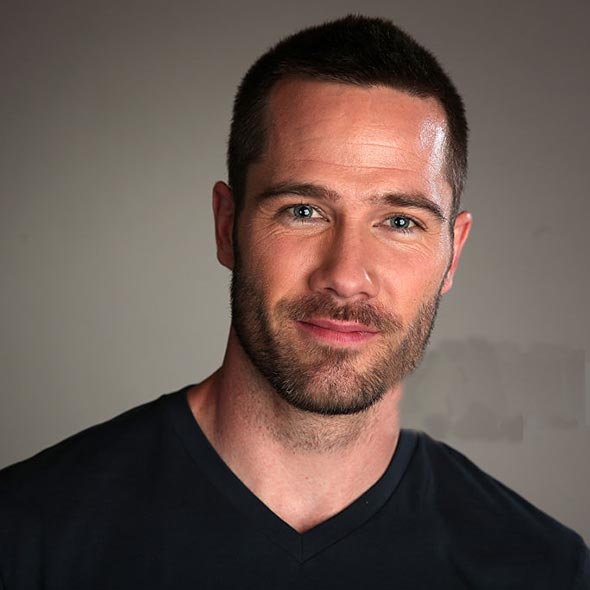 Quick Information
Gay

Yes

Instagram

https://www.instagram.com/lukasmcfarlane_/?hl=en

Tattoo/s

No

Plastic Surgery

No

Eye Color

Blue

Hair Color

Brown Light

Hair

Short

Weight

77 kg(170 lbs)

Height/ How Tall? 6' 2" (1.88 m)
College

Lester B. Pearson School for the Arts

High School

The Juilliard School

Net Worth

$2 million

Date of Birth Jan 19, 1980
Ex-Boyfriend

Charlie David, T.R Knight, Chad Silvenski and Wentworth Miller

Sister/s

Ruth Macfarlane, Rebecca Macfarlane

Mother

Penny

Father

Thomas

Ethnicity/Race

Christianity

Zodiac Sign

Capricorn

Birth Name

Thomas Luke Macfarlane

Profession

Actor

Home Address

Los Angeles, California, U.S

Birth Place

London, Canada

Nationality

Canadian
Luke Macfarlane sure does have quite a long relationship history, but it was with one other personality that became the talk of the town once. Let's find out about him and his dating history as much as we can.
Luke Macfarlane Partners
Talking about Lukes Macfarlane's dating history, he was in a relationship with four people, to be exact. He was in a relationship with Charlie David, T.R Knight, Chad Silvenski, and Wentworth Miller.
1. Charlie David:
Charlie was said to be Macfarlane's first known boyfriend to the media, but it is still a mystery when they started dating.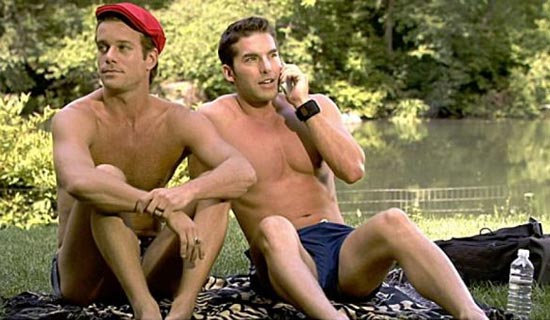 Caption: Charlie David and Luke Macfarlane on a date in the central park(2009).
Source: famousfix.com
2. T. R. Knight (2005-2006):
Luke was seen with T.R Knight around 2005 to 2006, but not much information about them was found.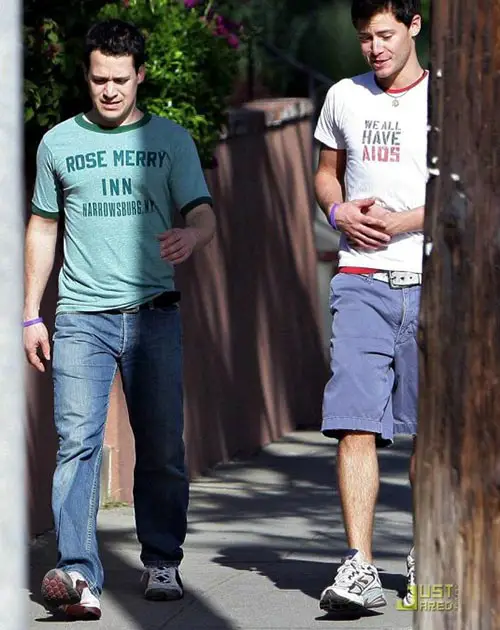 Caption: Luke Macfarlane with T.R Knight in 2006.
Source: fansshare.com
3. Wentworth Miller (2007-2008):
The Prison Break actor Wentworth Miller was the one linked with Luke Macfarlane a little more publicly than the other three men in 2007 
According to Perez Hilton, the couples were bound together since 2007 according to its reliable source which said,
 "Wentworth and Luke have been secretly dating for almost six months now; they've been very quiet about their relationship, obviously, as Wentworth is not out of the closet."
Following that, the couples were also seen riding in a car together, laughing along.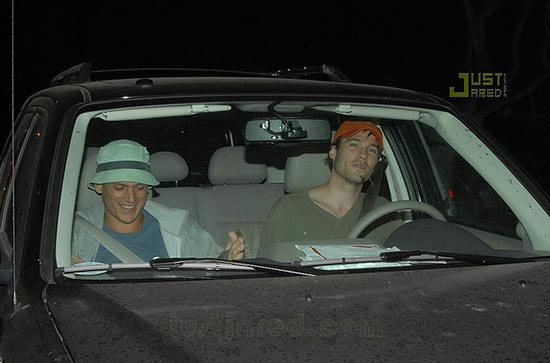 Caption: Luke and Wentworth together in a car after hanging out all day in Los Angeles in 2007.
Source: justjared.com
In an interview with televisionista.blogspot.com in 2007, Wentworth denied that he is gay by saying that he would like a girlfriend and a family. When the interviewer asked, "There are rumors that you prefer men." His answer was along the lines of,
"I'm not gay, but that rumor can't be killed. I'd like to have a girlfriend and a family. But I haven't met the right one yet. Until then I'm focusing on my job. I had to wait so long for this chance I savor every second on set even if it means 14 hours of shooting a day."
Despite all his denial, as reported by eonline.com in 2013, he once opened up himself as a gay in a letter to  Maria Averbakh, director of the St. Petersburg International Film Festival, also when he was invited to said festival but declined the invitation considering Russia's strict anti-gay laws. Most notably, refusing while saying.
" As a gay man, I must decline."
Luke and Wentworth have not been seen together these days; both have severed all contact on social. Also, Luke's relation with Chad has made us think that Luke and Wentworth broke up. Luke Macfarlane did have broken relationships with boyfriends in the past, so this was no shock, to be honest. Let us know what you think about this.
4. Chad Slivinski (2008):
At last, in  March 2008, Luke was seen with semi-professional Wrestler-cum-actor Chad Slivenski also known as Chad Austin, with whom no pictures are available. This was only assumed to be a relationship and was not confirmed. However, no information about it has been found.
Luke Macfarlane Gay
Luke came out as gay in April 2008 with The Globe and Mail. He simply said,
"I don't know what will happen professionally ... that is the fear, but I guess I can't really be concerned about what will happen because it's my truth."
From that day onward, Luke Macfarlane became openly gay.
In an interview with Julliard.edu in 2008, Luke talked about his experience in coming out as gay and how it influenced his career, life, and the various factors that affected his action.
When questioned about how he thought his decision to come out of the closet would affect him personally, he replied with
I don't know what will happen professionally … but I guess I can't really be concerned about what will happen, because it's my truth
When asked how the media handled his coming out as well as its effect on his career, he had quite a lot to say
I feel strongly that there is a distinction between revealing my sexual preference and my most private thoughts. My sexual preference is one irrefutable aspect of me, like the color of my skin. I've never been interested in revealing intimate details about my life. The concern with engaging with the media has to do with trying to make sure they will understand this difference.
He also went on to talk about how his then-role as Scotty(who is homosexual as well) in the TV show 'Brothers and Sisters' definitely influenced him and gave him the strength to accept who he was as he was essentially projecting himself on Scotty every time he was acting like him.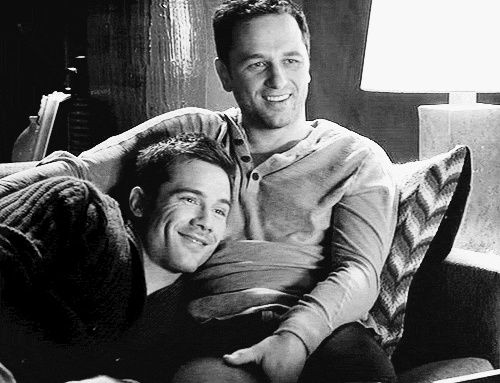 The Fictional Gay couple of Luke Macfarlane and Matthew Rhys as Scotty and Kevin respectively, on Brothers and Sisters (Source: Pininterest.com)
His Short Bio:
Luke Macfarlane is a Canadian actor and musician born on January 19, 1980, in Canada. His parents, Penny Macfarlane and Thomas Macfarlane was a nurse in London Hospital and head in the student's hospital at the University of West Ontario. 
He studied at the Juilliard in New York City and graduated in 2003 in the drama division. He stands at the height of 6'2'' and weighs around 77 kgs. 
Is Luke Macfarlane Related To Seth Macfarlane?
Although both the individuals share the same last name, they do not have any relation. Neither is he (Seth Macfarlane) his sibling, nor does he have any kind of relationship.    
Seth is the son of Ronald Milton Macfarlane and Ann Perry Sager, while Luke is Thomas and Penny's son.
Luke Macfarlane has two siblings; the older sister Rebecca Macfarlane and twin brother Ruth Macfarlane.   
The actor and his sister attended the same London Central Secondary School for secondary education. 
His Career
In one of his plays titled "Where Do We Live," where he played the lead role, he was cited by the 2005 GLAAD Media Awards for Outstanding New York Theatre. 
Luke portrayed the role of Charlie Hopkins in a series drama called 'Mercy Street.'
However, he is widely known for his Brothers and Sisters' role as Scotty Wandell, a gay chef with relationship issues. Luke's role as Scotty played a huge role in how gay couples were portrayed in both American and Canadian Media and real life. His role played a gateway for various gay couple based shows, most noticeably Mitchell and Cameron's gay couple in popular ABC comedy series Modern Family.
Luke Macfarlane was part of Killjoys (2015-2019), a comedy action TV show alongside Aaron Ashmore, and The Night Shift (2014-2017). Then, he got the lead role in the series Mercy Street (2016-2017).
How Many Hallmark Movies Has Luke Macfarlane Been In?
Luke Macfarlane has appeared in 11 Hallmark channel movies. Here is the list:
The Memory Book (2014) - Luke portrayed the role of Gabe Sinclair.
Christmas Land (2015) - Role of Tucker Barnes.
The Mistletoe Promise (2016) - Role of Nicholas Derr
A Birthday Wish (2017) - Role of David McKinley 
Karen Kingsbury's Maggie's Christmas Miracle (2017) - Role of Casey Cummins.
A Shoe Addict's Christmas (2018) - Role of Jake Marsden
Just Add Romance (2019) - Role of Jason Tucker
Sense, Sensibility, and Snowmen (2019) - Role Of Edward Ferris
A Valentine's Match (2020) - Role of Zach Williams
Chateau Christmas (2020) - Role of Jackson
Taking A Shot At Love (2020) - Role of Ryan Cooper
How Much Is Luke Macfarlane Net Worth?
The Canadian actor and singer has accumulated a net worth of $2 million.