Entertainment
Lynda Boyd Has A Family! But Is It From Married Life With Husband?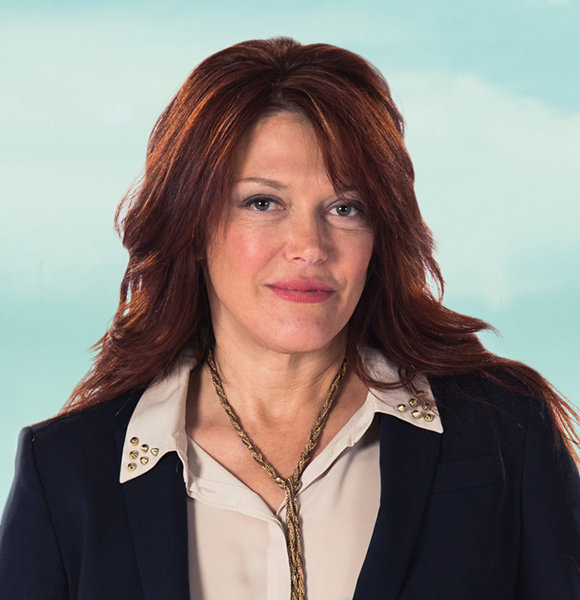 Having served the entertainment business for more than two decades, the Canadian actress, Lynda Boyd, has established herself as one of the veteran actresses of the Hollywood. But despite her long-run career, she has successfully kept her personal life away from the public, subsequently raising the fans' curiosity.
However, because of her advancing years, it is discernable to guess that the 52-year-old actress might have a family and settled to enjoy her dotage with her partner.
So if you're wondering about her family that she recently disclosed through social media, then keep reading till the end!
Lynda Boyd Has a Family! Is It From a Marriage? 
Lynda Boyd is an award-winning actress, singer, dancer, and musician with an extensive background in the varied art forms. This versatile actress claimed her fame with her appearance in the Hollywood film Final Destination 2 back in the year 2003.
Her on-screen characters have quite a flair in partners. She can be seen sharing the screen with the actor Leslie Neilsen, portraying the role of her husband in the movie Slap Shot: The Junior League. Similar is the case in the TV series Cold Case, where she was in an on-screen matchup with Anthony Starke.
However, her real-life story is mysterious compared to her professional one, which remains an open theater to her fans.
Well, she has neither talked about her married life nor a dating life with a boyfriend yet, so uncertainty hovers around her relationship status; however, it is known that she is a mother to a son. 
In a tweet back in 2011, Tara Bradbury tagged Lynda Boyd, where she mentioned Lynda was with her little son Milo, at the lakeside.

Caption: Tara Bradbury tagged Lynda Boyd in her Tweet.
Source: Tara Bradbury's Twitter.
After all these years, a little information about Lynda Boyd's family has finally made it to the public. But it's worth noting that Tara adorably called her son furry—could it be a fur baby?
But wait, Lynda's tweet the following year clearly establishes her growing family. Though she is very private, Boyd could, perhaps, not keep the information about being a grandmother only to herself. She took to Twitter back in the year 2012 to share her ecstasy on the sight of her son holding his son.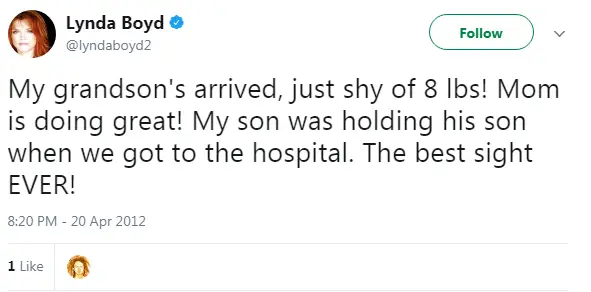 Caption: Lynda Boyd talking about her son and grandson.
Source: Lynda Boyd's Twitter.
All this time, Lynda's life seems to be growing secretly behind the camera. Along with an addition to her family member, her movie credits have equally increased throughout her twenty years of struggle in the industry. 
Stay with us for further updates on Lynda Boyd!