Entertainment
Madison Chock Skates With Boyfriend, Dating Since 2017, Professionally Married
When you have been together with each other for more than ten years, romantic flares are sure to be ignited.
That has been the case with American Ice skater, Madison Chock, who has spent most of her last decade with a single person, her skating partner, ultimately falling for each other.
The two-time winter Olympians revealed about their romance in 2017. They have been sharing a overwhelming chemistry with each other on and off the ice.
Skating Partner Is Her Boyfriend
American ice dancer Madison Chock, whose family took her to an ice skating school when she was just 5, has participated in numerous events including the Olympics and the world championships along with her partner Evan Bates. They first paired up in 2011.
The couple's highest professional honor together has been the second place finish in the 2015 World Championship held in Shanghai.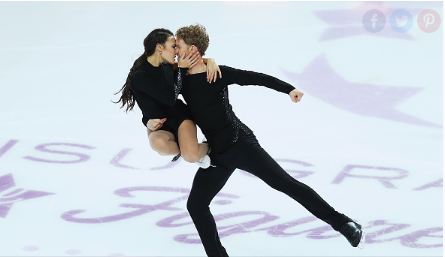 Madison Chock performs cozy dance routine with partner Evan Bates (Photo: gettyimages.com)
However, it is off the screen the couple has had their most significant achievement through the sport of love.
The couple first admitted to being in love, and opened up about their romance in an interview with NBC TV in February 2018, before their departure for 2018 Olympics.
The couple revealed that they had been together for about a year and were very happy with each other. Madison, who is very close to her father, described the chemistry they had together and added that being in a relationship meant they had a higher chance of competing together as one. She said,
I've always had great chemistry with [Bates]. "We've always gotten along so well. Skating together is something that we love doing, and we love doing it together. Now, we're together on and off the ice and it makes it even more powerful. It feels completely genuine and real. It makes training so much more fun and it brings us closer together every day. We're working together, working towards the same things. When you're doing that with someone that you love, it really is so much more meaningful."
Later, in an interview with US Weekly Magazine, Evan stated that Madison's zest for life was infectious and her playful persona was what made him fall for her. US Weekly quoted him saying:
I love her personality. I love her zest for life. You can just see it when she walks into a room."
And what's more, Madison returned the favor stating everything about Evan was likable. She even branded him as the smartest person she had ever met. She quipped:
"What don't I love about him? He's so smart. He's one of the smartest people I have had the pleasure of knowing."
The sporting couple is always together, whether they are in the rink practicing or off the rink binge-watching the Netflix shows. Similarly, their social media sites have been adorned with one another's photos and mentions.
The two-time World medalist wished her two-time world medalist boyfriend a happy birthday on 23 February 2018 during the Olympics and called him her best friend plus the love of her life.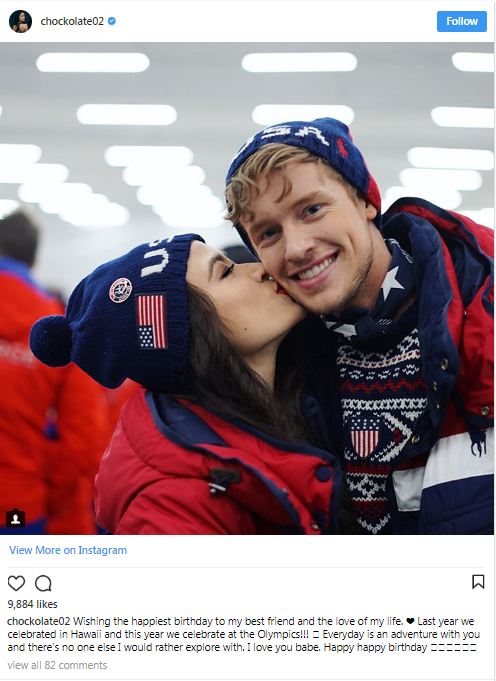 Madison Chock celebrates boyfriend Evan Bates' birthday (Photo: Madison Chock's Instagram)
Reflecting on the power couple's social media posts, one can imagine that the couple is madly in love, but only time can tell when they will get married. They have been working with one another for more than a decade.
Possesses Husband-Wife Chemistry But Not Down For Marriage
Along with sharing the love for ice, they also share the love for poodles, and each has their own dogs. Madison's dog is black with distinct eyebrows while that of Evan's has curly, blonde hairs.
Despite the fact that they have known each other for more than 10 years and romanced for more than a year, they still feel that they are not ready for husband-wife commitments.
The couple agrees that they have found themselves a perfect partner. However, they still are waiting for the perfect moment to sing the choirs and ring the wedding bells.