Entertainment
Does Madison De La Garza Have Boyfriend Now? She's All Grown Up!
We have a star in the making!
Well, we are talking about the actress, Madison De La Garza who is grown up now and stunned everyone with her gorgeous look in her sixteenth birthday. So, the question which has aroused in the mind of many people happens to be in the relation of her love life. So, let's read through to find out if she is dating someone one or not. So, without further ado let's get started!
Madison De La Garza Has Boyfriend To Flaunt?
Madison De La Garza who played Juanita Solis, Eva Longoria's on-screen daughter, on 'Desperate Housewives' appeared as a princess while celebrating her 16th birthday back on 18th December 2017. She celebrated her birthday ten days prior to her real birthday which falls on December 28.
After a day of her birthday, she shared a photo on her Instagram account in which she is spending time with a group of handsome boys. Furthermore,  she captioned the picture as "Love these boys." 
Well, teenage happens to be the time when you start exploring your love life. It's likely that Madison is single, but it's also possible that she is dating but only hesitant to bring her partner into everyone's knowledge. And since she hasn't been spotted with a boyfriend she is deemed to be single in the eye of the public.
She seems to be short of love from a romantic partner, but her family is there to love and make her feel special. Well, she shares great intimacy with her family members and enjoys spending time with her family as evident in her birthday pictures of sweet sixteen.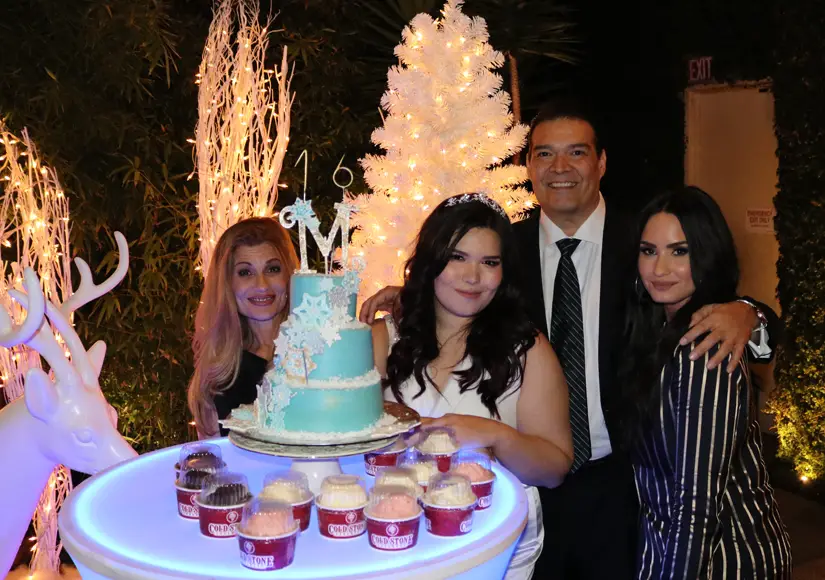 Celebrating 16th birthday of Madison De La Garza (Photo: extra tv.com)
More About Madison:
 Madison De La Garza was born on 28 December 2001 in Dallas Texas, the USA to her parents Eddie De La Garza and Dianna Lee Hart. She has two half-siblings, actresses Demi Lovato and Dallas Lovato. Despite being just 16 years of age, Madison already got an experience of 10 years in the acting industry. Madison, who stands at the height of 5 feet 5 inches (1.65 m), made her debut on 'The Demi and Selena' television Show in 2008.
Beside Madison's prominent role in 'Desperate Housewives,' she also appeared on the short-lived TV series "Bad Teacher" on 2015. Furthermore, she wrote the screenplay for the short film "Imbalancing Act."
Apart from her acting realm, she is also widely known through her sister, Demi Lovato who is a well-renowned actress and singer. Madison talked about their sisterhood during an interview with Seventeen magazine. 
"I think when people say they wish Demi Lovato was their sister, they don't realize how hard it is to be related to someone who's constantly away on tour. But she's good at making time for me. We text constantly, and whenever she sees a funny tweet, she'll screenshot it and send it to our family group message. When Demi is home, our relationship is just like any sisters'. We get fro-yo and watch the ID channel — we're obsessed — and we talk about anything and everything. I know I can trust her with it all."
Madison, who started carving her career path from a young age, must have accumulated a decent net worth until now; however, she hasn't revealed her net worth yet.