Entertainment
Mandy Rose is Not Expecting a Wedding! Got Engaged to Boyfriend, but it Went Off?
Falling in love and further getting engaged to the person with whom you wish to spend the rest of your life is a beautiful feeling in itself.
But a dating relationship is usually delicate; thus, it should be dealt with care as the chances of it turning sour prevails.
Similarly, American female wrestler, Mandy Rose, also known as, 'The Golden Goddess,' got to experience the joy which comes with engagement, but it looks like they eventually went separate ways.
Let's read on to know further details!
Mandy Rose's Engagement
According to Tabloids, Amanda Rose Saccomanno, a.k.a. Mandy Rose has been in a romantic relationship with her long-time boyfriend, Michael Lubic.
The couple even featured on the wrestling reality show, Total Diva.
Although their dating timeline isn't clear, Mandy's Instagram post, which dates back to Christmas of 2015, suggests that they had known each other since 2010.
Mandy and Michael decided to upgrade their dating status in the year 2016 when Michael proposed his lady love and got engaged with the aspiration of getting married.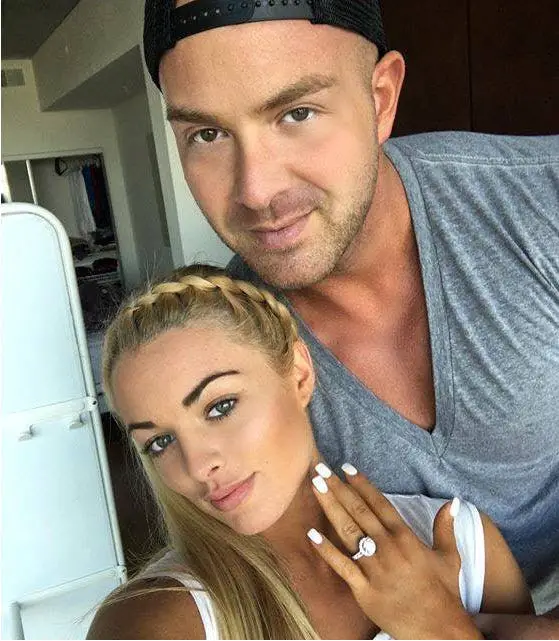 Caption: Mandy Rose with her then-fiance, Michael Lubic flaunting her engagement ring (TheSportster.com)
Michael announced the happy news, Instagramming a picture of Mandy flaunting her gorgeous diamond engagement ring with him.
The Breakup Dilemma
When the fans were hoping to see them exchange vows and officially become husband and wife somewhere in the near future, Micheal removed the engagement post from his Instagram.
Further, Mandy has also been seen without her engagement ring in some of her recent pictures on Instagram.
Likewise, Mandy and Micheal have stopped sharing pictures together on their social media.
The Truth
While Mandy has been seen without the engagement ring in some of her recent Instagram posts, Michael has been Instagramming pictures of a beautiful woman.
Her name is Rosa, and she is also from Compton just like Micheal.
Has he found new love?
Importantly, Micheal hasn't officially mentioned Rosa as his new girlfriend. Thus, Micheal and Rosa might be just close friends or even relatives. However, it also looks like they are possibly dating.
If thats the case, Micheal, and Mandy have already broken up.
On the other hand, Mandy Rose is a WWE superstar. She has to portray her persona as per as the decision made by WWE.
It can possibly be a case that Mandy censored her personal dating life for now because of WWE. She might be still engaged to Michael.
As a result, curiosities still resides among fans regarding Micheal and Mandy's relationship status, and they are hopeful that Michael and Mandy would come forward to address the matter in the days to come.
Mandy Rose's Short Bio:
Mandy Rose, who is a model, bodybuilder and professional wrestler, goes by her real name, Amanda Saccomanno. She was born on 18 July 1991 in New York.
Growing up, Mandy took part in dance competitions when she was in her high-school years.
In the year 2013, she went to fitness competitions for the first time and was crowned the winner of World Bodybuilding Fitness & Fashion Boston Show.
The next year in 2014, she won the first place in the World Bodybuilding Fitness and Fashion Bikini Championship.
In the year 2015, Mandy participated on WWE Tough Enough. Although she landed the second place, WWE signed a five year deal with her immediately. Later, Mandy also disclosed how she felt when she got notified that she will be joining WWE Raw.
"I actually wasn't in Houston for NXT, I was home in Orlando. I was ready to actually go home a little early for Thanksgiving, since we didn't have any Florida shows. But I received the email that I'd be going to Raw and SmackDown, which was really exciting news, but I had to change all of the travel stuff. Was this going to be me just kind of showing my face, or just maybe... I really didn't know what to think. I thought about all different scenarios."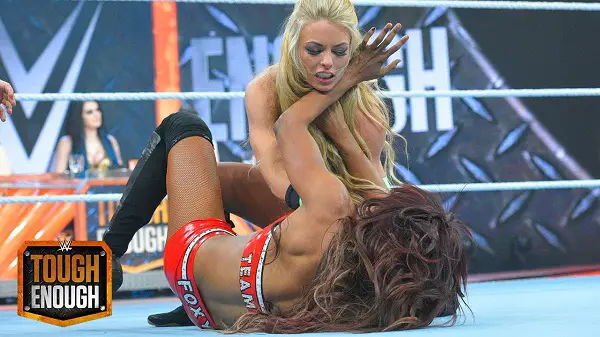 Caption: Mandy Rose in Tough Enough.
Photo Credit: YouTube
Moreover, in January of 2016, Mandy was also one of the casts on the TV series, Total Divas, which documents the life of top female WWE superstars. But, she didn't return for the series's sixth season.