Entertainment
Senator & Retired Boxer Manny Pacquiao's Unbelievable Net Worth With Wife; Philippine Icon Wiki
As the saying goes "Behind all successful man, there is a woman," professional boxer and Senator of the Philippines, Manny Pacquiao can relate to the famous saying very well.
Since the arrival of his wife, his life has been fantastic in both personal and professional terms. However, it was not that the married partners had a smooth marriage for they faced some severe problems too.
But, every time the couple came out stronger making them one of the relationship goals.
Learn about the private and work life of the legend along with his wiki-like details.
Classic Dating Story; Wife Made Him God Fearing Man
Nothing less than a classic love story, the boxer first laid his eyes on Jinkee at a mall in the Philippines, where she was selling beauty products. Love-struck by Jinkee, Manny was soon buying items from the mall, which he didn't need. Frequently doing so, the boxer finally asked her for a date, which became a turning for nurturing their romance.
After seven months of their first encounter, the duo's relationship changed into a lifetime commitment by getting married to each other. Manny has been married to Jinkee since 10 May 2010.
The couple shares five children from their marriage: Emmanuel Jr. (Jimuel), Michael Stephen, Mary Divine Grace, Queen Elizabeth and Israel.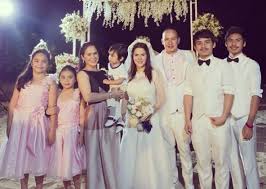 Manny and wife along with family on their wedding day (Photo: Notey.com)
Manny's mother initially didn't approve of the union and also didn't attend the civil wedding which was attended by friends and family. However, she later came to terms with her son's choice and now appreciates her daughter-in-law's effort to make Manny a better person.
One of such efforts was witnessed when Jinkee brought the drastic transformation in Manny turning him from a cheating and drunk alcoholic into a God-fearing man.
Although the pair had several problems in their marriage with Jinkee even thinking of divorce on one occasion; they remained intact and sorted out their issues.
Cheating Wrecks Married Life; Supportive Wife Still Together
The year 2009 was not a good year for Manny, especially his married life.
News of Manny cheating on his wife surfaced in the media after a woman named Krista Ranillo claimed that she was dating the boxing legend. She even showcased video footage where the two could be seen getting intimate.
Similarly, he was also accused of having an extra-marital affair with actress Ara Mina after the duo worked together in the movie Anak ng Kumander. Although both Manny and his alleged girlfriend denied the allegations, fans were convinced of Manny's adultery.
Manny and Jinkee also had a massive fight right before his match against Juan Manuel Marquez in November 2011. Sources claimed that Jinkee had even thought of getting a divorce from her husband, however, she changed her mind after Manny apologized to her and the couple sorted out the issues. To patch up things Manny even took Jinkee to a second honeymoon in May 2012.
Jinkee is a loyal wife, who supported her husband in his personal and professional life. Jinkee is acclaimed to be one of the wives in the boxing industry to join their husbands in their matches.
In 2017, when Manny got defeated by Jeffrey Horn in Brisbane, Australia; Jinkee was the first to console her hubby and make him feel at ease. She reminded him that it was just a boxing match and she was still proud of him. Jinkee even posted a picture on Instagram right after the match on 2 July 2017 saying that the couple was still champion in the eyes of the God.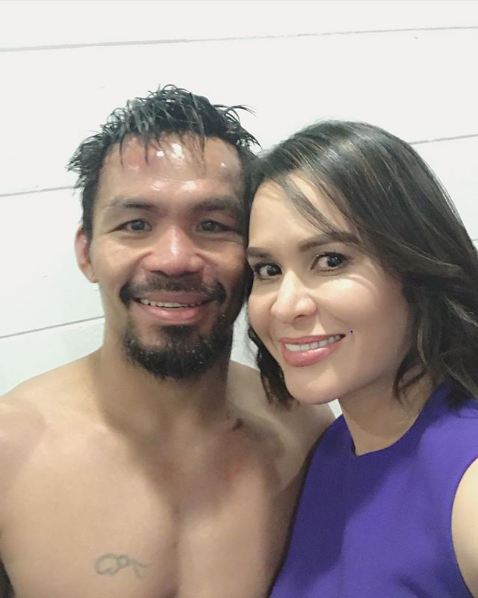 Manny and wife Jinkee after the fight against Jeffrey Horn on 2 July 2017 (Photo: Jinkee Pacquiao's Instagram)
Manny and his wife Jinkee currently reside in a luxurious mansion located at the beach in Glan, Sarangani. Although the couple mostly lives in Sarangani as Manny is elected as a Senator there, they have also purchased a number of homes both inside the Philippines and abroad.
Juggling Boxing And Politics Career; Massive Net Worth In Millions
Manny commenced his boxing career at a young age of 17 with an earning of a mere $2 a fight. During his time as a professional boxer, the 39 years old won 59 of 68 total matches with only three losses one against Juan Manuel Márquez, second with Floyd Mayweather Jr. in 2015 and his last defeat was against Jeffrey Horn in 2017.
In the last five years as a boxer, Manny's revenue averaged $20 million to $30 million per fight. He has further accumulated a massive net worth of $190 million. Manny has not yet retired from boxing and insists that he will fight until he has the passion for the sport.
Manny was also elected as a Senator in 2016 elections in the Philippines. He was chosen as the Senator in his wife's hometown, Sarangani province 16,050,546 votes. He is set to hold the position up until 30 June 2022.