Entertainment
Marco Antonio Regil Talks On Gay Rumors - Also Thoughts Of Getting Married & Family
The Spanish game host, Marco Antonio Regil is best known for hosting the Spanish version of the shows like Family Feud, and The Price is Right. Interestingly, the famous host, who has different top shows under his bio, yet timely gets speculated as a gay, but now, he has openly spoken about his sexual orientation.
Not only that, but Marco has also revealed that he was once nearly married.
If you are curious to know the whole story, follow us in the preface below!
Marco Antonio Regil Clarifies Sexual Orientation
Born to the family of a mother, Irma Sánchez, and two brothers, Marco Antonio Regil remained a low-key person whenever the focus turned to his dating affairs.
Due to his low-keyness in life, Marco got tangled in the rumors of being gay a lot of times. He used to be questioned about his sexual orientation on almost all the talk shows he attended.
However, back in June 2017 when attending a program named, The minute that changed my destiny, Marco talked about his sexual preference with the show host Gustavo Adolfo Infante and denied the accusations of being a gay.
"No, I'm not gay, and I've said it before, but I appreciate it because this has sensitized me since feeling bullying as if it really was, has made me aware that it's not right."
Moreover, in a show named Despierta América, Marco mentioned that not getting married would bring the assumptions that the person is gay in his hometown, Mexico but he added that being gay had nothing to do with being wrong.
"They think that, if you do not marry, you are gay. And there's nothing wrong with being gay, but they think it's going around."
The show's host, Karla Martínez further asked whether Marco would confess if he were gay, and without hesitation, Marco replied that he would as he said there is nothing wrong with that. Marco even said that he had been married to his career for which he had worked from the age of 15.
"Sure, there's nothing wrong with that. It is not an offense when they tell me. I have been married to my career. All my life, since I was 15,
Apart from his gay rumors, the Mexican driver also became vocal about his mother's death. His mother, Doña Irma died on 15 February 2017 after suffering from Alzheimer's for years.
Talking about the relationship he had with his mother, Marco said that his mother was like his daughter. Though they had a loving bond, Marco revealed that it got tiring when he caressed her on every basis. Further, he added that the death of his mother ended his responsibility and freed him to rest.
The relationship I had with my mom marked me a lot, for me, my mom was like having a daughter, it was a very loving relationship, but it was a very tired relationship but today I see I jumped a great stage of my life working from the 14 years, as if I were already an adult, and now that my mom died, that responsibility ended, that is, I miss her, but I also rested."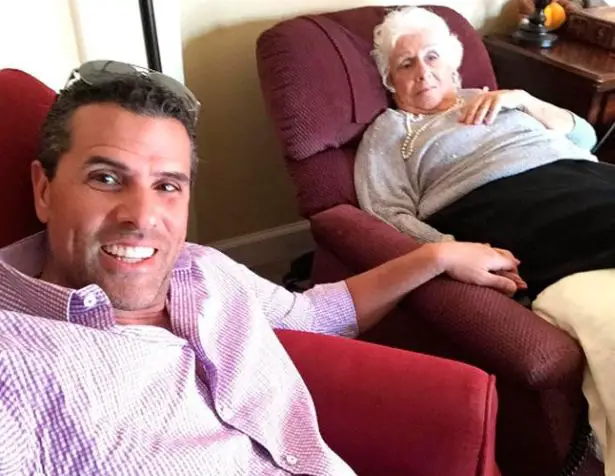 Marco Antonio Regil with mother Doña Irma (Photo: hola.com)
To everybody's surprise, Marco, who enjoys the net worth of $20 million, even disclosed that he nearly got married 10 years ago, but at the mere hour, he could not turn the woman as his wife.
Though Marco shared the story of his failed marriage, he did not provide the reason why he could not walk down the aisle.
With that, Marco also added his opinion towards getting married to someone saying that one can be happy even when being single. However, Marco clarified that he wants to get married.
"But I was always with someone and I learned that you can be happy and you can be complete when you are single. And I really want to get married, but not because of 'oh, I have to be with someone.'"
Though Marco addressed his interest in having a wife and building up a family, he has not been spotted dating or having an affair, so the matter remains unclear until further revelation from Marco.
Stay with us to be the first to know when Marco talks on the matter!