Entertainment
Marisa Tomei Nearly Married Actor Boyfriend! Status Now After Dating Rift
American actress Marisa Tomei, who has won the Academy Award for her role as Mona Lisa Vito in My Cousin Vinny, has her name romantically linked with few high-profile actors in the world of entertainment.
In the midst of dating rumors, Marisa has her name tagged along with popular stars, but the question is, did she ever settled with one?
Well, amid with rumors that almost got her married, Marisa has few details to reveal. Tag along as we unveil her love life.
Dating Profile
Marisa Tomie, who is at the age of 53, has a list of celebrity names tagged along romantically with hers. Those names include her high-profile love interests. Back in the 90s, Marisa was involved with Robert Downey Jr., the Iron Man.
The pair first met in 1994 on the set of Only You and began their marvelous relationship. While they were dating, the pair was often chosen to star romantically side by each other. They also appeared together in the movie Chaplin.
As the time passed the love that they shared did not last long. Soon their relationship came to an end. It turns out after ending her relationship with Robert, Marisa was rumored to be dating Dana Ashbrook. Though the pair was rarely spotted as a couple at times when they snapped together, they sure warmed most hearts.
Likewise, back in 2001, Marisa was officially dating Frank Pugliese, a famous artistic director. Marisa had low-key dating life with Frank, and they hardly appeared together in the press. Their relationship came to an end back in 2004 after three years of togetherness.
While the celebrity couple rumor mill is always churning, Marisa Tomei was rumored of being romantically involved with Lenny Kravitz back in 2004. Lenny is Marisa's ex-roommate, Lisa Bonet's husband.
Not only that, but Marisa was also chosen to be the godmother of Lisa and Lenny's children. Hearing the tittle-tattle might have been quite awkward for them.
Adding to the hearsay, she was spotted together with the famous How I Met Your Mother actor, Josh Radnor back in 2014 after squashing the rumors of her committing life with the Prometheus star, Logan Marshall-Green.
Almost Married Once
Marisa Tomie surely was love interests of many men including her fan followers. She had her name associated with many men along the way, but the one that got her name flying the media was her relationship with Hollywood hunk Logan Marshall-Green.
The couple first met while working on a New York theater project together. After falling in love with each other, the pair started dating back in 2008 and were together for five years. During the several years of being together, the pair was on and off relationship due to their hectic schedules.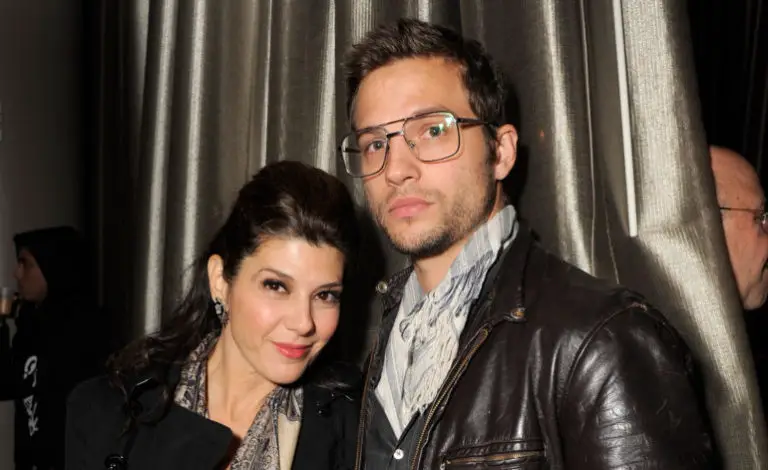 Maisa Tomei with Logan Marshall-Green (Photo: hyperactivz.com)
Back in 2013, Marisa almost got engaged and took the marriage vows despite having a 12-years of an age gap. Back then InTouch Weekly reported that the two were engaged. Marisa was to walk down the aisle for the first time.
But turns out, those were only some flying rumors. The very next day, a representative of Marisa told E! News that there was "no truth to the rumor."
However, soon after the rumors, Marisa parted ways with her long-term boyfriend the very same year.
As of now, Marisa is just as silent as she has always been regarding her romantic relationship. Turns out the paparazzi too has diverted their interest away from love life of Marisa.
Well, even at this age Marisa does not seem much interested in getting married and having children just like she previously expressed.