Entertainment
Mark Bowe Family With Wife & Age Revealed, TV Shows Actor's Personal Life
The host of DIY Network's Barnwood Builders, Mark Bowe, did not reach there by sheer luck but instead had to work his way to the top with persistence and determination. While his show is on its 7th season, the TV personality still looks out to work hard as he builds a life for himself and his family.
A married man, Mark shares a family of three with his loving wife. The West Virginia native and his partner-in-crime wife share a child and have been working out of their ways to build a future for their baby.
Mark and his wife are not only blessed with a prosperous family but also have been able to make a name for themselves. Well, let's take a look at the insights of their married life.
Family Life With Wife, Proud Father
Mark Bowe has been married for ages. He shares that lifelong bond with the love of his life, Cindy Lavender-Bowe, who is a delegate at the West Virginia House of Delegates.
Mark has been sharing the romance with Cindy for years now. While he prefers keeping early parts of his life under his nose, most of his family life as a husband and a father is also a secret.
Perfect Wedding: Alison Victoria Got Married To Her Insurance Agent Husband In A Perfect Way! Any Chances Of Divorce?
It is not known how and when Mark and Cindy crossed path or fell in love or even exchanged the wedding vows, but it has come to light that the duo has been running the small business which they have owned for nearly 20 years.
Well, the couple is working for the betterment of their family putting in efforts to do the same for someone else's family.
While they are the perfect match for each other, Mark and his wife are also proud parents to their only child. Together, the couple is raising their baby boy Atticus. The proud parents have not left any stone unturned in raising their son with moral and ethical values.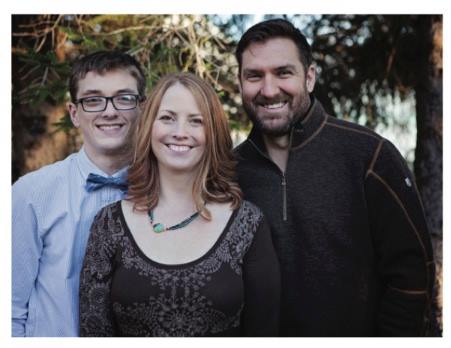 Mark Bowe with wife Cindy Lavender-Bowe and son Atticus Bowe in 2018 (Photo: Mark Bowe's Facebook)
Well, the duo does not miss out from spending as much time as possible with their kid be it taking him to a concert or small family moments during camping. It turns out, Mark prefers going off to kayaking or canoeing or even fishing during his off time. The outdoor kinds of stuff are what Mark would do with his family during his free time.
Bio On TV Shows Actor: Age, Net Worth, And More
Mark Bowe is a proud owner of his company Antique Cabins and Barns which he started back in 1995. With the expansion back in 2016, the company now is known as Barnwood Living.
Mark, who is now at the age of 48 and celebrates his birthday every year on the fifth of March, didn't initially had it all on his hands. Instead, he worked hard to reach where he is now. As one doesn't reach the height of success easily, he worked as coal miner making his way through the college.
Truth Behind Amy Matthew's Plastic Surgery: Did Amy Matthews Really Had Plastic Surgery? Married Life With Professor Husband And a Son
Just as he earned the bachelor's degree in business administration, he started a company of his own and even received a master's degree in safety management. With the company of his own and same talented crew, Mark had a coincidental encounter with a documentary filmmaker which eventually led to his TV show.
Well, with his continuous effort Mark has been able to make a life for himself and his family while earning a name on the way. Adding to it, Mark is also paid an estimated salary of $56,491 per year adding up to his net worth.